The Mid-rise Advisory Partnership offers FREE professional advice on any aspect of mid-rise timber buildings
With extensive experience in property development, construction, timber engineering and architecture, costing and planning, the WoodSolutions team continue to support a broad range of developments from early stages to delivery. The team provides independent information and advice on making the most of the many advantages of timber building systems, which typically come from the following six areas: 
Image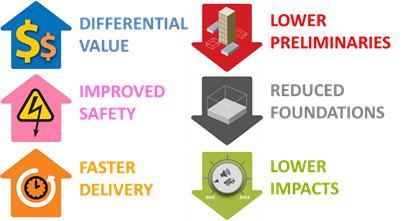 Please note: Advice is provided subject to the terms of our Disclaimer
Read on to meet the team...
Image

Jennifer Cunich

Lead Program Development Manager,

Mid-rise Construction

Melbourne
Jennifer has more than 25 years experience in the property industry. She is currently a serving Board Member of the Victorian Planning Authority, Australian Housing Urban Research Institute and is a committee member on Monash University's Estates Committee.
Jennifer was an Executive Director of the Property Council of Australia for 20 years and the former CEO of the Australian Institute of Architects.
You can contact Jennifer at jennifer.cunich@woodsolutions.com.au
Image

Paolo Lavisci

Program Development Manager
Mid-rise Construction

Melbourne
Paolo joined the team since day one and has advised for most of the mid-rise timber projects in Victoria, plus many which are currently on the drawing boards, thus effectively changing some mindsets in the market and helping developers, builders and consultants to take advantage of the benefits of wood-based structural systems by managing the risks and optimising their results.
With a PhD in Industrial Technologies - Wood, Paolo has over 30 years of experience in the sector, with advisory and hands-on roles in design, construction, project management, research and product development, teaching and training. He worked in the plywood industry for 7 years before starting an independent timber engineering practice, through which he coordinated the design and specification of multi-storey timber buildings, new models for prefabricated homes and transportable units, plywood and Cross Laminated Timber manufacturing plants. He also authored a widely-used book on the design of timber structures and funded the development of specific engineering software.
You can contact Paolo at Paolo.Lavisci@woodsolutions.com.au
 

Image

 

Dean Ashton

Program Development Manager
Mid-rise Construction

Brisbane
Dean has over 30 year's experience in the timber industry.  He completed his Civil Engineering degree at Queensland Institute of Technology in 1986 before joining Gang-Nail (MiTek) in the prefabricated timber truss and frame industry.  During that time he gained experience in timber engineering design, manufacture and installation of trusses and frames, software support, as well as training and development.  More recently he spent 2 years with Simpson Strong-Tie providing technical support for timber connectors and fasteners, as well as assisting with new product implementation into the Australian market.  He has also been a member of the technical committee for AEFAC (Australian Engineered Fastener and Anchor Council) as well as the Victorian Structural Branch for Engineers Australia.  As a member of the WoodSolutions team, Dean is looking forward to developing lightweight timber framing opportunities to compliment massive timber to provide optimised timber solutions for mid-rise structures.
You can contact Dean at dean.ashton@woodsolutions.com.au 
Image

Gerry Neylan
Mid-rise Construction Program Advisor

Melbourne
With more than 35 years' experience in Melbourne in construction, planning and architecture, Gerry is well known in the Victorian design, construction and property markets.
A qualified town planner, his roles have included identifying new business opportunities, developing and maintaining client relationships, advice and consultation, and coordinating the planning, funding and delivery of many major building and infrastructure projects in both the private and public sectors.
Experience in managing and directing highly regarded architectural firms, senior roles in advisory and management companies, supported by business development roles for national construction companies, enables Gerry to bring a wealth of practical knowledge to every project.
As a member of the WoodSolutions team, Gerry says he is looking forward to "the opportunity to engage with the marketplace on issues such as social responsibility and sustainability and constructing new projects more economically, quickly, quietly and safely."
You can contact Gerry at Gerard.Neylan@woodsolutions.com.au