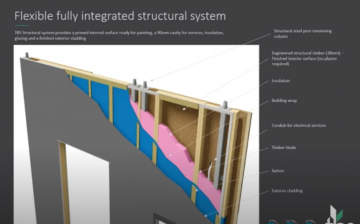 Submitted by

100content@gmail.com

on Mon, 07/12/2020 - 15:54
TBS's unique post-tensioned panel system, combined with a dedicated team of manufacturing professionals, has proven that quality timber building can be manufactured at scale. Over the last six years, Timber Building Systems has grown from an idea to a business manufacturing and exporting mid-rise timber buildings.
In this presentation, TBS's General manager Tim Newman, takes you through projects that TBS has delivered, challenging status-quo construction methods in Australia. Each of the four projects that Tim reviews have presented significant technical, organisational and logistical challenges.
Presenter: Tim Newman, General Manager @Timber Building Systems
Tim is an experienced engineer with a career that has followed his passion for designing, developing and validating high-quality products for large scale production. During 18 years at General Motors Holden, Tim led a range of long-term engineering projects both nationally and across the globe. He is an established BIM and lean manufacturing expert who has lead TBS over the last four years, growing the business from a startup to a significant market leader in the manufacture of prefabricated buildings.
Tim has been a critical player in the success of TBS and building its manufacturing facility in Victoria and continues to oversee the successful installation of project across Australia and New Zealand. He is committed to growing the company's prominence in the market and securing its recognition as a leader in Australian innovation and design of pre-fabricated buildings.
Contents
0:54 Introduction TBS Project review
9:26 Attached office - NSW
13:05 Built above - add on to existing building - VIC
21:31 Three story walk-ups - Auckland
45:65 Five level apartment building - Auckland
51:50 Challenges Pre-Fabrication 56:28 Q&A
Series
Free weekly webinars, Thursdays at 11am AEDT