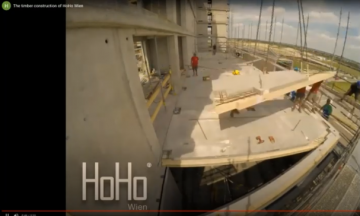 Submitted by

100content@gmail.com

on Wed, 09/12/2020 - 10:27
At 24 storeys (84m) HoHo is currently considered to be world's tallest hybrid timber tower. Featuring a slender profile made possible through an innovative combination of concrete, steel, and timber structural components HoHo reached completion in mid-2019 and is now home to a busy combination of apartments, offices, a hotel, a restaurant, and a wellness centre.
In this webinar the Mid-rise Advisory Program welcomes a representative of HESS TIMBER (a member of Hasslacher Group, the key supplier of prefabricated timber structural elements for the project). In this webinar you'll hear directly from a key project stakeholder about the detailed level of prefabrication and the challenges associated with such a significant project.
Speakers:
Tyson Infanti | Business Development & Projects Manager @HESS TIMBER GmbH
Tyson is a passionate timber professional, representing Hess Timber as their business development and projects manager in Australia. Tyson has broad experience across the construction sector and has worked on some of Australia's largest buildings and infrastructure projects for more than a decade. Tyson holds a Bachelor of Engineering from RMIT and has several years' experience specifically in the mass timber industry. His passion for timber extends beyond his career to a hobby in woodworking.
Dr Georg Jeitler | Innovation/Standardisation/Certification/Product Development @HESS TIMBER GmbH
Dr Jeitler will be joining us as for the Q & A.
Contents
3:16 Introduction
6:54 Location
7:12 Urban Development Concept
8:41 Architectural Design
15:48 Structural Systems
21:23 Prefabrication
27:46 Q&A
Series
Free weekly webinars, Thursdays at 11am AEDT