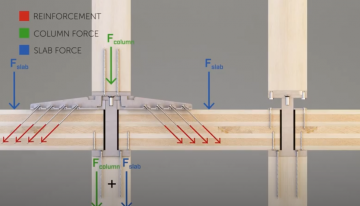 Submitted by

100content@gmail.com

on Mon, 16/11/2020 - 11:36
Connections are the critical component when designing and building with timber structures. Recent innovations have enabled us to engineer our buildings to increase in scale, while improving safety and productivity of installation and optimising the amount of wood on site. In this webinar, Matteo Andreottola from Rothoblaas will discuss: - The modern angle brackets and how they transfer shear and tension forces - Recent innovative connections including the Alustart, Spider and Pillar connections - Design criteria that enable post and plate construction.
Speaker: Matteo Andreottola, Technical Consultant @Rothoblaas
Matteo graduated with full marks at the university of Trento, with a thesis on a design of an exhibition centre with timber structures (with the well-known professor Maurizio Piazza). The design of timber structures has always been his passion and job after the end of the university. He worked in Ireland as a structural engineer for IJM timber frame engineering, one of the main timber frame companies in the country. He came back to Italy after this working experience abroad, to work as a structural engineer for Xlam Dolomiti, a company which designs and produces timber structures with CLT. With the company he participated in the structural design of big projects in Australia, like Grocon, Northumberland Street and Ballarat GovHub. Currently, he is working as a technical consultant for Rothoblaas, following projects all around the world, especially in Australia, USA, South America and Spain.
Contents
1:27 Innovative angle brackets - TITAN
15:07 Base connection of the CLT structure - ALUSTART
25:58 Shear connection for CLT panels -
SLOT 32:54 Connections for multi-story buildings - SPIDER/PILLAR
51:51 Q&A
Series
Free weekly webinars, Thursdays at 11am AEDT