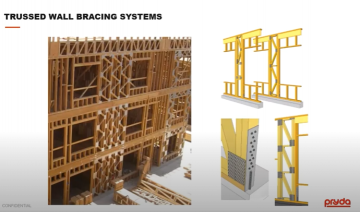 Submitted by

100content@gmail.com

on Tue, 10/11/2020 - 11:14
Offsite manufactured lightweight timber framing systems take the advantages of timber as a material and combine them with the quality and reliability of manufacturing in a controlled factory environment. This often means a safer, faster and lighter alternative to conventional construction methods for floors, walls and roofs in mid-rise projects.
It is important for architects, engineers, builders and certifiers to understand the range of structural solutions that can be prefabricated and the technical considerations required to ensure these benefits are fully realised.
Increasing the industry's acceptance of these solutions also relies on stakeholders understanding the pros and cons of timber solutions compared to more established systems such as precast concrete and post-tensioned slabs. This goes well beyond the materials themselves, and needs to extend to a more holistic risk management conversation that takes into account all of the factors that determine a project's success.
Speaker: Adam Dawson, Technical Manager @Pryda
Adam Dawson is the Technical Manager for Pryda, where his goal is to grow the use of timber in construction. Adam has been a Structural Engineer for 12 years, beginning with large-scale concrete and steel structures for major resources projects and finding his way into the world of timber at the start of 2020. Prior to this he led the Precast engineering team at ramsetreid, working closely with precasters, major builders and industry stakeholders such as WorkSafe and the CFMMEU on the safe and timely construction of commercial projects.
Contents
0:51 About me
2:53 Why timber?
3:41 Why offsite-manufactured systems?
12:17 What's available?
23:20 Lightweight wall systems
31:06 Lightweight roof systems
33:12 How do they compare to concrete alternatives?
Series
Free weekly webinars, Thursdays at 11am AEDT