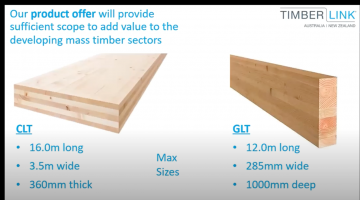 Submitted by

100content@gmail.com

on Thu, 22/10/2020 - 18:25
The CEO of sustainable real assets investment manager New Forests describes the growing interest of institutional investors in the forestry sector, the opportunities in a circular bio-economy, and how New Forests is responding to this by developing a range of new investments, including participating in the mass timber construction revolution. He shares his views on how the expanded use of wood in construction could lead to a net zero emissions building sector, the global supply-demand dynamics associated with the bio-economy transition, and on key policy issues for Australian governments to support this transition.
The head of innovation for Timberlink, a leading Australian wood products business, then illustrates how they see the future for their business and describes how their recently commissioned GLT & CLT plant will help meet the growing demand for mass timber construction.
A high-profile Q&A panel featuring a premier builder (Ross Snowball, Multiplex), an architect with unparalleled reputation (Julian Anderson, BatesSmart) and WoodSolutions' consultant in strategic research (Andrew Know, Pollinate) provide a lively and insightful conversation on how to link the present needs with a sustainable future.
Speakers:
David Brand, Founder of New Forests
David founded New Forests in 2005, leads the company's investment programs, and is Chair of Timberlink Australia. With over 40 years' experience in forestry investment, forest management, science, and public policy, David is dedicated to innovative, responsible investment strategies in the forest sector and associated assets, including infrastructure, wood processing, and environmental markets. Previously, David was the Executive General Manager of State Forests of NSW, national Director-General of Science and Sustainable Development with the Canadian Forest Service and responsible for investment programs at Hancock Natural Resources Group. He serves on the Board of Directors of the Washington, DC-based non-governmental organisation Forest Trends, and the Board of Trustees of Bangkok-based Intergovernmental Organisation The Centre for People and Forests. David has a PhD from the University of British Columbia and a Bachelor of Science in Forestry from the University of Toronto in Canada.
Simon Angove, Project Manager-Innovation at Timberlink
Simon has over 30 years experience in the building and construction industry working in both the corporate sector (CSR/Boral/Timberlink) and the private sector. Simon has held senior positions within CSR Timber, CSR Construction Materials and Boral Aluminium, and was CEO of Le Messurier Timber Company for over 10 years during which time he lead the development of the engineered wood products category delivering high service, product solutions to the timber supply chain. Simon is dedicated to growth through innovation, and has a passion for the developing mass timber market – a sector he has been actively involved in since 2010. Over the last 2 years, he has lead the Timberlink engineered wood innovation strategy, preparing the successful business case that will result in Timberlink establishing a combined CLT/GLT manufacturing operation in 2023. Simon will lead the go to market team for the Timberlink CLT/GLT business.
Contents
0:09 David Brand (New Forests Pty Ltd) presentation begins
16:49 Simon Angove (Timberlink) presentation begins
29:17 Paolo Introduces 3 Q&A panelists
30:57 Ross Snowball (Multiplex) presentation begins
38:42 Julian Anderson (BatesSmart) presentation begins
44:56 Andrew Knox (Pollinate) presentation begins
51:27 Q&A begins
Series
Free weekly webinars, Thursdays at 11am AEDT