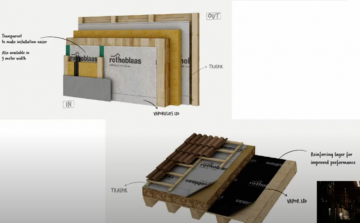 Submitted by

100content@gmail.com

on Wed, 21/10/2020 - 16:30
A wrong design of the waterproofing, airtightness and vapor breathability can cause major issues in a timber building, but on the other hand well-detailed and carefully executed shop drawings can guarantee its durability. Based on real examples of how to design and install them, this webinar will explain: - the main types of membranes that are available on the market, and how to choose the correct one for your project, - the fire resistance of the different membranes, the materials and technology used to produce them, their technical characteristics and durability.
Speaker: Matteo Andreottola, Structural Engineer @Rothoblaas
He graduated with full marks at the university of Trento, with a thesis on the design of an exhibition center with timber structures, which has always been his passion. He worked in Ireland as a structural engineer for IJM timber frame engineering, one of the main timber frame companies in the country. Back in Italy after this experience abroad, he joined Xlam Dolomiti and participated in the structural design of significant projects in Australia, like Northumberland Street and Ballarat GovHub.
As as a technical consultant for Rothoblaas, Matteo is following projects all around the world, especially in Australia, USA, South America and Spain.
1:06 Principles of built-environment physics
4:59 Humidity and condensation
9:10 Temperature: heat transfer
11:53 Humidity: vapour diffusion resistance
13:30 Membranes
29:40 Roof Layout + Walls
33:33 Air and wind tightness
38:34 Installation instructions
58:50 Q&A
Series
Free weekly webinars, Thursdays at 11am AEDT