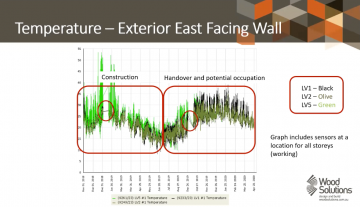 Submitted by

100content@gmail.com

on Thu, 29/10/2020 - 14:52
The performance of mid-rise timber buildings is new to Australia, and assumptions on moisture content, movement are based on small scale buildings. The research was carried out on an actual six-storey timber-framed apartment building, located in western Sydney, during its construction and occupation, to test these assumptions.
The research objectives were to obtain real data on the temperature, relative humidity, moisture content of timber and the vertical displacement per storey. The research was successful in obtaining 18 months of data, and this presentation will provide this update.
In addition, Sameed Khan from TTW will give a background to the design of the unique timber-framed and mass timber building.
Speakers
Sameed Khan, Structural Engineer @TTW (Taylor Thomson Whitting)
Sameed is a structural engineer with over 5 years of industry experience. During these years he has developed a passion for the design of mass timber structures and stresses the importance of determining an appropriate structural strategy early to optimise project delivery. This includes ensuring adequate forethought of connections, locking down suitable fire and services strategies as well as ensuring the right material is used for the right application. He has so far been involved in design and delivery of numerous major residential, public and commercial projects in both NSW and Victoria and is excited to see a greater uptake of mass timber within the construction industry.
Andrew Dunn, CEO @TDA (Timber Development Association)
Andrew has a Civil/Structural Engineering degree from the University of Sydney and a Masters of Timber Engineering from Central Queensland University. He has 33 years' experience in the building industry, with the last 27 years within the timber  sector, and 17 years as CEO of TDA.
Andrew has represented the industry on numerous committees from Australian Standard, Building Industry, Government and timber industry boards and panels. He has extensive knowledge in fire and sound timber technology as well as more recently  involved in the introduction of cross laminated timber and mid-rise timber building systems.
Series
Free weekly webinars, every Tuesday at 11am AEDT