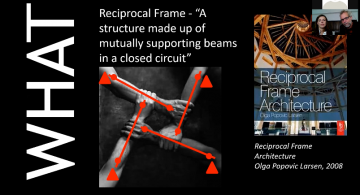 Submitted by

100content@gmail.com

on Wed, 21/10/2020 - 17:11
Reciprocal Frames are a method of providing structural support with mutually supported beams in a closed circuit. Reciprocal frames have been used in timber structures for centuries, as one of the most ingenious solutions to get "more from less". The frames allow for 2-way action, geometric complexity and achieve longer spans. The speakers will present a brief history of their use, explain their benefits in modern designs, and illustrate 2 calculated examples of application.
Speakers
David Bowick, Principal/Owner - Blackwell Engineers
Dave Bowick is a Principal/Owner at Blackwell Engineers in Ontario, Canada. His inventive approach to design has made him sought-after, particularly when a project calls for innovative solutions. He is a three-time recipient of the WoodWorks Building the Future engineer award, and has received awards for his work in wood, concrete and architectural steel. Dozens of projects he has worked on have been granted awards in the field of architecture, and many of his projects have been the recipient of the Governors General award in Architecture. He is a frequent guest speaker on the topics of architecture and engineering, and contributes to the industry through committees and events. His writing has appeared in several publications, including Concrete Toronto.
Shannon Hilchie, Principal/Owner - Faet Lab
Shannon Hilchie, Principal/Owner at faet lab (pronounced fat lab), was an associate at Blackwell for almost 10 years, running many of the companies most prestigious projects. After working with Cast Connex for several years, she opened her own firm focusing on "architectural works"; stairs, canopies, street furniture etc. She is a lecturer at the university of Toronto and teaches the structures curriculum in the Daniels faculty of architecture. Shannon and David continue to collaborate on projects and are currently enrolled in the masters of membrane structures program at IMS/Bauhaus.
Series
Free weekly webinars, every Tuesday at 11am AEDT