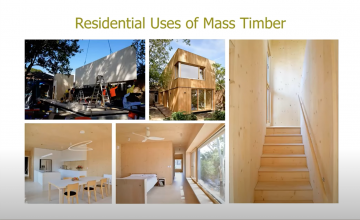 Submitted by

100content@gmail.com

on Thu, 24/09/2020 - 09:26
There is a massive interest at present by building professionals in Cross Laminated Timber (CLT), a new state-of-the-art engineered timber product. Whilst its recent take-up has predominately been in mid-rise commercial office buildings and apartments it is also a highly versatile, sustainable, renewable and thermally efficient building product for residential applications. Tyson Infanti, XLam Contracts Manager will discuss the opportunities in utilising CLT in residential projects, particularly and importantly the key design and specification requirements, and he will feature and discuss a number of recent exemplary residential projects constructed using CLT.
Series
Free weekly webinars, every Tuesday at 11am AEDT