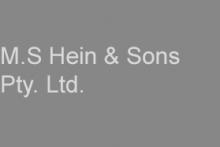 M.S Hein & Sons Pty. Ltd.
This well known joinery business was established in 1946 at 46 Wehl Street North by Merlyn Hein. His son Bob joined him in 1947 & sons Allen and Kevin in 1957 to form M S Hein & Sons.
in 1982 Kevin sold his share to Laurie Judd & Robert Knightly and with Bob Hein traded until Bob's retirement in 1992. From this time until now Laurie & Robert have continued to operate the company. In 2005 they purchased a property at 7 Ramsay Avenue and opened for work at the new site mid January 2006. The products manufactured now are similar to the products in 1946 with the exception of additional machinery updated along the way. M S Hein manufactures timber window frames, door frames, and doors from a range of timbers. The methods of construction are similar to the original methods of the early years. We also specialise in heritage replacement frames and mouldings. The window, cupboard products are supplied to either the builders or private clients direct. These products have serviced a large area of SOuth Australia and Victoria as well as some items going to Darwin, Alice Springs, outback Stations, Adelaide & Melbourne. Double glazing is a large part of the windows now as energy ratings are an ever growing need and requirement. The cabinet section has seen a vast range of construction & fittings change in recent years with the emerge of new products & finishes coming on to the market all the time. The cabinet section supplies to all facets of the industry with general housing, commercial & aged care fit outs the main stay of our clients. We employ 6 tradesmen, 2 apprentices & 2 part-tie ladies in the office. over the years we have indentured 28 apprentices in cabinet making or joinery, as this is how the future of the industry can survive with an ongoing supply of tradesman.
7 Ramsay Avenue, Mount Gambier, SA, 5290