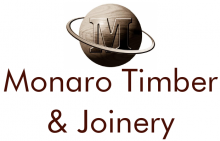 Monaro Timber and Joinery Pty Ltd
We do almost anything in timber!
Located in Queanbeyan but supplying a broad range of timber products all over Australia. From a single board to a truck load, we can help with most projects.

Established in 2002, Monaro Timber has grown into a major player in the timber products industry. Having said that we are still small enough to care. We get to know a lot of our clients well. Richard made a jewelry box for his year 12 project and Bec made a desk. Ben and his boys lay a lot of timber floors in the Canberra region and we get to meet his clients too. Brian is rebuilding a 1920's motor car and Jason just refurbished an old ferry. Manteena, Built, Construction Control and Project Co-Ordination are all major builders who have used us to supply products and advice on many projects including Parliament House, The Australian War Memorial, National Gallery of Australia and more. Our product range includes flooring, decking, furniture timbers, step treads, timber bench tops, timber mouldings and timber cabinetry. To top off the range, we keep the Basic Coatings range of floor sealers, Organoil and Soudal adhesives.
16 - 20 Kealman Rd Queanbeyan NSW 2620
Business Type
Manufacturer
Retail
Services
Service Categories
Advice & consultancy
Coatings & treatments
Furniture
Joinery & cabinet making
Woodcraft
Services
<p>Keep it simple. &nbsp;We do almost anything in timber. &nbsp;If you need a timber product then give us a call. &nbsp;if we can't help directly we will do our best to find someone who can.&nbsp;</p>