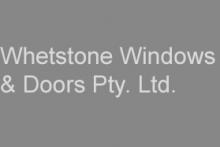 Whetstone Windows & Doors Pty. Ltd.
Timber Window & Door Manufacturer
Whetstone Windows & Doors P/L manufacture Timber Doors and Windows using a variety of species. We offer a range of glazing, hardware and fly screen options.
Whetstone Windows & Doors is a family run Timber Door and Window manufacturer that has been operating in Melbourne for nearly 25 years. We pride ourselves in period replications as well as contemporary joinery, our window products include double hung casements, awnings, sashless sliding & folding windows. Our door products include french, sliding, bi-fold and entry doors. We can supply our windows and doors with many different glazing options from single glaze to double glaze. We also supply a range of fly screens options including large retractable fly screens for doors and windows.
1/23 Moore Road, Airport West, Victoria 3042