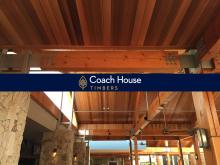 The Architectural Timber Specialists
Address
21-23 Old Dairy Close Moss Vale NSW 2577
Business Type
Manufacturer
Wholesale/Trade sales
Service Categories
Architecture & design
Carpentry
Interior design
Timber building products
At Coach House Timbers we are specialists in a huge variety of timbers and timber products. From timber decking, and exterior cladding to timber stairs and interior panelling – we manufacture and supply it all.
With a multitude of timber species, we have a vast range of products and solutions to offer. We're experts in Western Red Cedar, Hemlock and American White Oak, to name a few. Spotted Gum floorings (amongst the species' many other uses) are extremely desirable and look incredible in almost any home or commercial property.
When it comes to timber, our ingrained expertise and access to specialty timbers give you creative choices you never knew were possible. We'll help you dream to be different and prepare for practicalities.
Flexibility: Off-the-shelf or created specifically for you, with species-specific looks, and varying profiles, sizes and finishes to provide truly unique features.
Can do: With trusted know-how and connections, we're the ideal partner for ambitious projects that demand species, quantities or speed that others simply can't deliver.
Expert ease: We help navigate an easier path to incredible results – from design ideas and product selection as well as building code compliance for peace of mind.
Quality: We're meticulous about everything from timber grades to craftsmanship and manufacturing. Our products do the job, last the distance and delight clients well into the future.