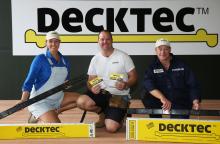 Innovative & Australian Made Decking Strip
Service Categories
Building construction
Carpentry
Coatings & treatments
Other
Recycled timber and flooring supplies
Timber building products
Timber connections
Woodcraft
Decktec is manufactured with prepositioned spacers negating the requirement of spacers, wedges, chisels and clamps whilst positioning decking boards.
This system ensures consistent spacings between every boards, and self progressively straightens as the user lays boards. This is of particular advantage when working around pre existing structures or objects (Trees, spas, posts etc.)
Decktec is also a joist protection membrane, providing long term protection of the sub frame.
Now with one single string line the user has the ability to lay out the entire decking grid, multiple users can now lay decking boards in unison from multiple and random positions allowing for boards to be laid faster and with certainty.
Decktec also allows builders to complete decks with unskilled labor without the risk of error.