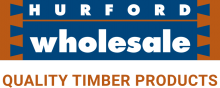 Hurford Wholesale Pty Ltd
THE INDUSTRIES TRUSTED SUPPLIER FOR ALL THINGS TIMBER
The integrated Hurford business covers the entire supply chain from the management and harvesting of forest resources, processing, manufacturing, sales and distribution of wood products in Australian and around the world. Backed by a strong track record Hurford Wholesale is forging ahead, strengthening existing business relationships with its customers while exploring new opportunities to enhance its sustainability.
We offer…
• Imported & Specialty Joinery Timbers
• Solid Hardwood Flooring
• Engineered Flooring
• Decking & Screening
• Hardwood Cladding
• Plywood & Panel
• Feature Wall Lining
• Cypress Products
• Landscaping & Structural Timber
• Stone Surface Material
With distribution warehouses located in Queensland, New South Wales, Victoria, South Australia and Western Australia Hurfords are able to efficiently service the Australian market. We offer local Hardwoods, Cypress and Hurford Flooring lines for shipping to all major international markets. Hurfords international based branches in New Zealand and North America.
Hurford Wholesale - Queensland Branch (Head Office) Tel: 07) 3442 6300 400 Stapylton-Jacobs Well Road, Stapylton, QLD 4207 Hurford Wholesale - New South Wales Branch Tel: 02) 4646 1406 Unit 6, 34-38 Anzac Avenue, Smeaton Grange, NSW 2567 Hurford Wholesale - Victoria Branch Tel: 03) 8794 3300 47-57 Wedgewood Road, Hallam, VIC 3803 Hurford Wholesale - South Australia Tel: 08) 8376 6694 7-9 Acorn Road, Camden Park, SA 5038 Hurford Wholesale - Western Australia Tel: 0448 132 955 (Tim Stoner)
Business Type
Manufacturer
Wholesale/Trade sales
Service Categories
Other
Recycled timber and flooring supplies
Timber building products
Timber connections
Services
Hurford Wholesale distribution warehouses are located in Queensland, New South Wales, Victoria, South Australia, Western Australia and Albany, Tauranga which makes Hufords able to efficiently service the Australian and New Zealand market. We offer local and imported Hardwoods, Cladding, Decking, Panel & Plywood, Landscaping Timbers, Joinery Timbers, Cypress and Solid and Engineered Flooring lines.