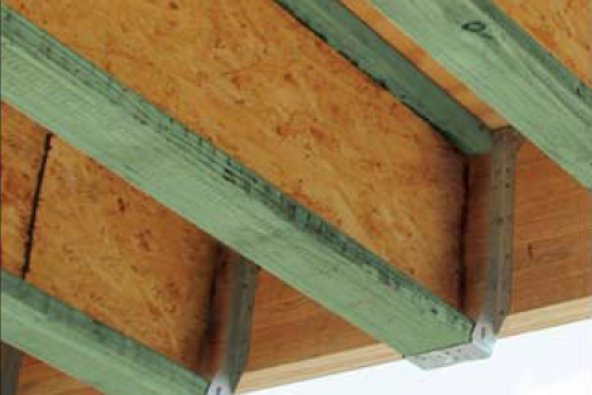 Oriented Strand Board (OSB)
Oriented Strand Board (OSB) is a structural panel product produced by bonding together thin wood strands with adhesive.
Oriented Strand Board (OSB) is a product that has been manufactured and used successfully in North America for decades, but has only been available through Australian suppliers in the past decade.
OSB is a structural panel product produced by bonding together thin wood strands with adhesive. A wax may be added to the resin to increase the moisture resistant properties. The strands are generally oriented with the grain direction in the major longitudinal direction in the outer layers and in the cross direction in the inner layers of the sheet to provide panel dimensional stability. Once in place, the strands will form a large continuous mat. The mat is then heat and pressure cured, which helps to create a uniform finish.
It has similar properties to plywood, yet is generally more cost-effective to produce and is also stronger than particleboard. OSB can be used for internal and external applications.
Design properties for OSB are proprietary so manufacturers of OSB can provide the relevant specifications. OSB is not currently produced in Australia.
Whether manufactured from solid or engineered timber, there are many stylish and practical options that won't compromise on strength and structural performance. A distinctive timber door can also create visual impact, adding value to any commercial or domestic building.
Timber makes an attractive choice for door design and construction, offering a strength, flexibility and versatility that other materials find hard to match.
Protected from moisture, a timber door will perform satisfactorily for the life of any building. With regular maintenance, carefully designed and finished timber doors can perform in the toughest external environment and if required, can be refurbished or updated easily and effectively.
This application guide outlines the common elements involved in specifying and finishing timber internal and external doors.
Internal panelling, also known as appearance boards and linings, is not just a practical means of covering one or more walls and ceilings in a building, its inclusion in a room's interior design can generate looks that are both dramatic and stylish. Internal paneling comes as either solid natural timber paneling or as sheets of engineered wood products that provide a durable and hardwearing surface for areas subject to high impact. As they typically function as appearance products they generally have no structural requirements. This guide describes the variety of panelling products available and outlines the straightforward process of installing them.
SIPS are a modern alternative to traditional timber framed construction and function as the structural element for walls, roofs, and suspended floors. They consist of two outer layers of Oriented Strand Board (OSB) sandwiched around an Expanded Polystyrene (EPS) core. A variety of construction and design advantages are provided by the system such as superior eco-friendliness, acoustic and thermal insulation, fire and termite resistance, as well as an efficient construction procedure.
With a growing emphasis in the residential and architectural construction industry on alternative eco-friendly, versatile and economical building materials - Structural Insulated Panel Systems (SIPS) are one such example. Comprising two timber panels of Oriented Strand Board (OSB) and an internal layer of Expanded Polystyrene (EPS), the favourable insulating and acoustic properties of the material combined with the fast construction and site-adaptability make SIPS an attractive alternative to standard timber stud walls and also for use in roofs and floors.
In the fabrication of Oriented Strand Board (OSB) 85-90% of the log can be used. Compared with conventional milling, where the recovery is typically 50-70%, the board makes use of timber which would be otherwise discarded.
Combining two layers of the impact resistant and high strength OSB with a thick insulating layer of Expanded Polystyrene (EPS), the resultant SIPs are strong, quick to erect and well suited to the residential construction industry. The panels are termite resistant and outperform timber stud and metal framed construction in both acoustic and thermal ratings. Fire ratings of 60/60/60 and up to 90/90/90 can be achieved when installed with the appropriate cladding.
SIPs can be used in place of timber stud walls, roofs and suspended floors. The panels are typically pre-fabricated providing opportunity for significant reduction in on-site construction times and minimising waste. When used in walls, the panels are typically full height and are spliced together side by side using twin studs or SIP splines. Twin studs are generally used in locations where additional strength is required.
Methods for fixing other timber members to SIPs are similar in nature to standard timber construction, making the SIPS a natural alternative for structural designers. Panels have strength sufficient to be used as bracing walls. However, some additional fixings or studs may be required for stronger bracing walls. Panels are available in various thicknesses, and the design and specification of the panels relies heavily on manufacturer-provided design tables. Australian suppliers must ensure their SIP product complies with Australian testing standards and code requirements.
Standard SIP internal chasings are provided to enable electrical services to be installed through the insulated panels with ease. As the OSB facing of the panels is load bearing along its full length, it is important that the panels are not cut without engineering design.