The Grand Atrium of the Auckland Museum has opened after a long-awaited renovation.
Project Name
A complicated space made simple and elegant.
Image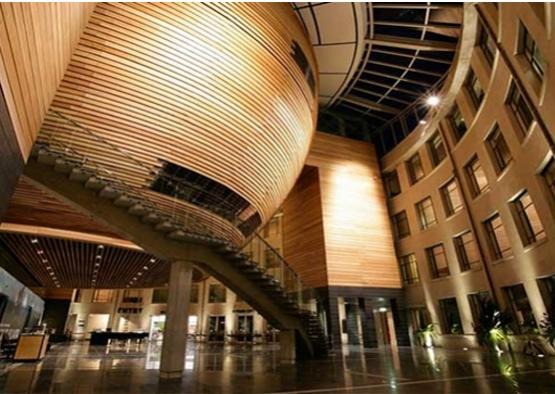 Overview
Auckland Museum is one of New Zealand's most visited man-made tourist destinations with more than 500,000 visitors per year. The Auckland Museum's landmark Grand Atrium Project began in December 2003 and, after more than three years of construction, opened its doors to the public recently. The additions to this iconic building were completed after a successful development campaign to raise 64.5 million dollars. The Auckland Museums Grand Atrium features a 7 storey complex topped with a copper dome. The Grand Atrium includes a TV studio, education facilities and a wooden clad sphere which contains a 200 seat auditorium. These noise sensitive spaces were assisted by the Holyoake Engineers who collaborated and acoustically tested the equipment utilised in these critical environments.The roof top events and function level, which seats in excess of 800 guests under the copper & glass clad dome, features many of Holyoake's architecturally superior air distribution products. The expansion increases the floor space by some 60%. The floor space of the museum had not increased for more than 40 years, however the nature, substance and depth of the collections housed had increased considerably - the Museum now has 3 to 5 million artefacts to display.
 
The extension houses a 950m² international quality special exhibitions hall, a new learning centre for children and a 200-seat auditorium for cultural and musical performances, films and lectures and a copper dome topped café, an events centre and garden on the museum's rooftop offering extensive views of Auckland. The project also included the construction of a two-level underground car park building.
Structure
The new works fit within the existing museum space and, as it is a heritage building, there were no structural changes to the exterior façade. The sight lines of the museum were not compromised, with the completed two-storey car park at the southern entrance constructed underground.
The project was founded on a collaborative approach, with Hawkins working alongside the Museum Trust and their designers to provide construction and budget advice. The team was forced to think laterally and develop unconventional and innovative solutions to meet the architectural, structural and operational requirements of a museum.
Interior
Influenced by artist John Ecuyer, the dome is completely clad in Fijian kauri wood. Unexposed to the elements, the dark-wood cladding, with its band-sawn finish, is designed not to weather and provides a strong contrast against the white plaster walls.