A defining new landmark for Melbourne, this vertical extension over an existing 6-storey building used the latest in timber construction technology to attain new levels in sustainable design.
Project Name
Adina Hotel - 55 Southbank Boulevard
Location
55 Southbank Boulevard
Southbank VIC 3006
Australia
Image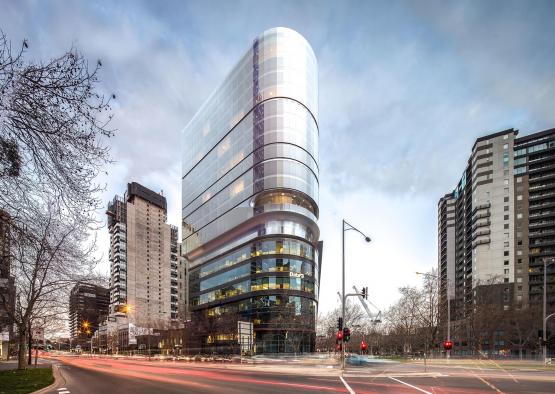 Overview
The existing building would have been able to accommodate an extension of 6 levels with the use of concrete framed construction. The design challenge was to surpass this, in order to deliver a hotel with 220 rooms. The solution was to use Cross Laminated Timber (CLT), so the existing structures were able to support an additional 10 levels, with minimum disruption to the tenants. In other words, using CLT was a key factor in making the project financially feasible.
The client Hume Property Group contracted Adina Hotels as a tenant, which appreciated the fact that CLT provided reduced carbon emissions.
Due to significant offsite fabrication, the time spent on a tight construction site by the builder, Atelier Projects, was significantly reduced, with the 1,850 CLT panels installed in the tight inner-city location in a highly agile manner.