With a loft like a forest of timber framing, the Disneyland House is a modern take on traditional gabled structures.
Project Name
Disneyland House - an entertaining contrast
Photographer Details
www.ludmillacerveny.com
Image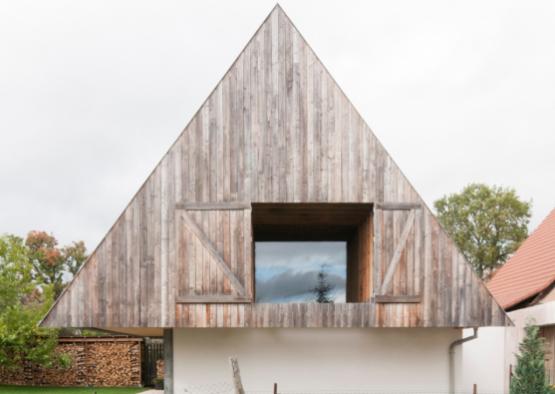 Image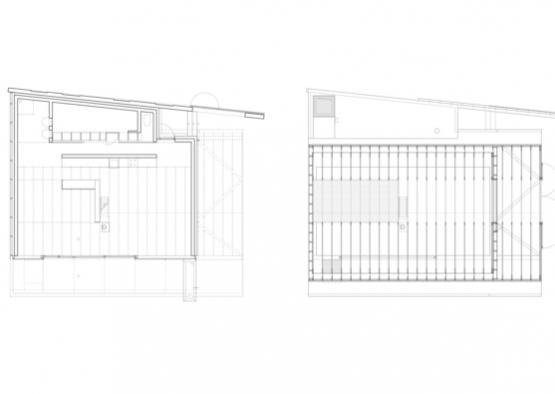 Image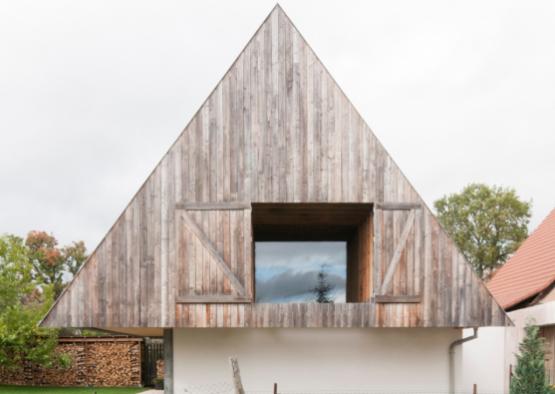 Image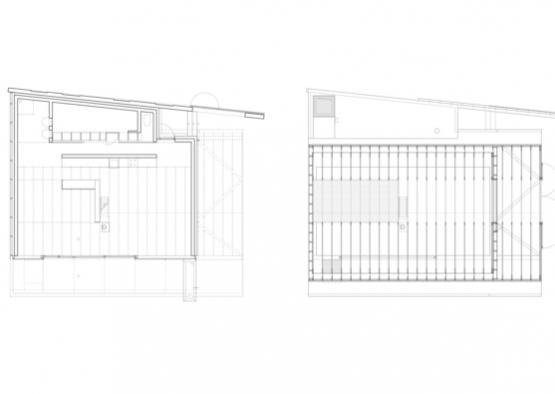 Overview
In this Alsatian village, urban policies are sparse but straightforward — do as your neighbour — and all neighbours agree. The Disneyland House combines this traditional viewpoint with modern features that combine to create a beautiful timber-framed house.
The house presents as a tile covered gable roof, completely hiding the contemporary loft beneath. The ground floor is a free space, open to the south-facing garden, with a simple structure including a sauna and a shelf. Above this first house hovers another, a retreat hidden in the bush of the industrial carpentry, with views that overlook the ground floor or float over the remote landscape.
Structure
The structure was required to have a similar design to the surrounding houses due to the building policies of the village. This was achieved by using glazing on the bottom floor that was overhung by gables. However, in order to make the house stand out from its neighbours, the gables have been expanded, creating a heavy overhang of the ground floor.
The loft space that sits above the light-filled ground floor is a forest of timber framing, with the structure exposed to anyone who climbs up the ladder. Large windows bring light into what could easily have been a dim, dusty attic, but instead is an intriguing and inventive space, perfectly complementing the not-quite traditional gables of the roof.
Exterior
The roof of the Disneyland house is much larger than would normally be the case. The reasons for this are the strict building regulations that the village of Zutzendorf has in place, which aim to keep any new structures from breaking with the traditional visual context of the village.
The architects therefore designed the building to include the large gabled roof that emulates the nearby houses, but the size of the roof was increased to maintain the individuality of the Disneyland house. It also conceals a space within the wooden rafters.
The roof sits above large swathes of glazing that grant vies over the entirety of the house's garden.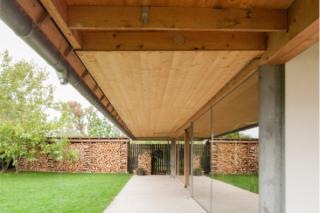 Interior
The interior of the house is a story of two spaces. The first is the main living room, flooded with natural light from the large windows that make up the whole wall that faces the garden. The second hovers above the main space; a forest of beams and posts makes up a dim space that has a large window overlooking the garden.
Both interior spaces have an atmosphere dominated by timber features, with the upper floor in particular giving the feeling of being in a forest. The upper space is also unique in its shape, with the steeply pitched and gabled roof that was required by the local planning laws giving that space a noticeable pitched form.