A timber skyscraper concept that aims to tackle both the housing and food crises in one modular structure.
Project Name
The Farmhouse, Modular Housing Concept, by Precht
Photographer Details
Renders by Precht Studio
Image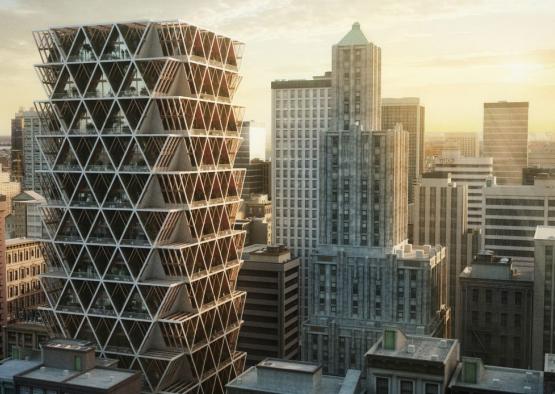 Image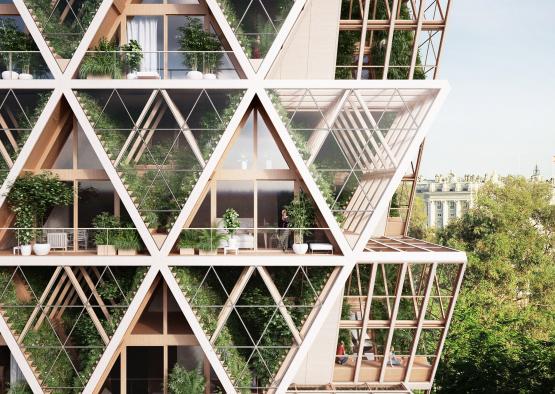 Image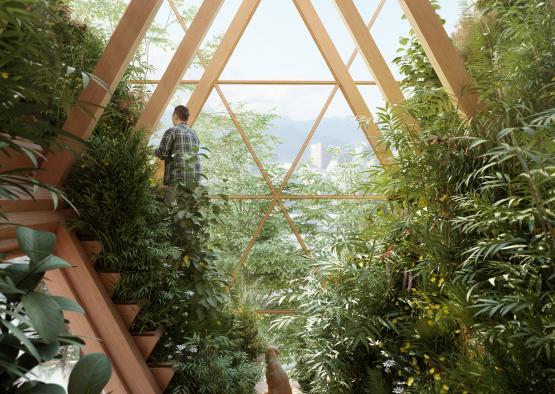 Image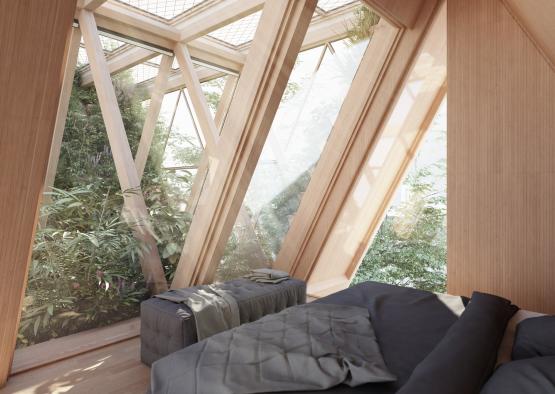 Image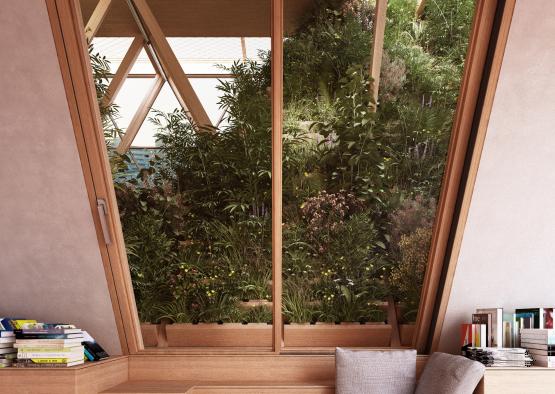 Image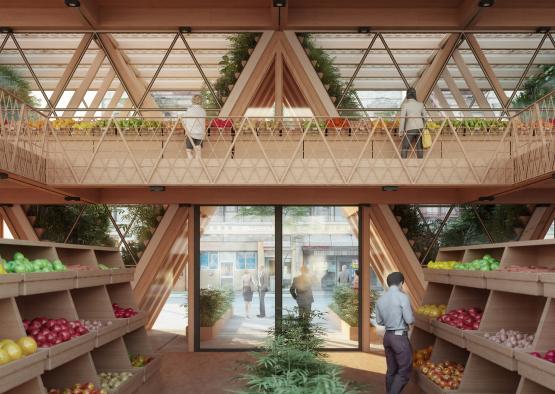 Image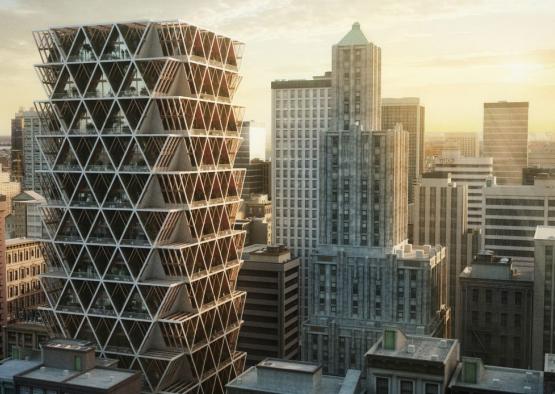 Image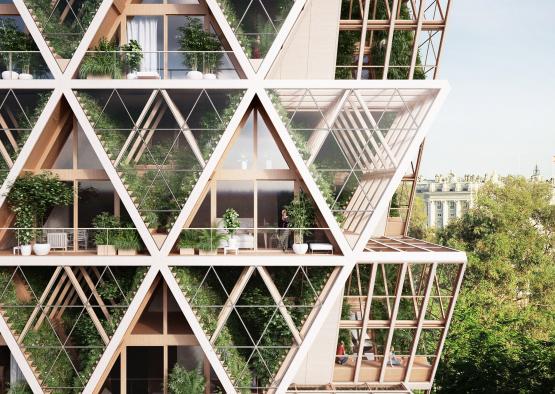 Image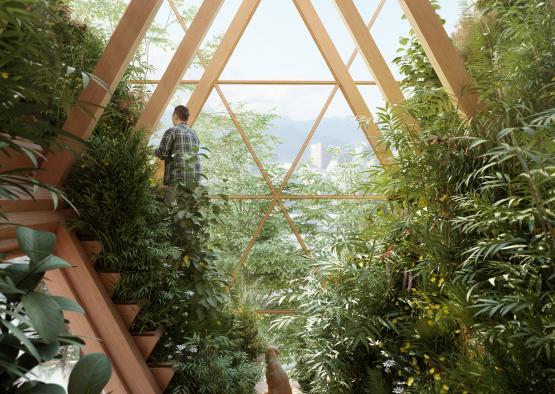 Image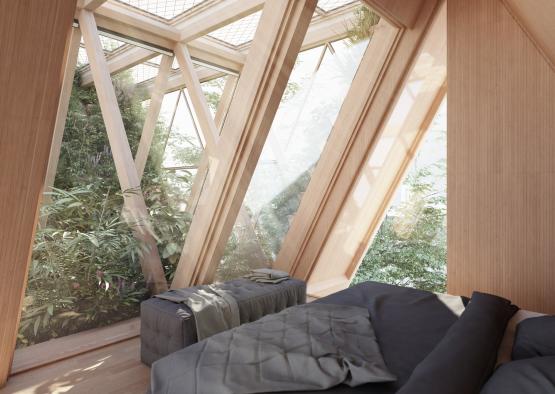 Image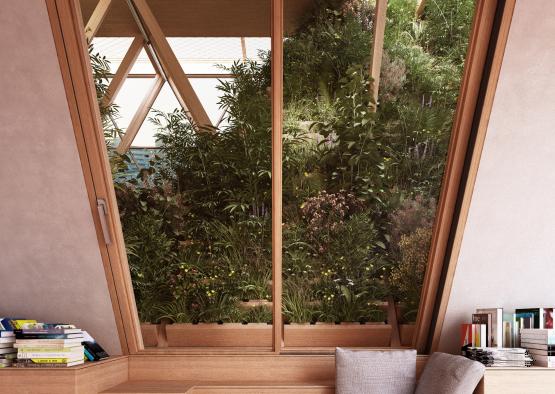 Image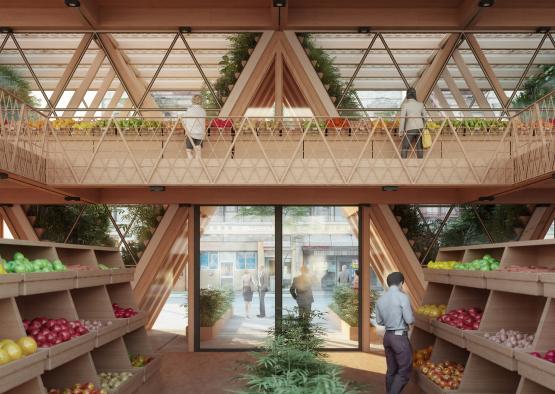 Overview
The farmhouse project uses a unique triangular structure made from CLT panels to create a modular pyramid-like skyscraper that meshes urban vertical farming with modular housing. The strong connection with nature is designed to relieve residents and onlookers of the mental claustrophobia of the city. 
Structure
The idea of The Farmhouse was to celebrate nature and plants as much as possible. For this reason, among others, cross-laminated timber was chosen as the primary building material, being a direct derivative of trees. CLT features timber boards layered in varying grain directions, to create a large and extremely sturdy panel. 
CLT panels were used to develop the modular structure, finishes, and vertical farm planters. CLT was also the desired choice for it's accuracy and workability. CLT can be precisely cut to dimensions by a CNC machine, which allows for extremely accurate joints. This precise fabrication allows easy transportation to site, along with quick installation, which brings down costs. The system is able to be built offsite and assembled in any location. 
Trees are a naturally growing material, and when sourced sustainably, provide a sustainable resource. CLT manufacturing also uses far less carbon and energy during its making compared to steel and concrete. In fact, timber stores approximately one tonne of carbon dioxide per square metre of wood, providing a carbon sink for the length of its life cycle. 
The structural system combines both diagrid frameworks, which use diagonally intersecting members to create a rigid frame with low material use, and traditional A-frame construction, which brings structural clarity and rigidity through triangulation. 
The wall systems consist of three layers, one for electrical and residential water needs, a middle layer for insulation, and an outside layer for gardening supplies and water use. 
The units can be customised by expanding them to double A-frames, which would suit a family size. Living space would be in the larger bottom section, while bedrooms would sit in the steeply pitched higher volume. The v-shaped garden in between units acts as a buffer zone between apartment buildings, and eliminates the need for overhanging balconies. 
Exterior
The Farmhouse exterior is striking in an urban environment. The modular skyscraper can take on various heights, and still presents as a rectilinear envelope, though the triangular modules inside create a patterned facade. 
Although not a traditional curtain wall facade, the structure does feature substantial glazing on its facades. The faceted glass panels allow maximum light into the vertical farms and apartments, which are set back behind balconies to avoid direct glare. 
The vertical farms are visible from the street, which creates a lush garden profile for passersby. 
Interior
The interior spaces of The Farmhouse take on the geometry of the triangulated form. The rooms have pitched walls, which creates a number of unique spaces. 
The CLT panels used as the structure have been left exposed in the concept, to provide a warm and bright interior of timber lining, which compliments the garden spaces. 
Views through to the vertical garden are evident in most rooms, and provide an unprecedented floral setting in an urban environment. The gardens also consist of an exposed timber structure, including planters for the crops.