Kunama Townhouses utilise mass timber and bathroom pods to create beautiful and resilient short term accommodation in Australia's high country.
Project Name
Kunama Townhouses, East Jindabyne
Location
80 Kunama Drive
East Jindabyne NSW 2627
Australia
Image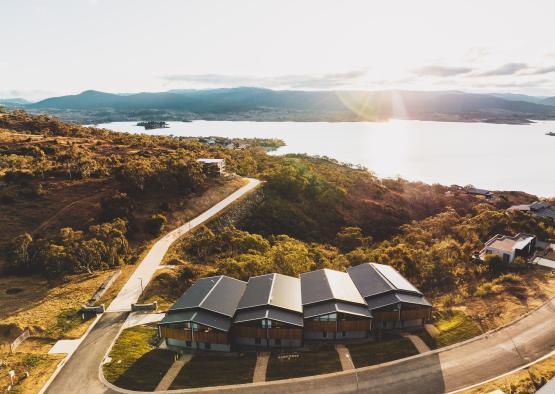 Image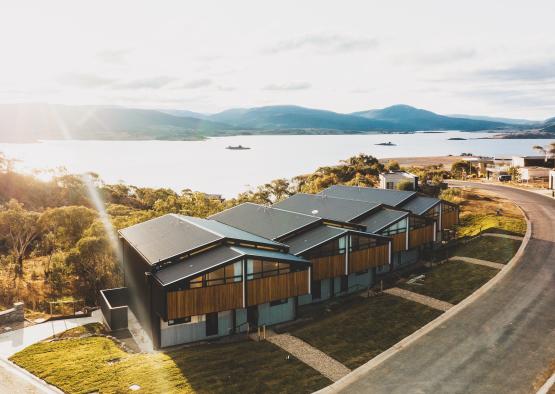 Image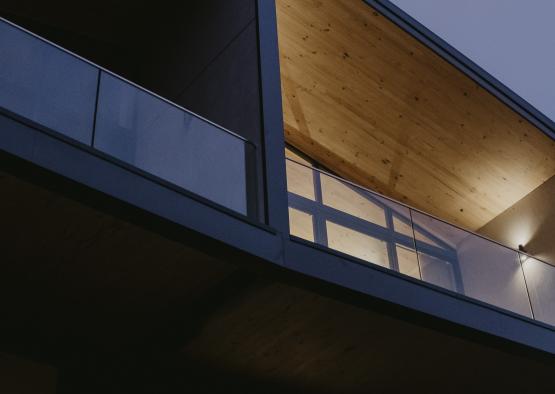 Image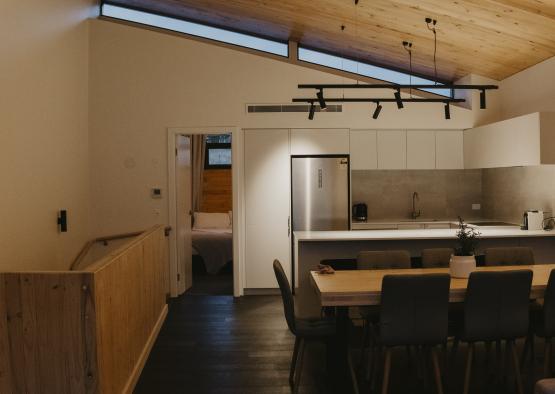 Image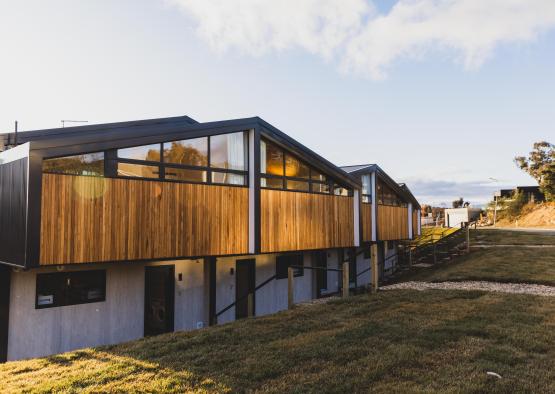 Image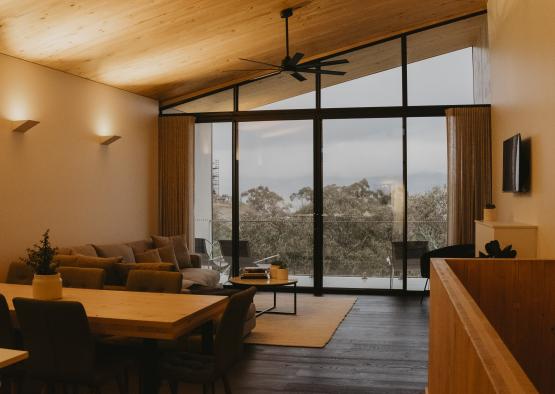 Image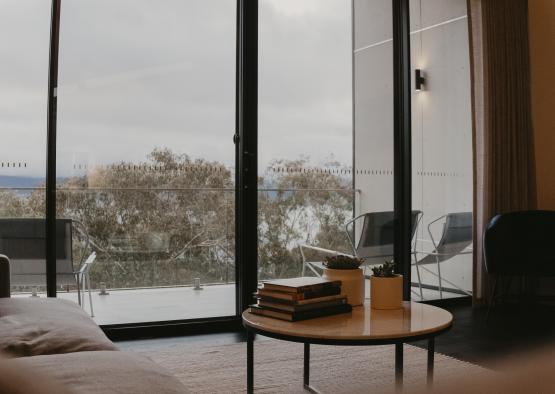 Image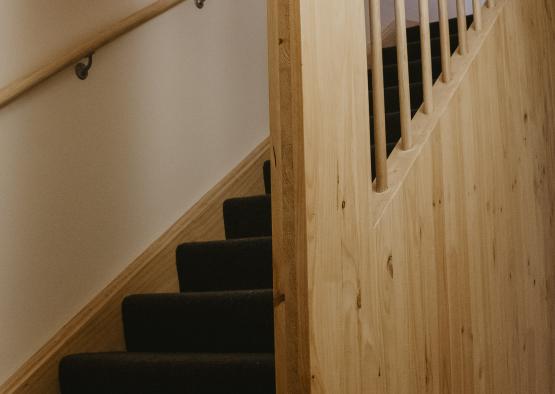 Image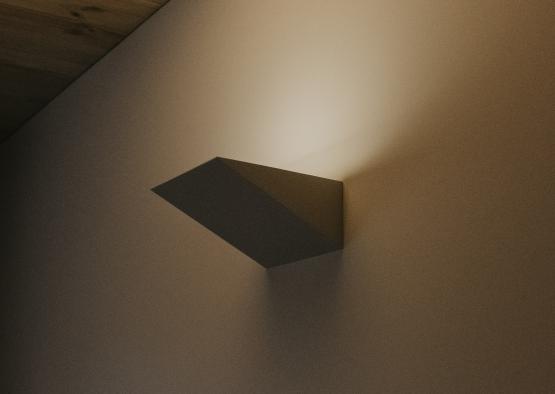 Image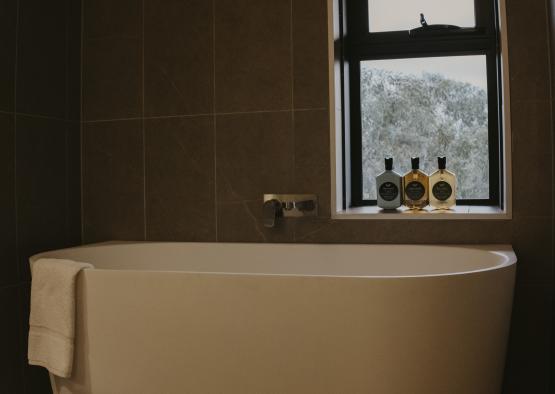 Image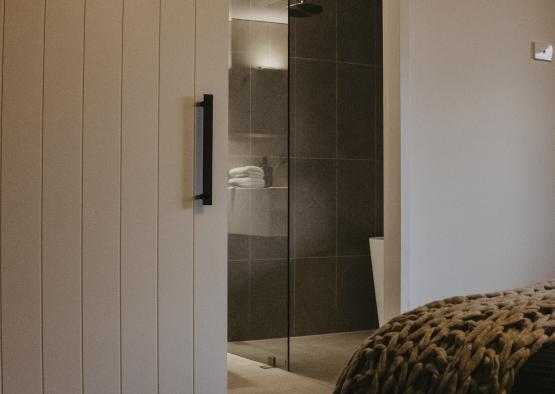 Image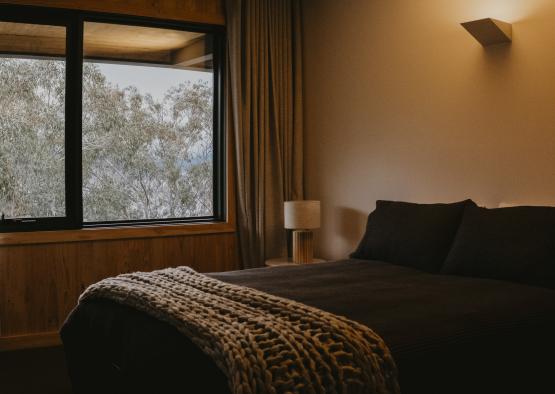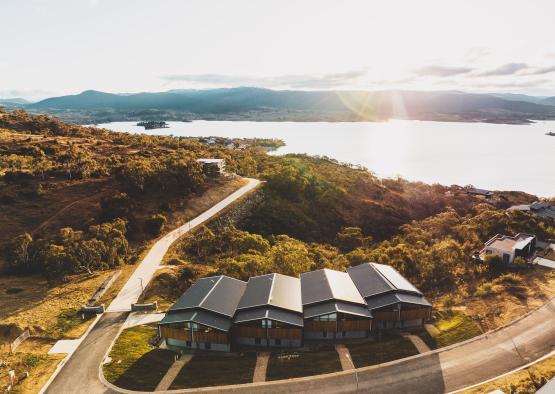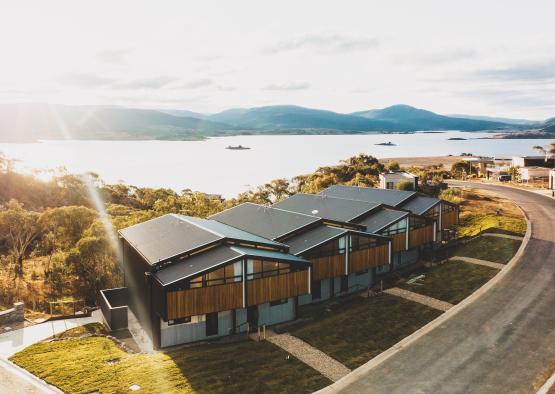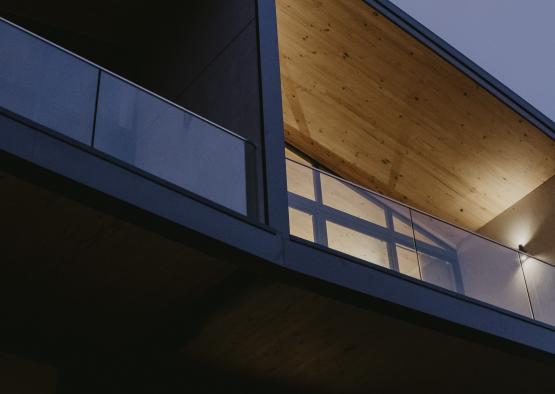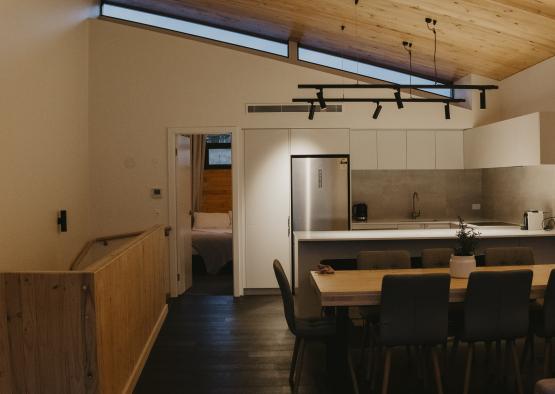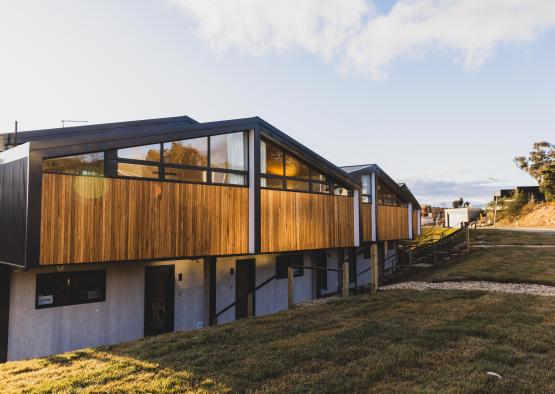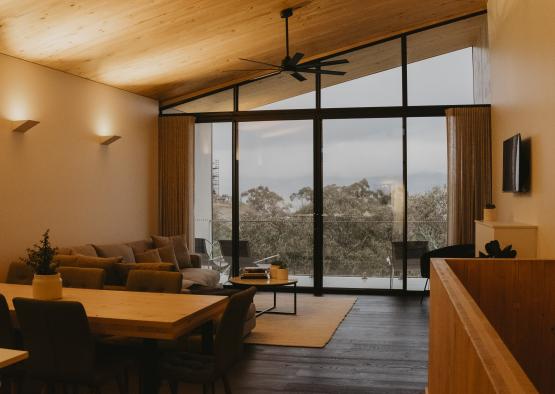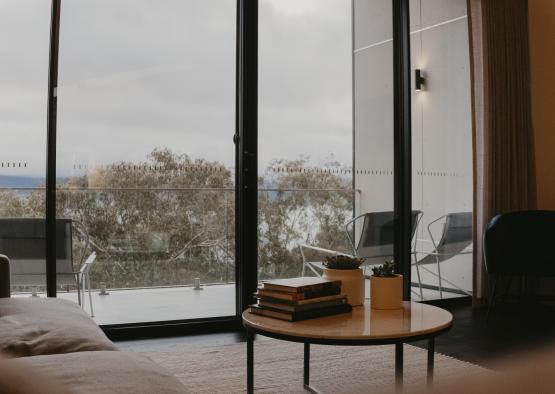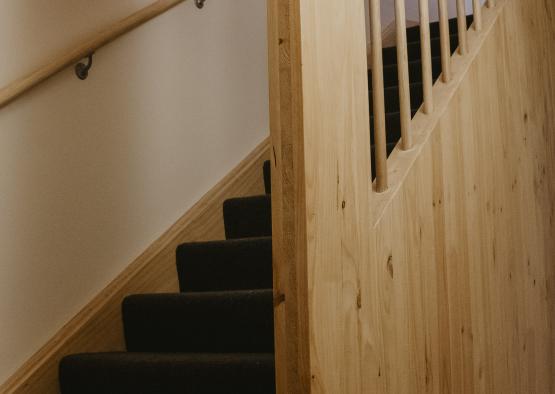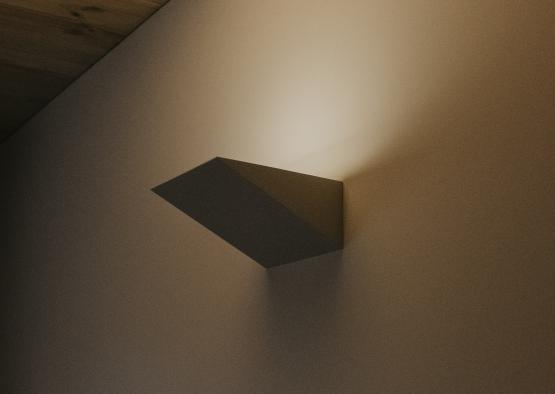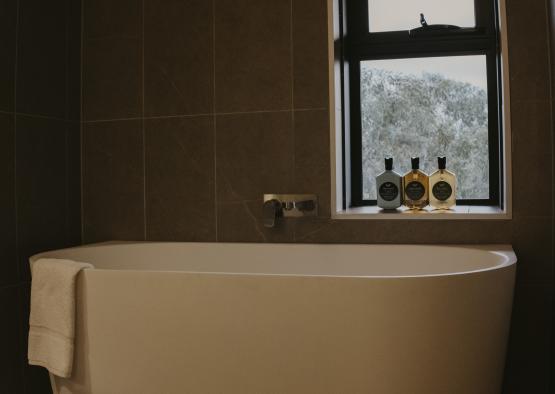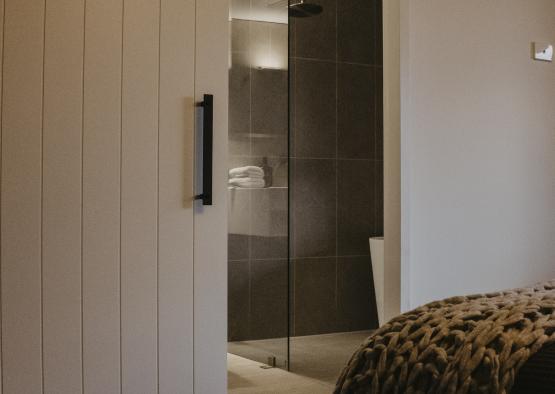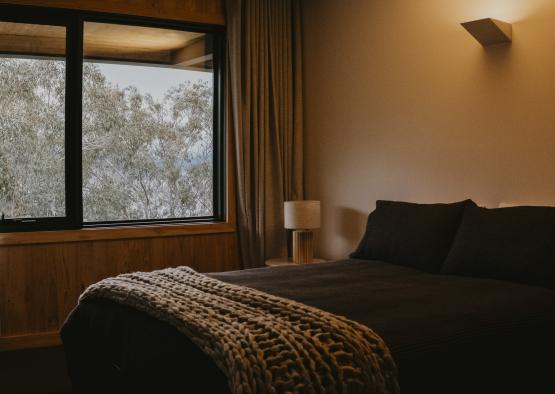 Overview
Kunama Townhouses had a very specific use case of accommodating adventurous, nature-loving short term guests in a harsh climate. This combined with a challenging site provided a brilliant opportunity for mass timber. 
CLT's structural properties allowed us to achieve a geometric design in a short time frame. Its thermal capabilities are ideal in the Snowy Mountains, which receives harsh weather in both summer and winter. We further increased the speed of construction by introducing bathroom pods, which were Australian made as was the CLT and glulam. The mass timber superstructure,  including floors, walls, roofs and bathroom pods, were installed in a total of 12 days. 
Kunama Townhouses introduced local trades to mass timber and bathroom pods, with mass timber especially being very well suited to the area. Sleeping 64 people in any one night, thousands of visitors are passing through this building every year, experiencing mass timber first hand.
Structure
Resolving the natural grade contours required a substructure of a double blockwork wall tied into the ground floor slab around the perimeter. This acted as a retaining structure and entry pathway for the townhouses, as well as a parking plinth. Single blockwork walls were used for the intertenancy walls in the basement garages.
The CLT structure consisted of 200mm floor plates which allowed for full height walls up to 7m tall.  These full height walls were designed as cantilevered battleaxes  on level 2, and were tied in with additional glulams to achieve the cantilever for the balconies . This created a small portal frame which acted as a seat to house a 90mm floor panel for the balcony. The resulting step down from the 220mm level 2 floor panel accommodated the window sub-sill and screed. 
Similarly, the rear cantilever was achieved using cantilevered battleaxe panels tied in with the 220mm cantilevered floor panel which housed the upstairs bedroom and ensuite.
The mass timber structure was not compromised with any major steel components. Installation was achieved in 12 crane days, including the craning and placement of 24 bathroom pods into position.
Exterior
It was important for Kunama Townhouses to sit in harmony with the landscape, and to minimise impeding on any neighbours views. This was achieved via a low profile as seen from behind the building, and careful material choice to suit the local context. 
Interior
Whilst durability was key to the use-case, warmth and comfort were also priorities and were integrated via finishes, fixtures and product choices.  The construction materiality is celebrated by exposing the CLT panels  as the feature in the timber raked ceilings and exposed CLT walls.