LifeCycle Tower one is a hybrid prefab wood/concrete building system that is C02 neutral and of PassiveHouse standard
Project Name
LifeCycle Tower one - 8 stories of wood-concrete
Photographer Details
Cree GmbH, Hermann Kaufmann ZT
Image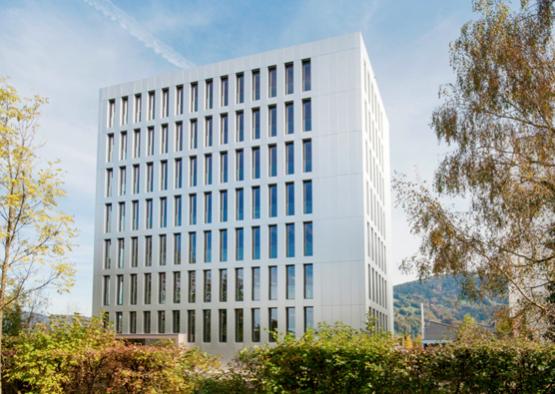 Overview
The general contracting branch of the West-Austrian Rhomberg group, researching options for the future of its industry, has developed a high performance hybrid prefab wood/concrete building system that is not only C02 neutral and has a very low impact on finite resources but it also weighs just 42% of a comparable conventional construction. Its energy efficiency is of PassiveHouse standard.
A turnkey delivery, the LifeCycle Tower is a fully accomplished prototype, equipped and finished to the highest building standards - and it was built in just 9 months. Financed by Rhomberg, it houses the group's innovation branch, Cree, and devotes two out of its eight floors to displays of the resource efficient construction techniques used in the building.
The LifeCycle Tower is an outstanding demonstration of the current architectural and technical expertise in energy efficient construction with wood in the one region in Europe where this is now the norm. Most new buildings in Austrian Land Vorarlberg conform to the PassiveHouse energy efficiency standard and over the last 15 years, wood has become the major structural and building material in the region. Today wood represents over 30% of the volume of building materials used. Increasingly, the value creation chain is becoming localised, with most building elements in this project being manufactured within a few kilometres of the site.
In November 2008, the integrated Austrian R & D project "acht+" (eight plus) came to the conclusion that under current building regulations a twenty storey wooden building was possible.
The project group included architects, civil engineers, two university research facilities, a major wood construction firm, a conventional building firm, a risk management consultancy and Austria's leading insurer of the building trades. However, the next step, a 20-storey-project on a privileged location in Mexico-Platz in central Vienna, failed to materialise and progress halted.
Hubert Rhomberg, CEO of Rhomberg Bau (the conventional building partner in the research team, leader in his field in his region Vorarlberg in Western Austria), decided to take the idea further by building a prototype, the LifeCycle Tower one (LCT one).
Rhomberg sponsored a two-year research into resource efficient building techniques with wood, in order to make the best use of the second advantage of wood in building, fast assembly following high precision prefabrication. He set a dedicated company up to see the project through as a builder-as-investor venture, the Cree GmbH, and associated with the Hermann Kaufmann architects, also a local firm and European pioneer in energy efficient wood construction.
Their objective was to build a prototype resource efficient building to highly evolved criteria. The Austrian IBO Institute, having developed a comprehensive catalogue of environmental references for sustainable building, was a hands-on partner during design of the system. Each option, solution and material choice was checked against strict environmental criteria.
The construction process is a completely dry. Precision prefab requires no formwork, no water, no setting nor drying, no shoring, no long term scaffolding, no storage nor any waste on site. The build process was fast, one floor a day, finished airtight, insulated, clean and instantly available. All built to high quality standards.
While the LCT one was still under construction, its successor, the IZM project, a 10,000 net square metre facility, was won by the consortium Rhomberg/Cree/Kaufmann in an international design and build competition. This was an opportunity to implement the hybrid building system in a competitive real life project, just under an hour's drive from the LCT one. Also a turnkey project, it took just under 16 months to complete.
Structure
Located in the business development fringes of busy Dornbirn, the eight floors of offices + exhibition spaces are a beautifully sober showcase for new building techniques. The basement, the complete groundfloor including the first level floor and the bloc housing lift shaft and stairwell are in reinforced concrete. The upper floors - set against this stiffening block - are built from prefabricated wood and wood/concrete elements, assembled in record time - just 8 days for 8 storeys.
At the heart of the project is an innovative approach that simplifies the building process - a system based on a combination of large wooden prefab façade-cum-loadbearing glulam posts in a slot-in connection with hybrid glulam beam-cum-concrete slab floor elements that follow the building's grid.
If it is technically possible to build the lift shafts and stairwells in CLT (large format structural wooden panels made of calibrated cross glued boards), sorting regulations and building control out would have been too much for this project - already too many other innovative solutions needed approval.
The thermally insulated façade elements, some 46cm deep, are prefabricated in sets covering up to four grid spans. They come combined with the floor high peripheral glulam posts at half grid interval.
Each such façade element including glulam posts is delivered to the building site complete as one piece and lifted into place as a whole, including fixed and mobile double glazing so that with the advancement of assembly each floor is progressively weather protected before the next floor is assembled.
Façade corners are pre-assembled in the workshop. Taking a little more room in transport is of little consequence in comparison to the compexity of corner assembly on site.
Site assembly took eight days for the eight levels. The site building team of 5 handled a complete storey per day, in a 10 minute/element rhythm - 1 on the ground preparing, 1 crane driver, 3 fitters.
The glulam posts and the central block are fitted with vertical steel pins that slot into holes in the 4 corners of each floor slab, similar to a child's plug-in building set. The floor slabs are formed so that the peripheral load of the building's upper floors is carried through each slab's outer concrete lip.
The play necessary for easy assembly on site is - after geometrical correction of the position of each element - filled in with a special fast setting resin mortar. The seams between the slabs are jointed. This joint made fire control so easy that the originally imposed sprinkler system could be dismantled after completion.
The floor elements were fire tested in the one oven in Europe at the time that could take a 2.5m x 8.1m piece, at a lab in the Czech Republic. If the wooden components of the slab withstood a sustained fire over the required 45 minute test, the concrete formulation had to be revised for further testing as the crystalline water that forms normally in concrete under strong heat led to premature cracks and partial dislocation.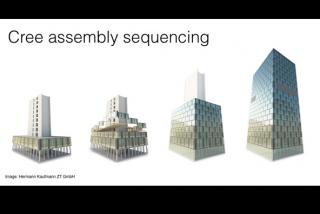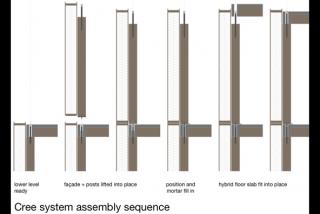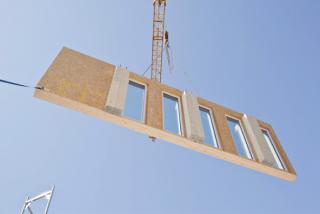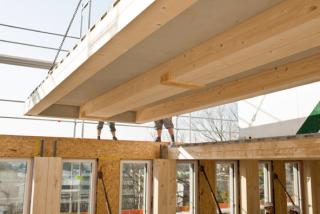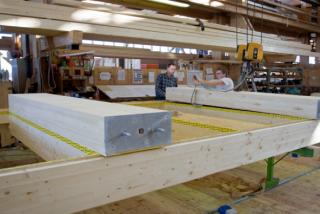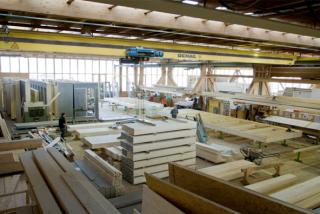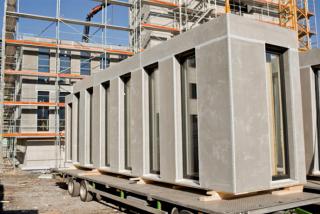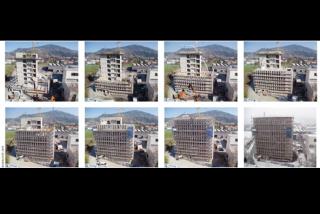 Exterior
The structural system, basically an augmented post and beam arrangement, allows for very liberal façade design. The solution adopted here is consistent with the very detailed daylight and energy management of this project. The opaque façade is highly insulated to cope with very cold winters. The windows are double glazed. The safety guards are of chest high security glass, almost invisible.
The cladding is prefabricated from recycled aluminium alloy.
Interior
The windows, also a local product from local wood, are 'floor to ceiling' and can be opened freely. Central contact surveillance is to make sure that no windows are left open over night or in unoccupied spaces.
The very precise prefab construction stands for easy interior fitting - another advantage of consequent wood construction. Lack of precision in conventional building is the scourge of fitting and finishing, one of the most costly contradictions in the trade. In wood construction, individual adjustment of partitions, doors, équipments can be reduced to minima as the details and dimensions drawn by the architect are carried through all plans in an uninterrupted transfer of CAD data right into CNC machining of single elements and into assembly sequencing. No other building mode is capable of such consequence.
Most fixed furniture in the building is made locally of local wood, as are the posts and beams of the structure.
The structural wood elements are a visible feature of the interiors (epicea abies, a fastgrowing European needle wood). Selected and finished to furniture making standards, the wood remains free of any coating or treatment. User health, deconstruction and recycling have become foremost principles in building.
For safety reasons in case of fire there are no hidden structural wood elements in the building (except in the zones of cased in transversal distribution under ceiling). An encapsulated wooden structure would not show where precisely an actual fire is located, which, needing dismantling of the cladding, would be much more difficult to deal with.