This contemporary home on a steep slope north of Sydney combines steel and timber to achieve an award-winning 'traditional' Pittwater cottage result.
Project Name
Hilltop House
Photographer Details
Simon Wood, courtesy Australian Timber Design Awards, http://www.swphotography.net.au
Image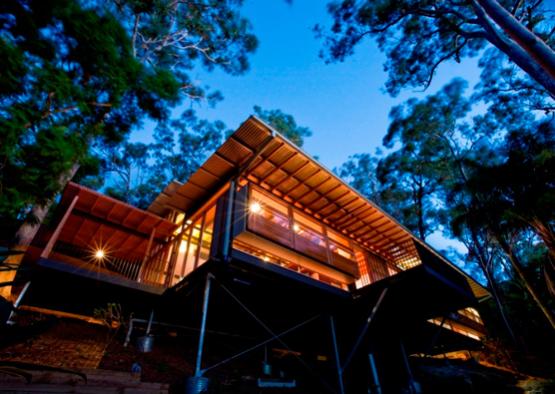 Overview
A 'battle-axe' block (located behind another with consequently narrow access), this beautiful north Sydney site is surrounded by remnant spotted gum forest. The compact steel and timber framed house responds to the slope by terracing down the hillside.
Architect Richard Cole says that strategy maintains a low profile – preserving neighbouring views and creating opportunities for expansive views from the upper level of the house.
Steel framing and a cantilevered driveway were chosen to protect the root system of the surrounding trees.
Story and pictures by special arrangement with timber+DESIGN International magazine.
Structure
Low-pitched roofs, wide eaves and large window seats create a "horizontality" that echoes Pittwater's western foreshore and screens sun from the western orientation
The high strength-to-weight characteristics of engineered timber were used for the concealed structure. Posistrut floor joists were manhandled down the steep access handle to quickly erect the building platform. Ripped down laminated studs permitted the thin wall structure to be contained within the expressed steel portal frame.
Tapered blackbutt rafters are simply cleated to the steel structure – the strength of the hardwood permitting the wide eaves and oiled finish running from inside to outside.
Spacing of the rafters with the joints of the plywood ceiling aligns through the building with the vertical cedar battens on the external fibre cement cladding – creating a consistent rhythm and texture. (Fibre cement sheeting was a common low-cost material used in early houses throughout the area.)
Rooms are only partially enclosed, with glazed infills between the rafters highlighting and floor-level windows – exposing the occupants to the enveloping bush, water, shadows and light.
Interior
Detailing is simple and clean, with a restricted palette of materials allowing the surrounding landscape and filtered water views to be become a dominant feature.
Feature grade 130-mm-wide secret nailed jarrah flooring with a matt natural finish provides a rich, warm platform that turns up into the joinery elements.
The house is naturally ventilated, uses energy efficient LED lighting and collects and recycles rainwater.
The owners sought a contemporary dwelling in the tradition of the crafted cottages of the Pittwater area. With its precisely detailed and constructed structure and joinery, modest size and vernacular materials, this house is an embodiment of that idea.