A world first for its innovative use of LVL in the structure of a multi‐storey building, the NMIT building also incorporates a new generation of earthquake-­resistant engineering technology.
Project Name
NMIT Arts & Media Building, New Zealand
Image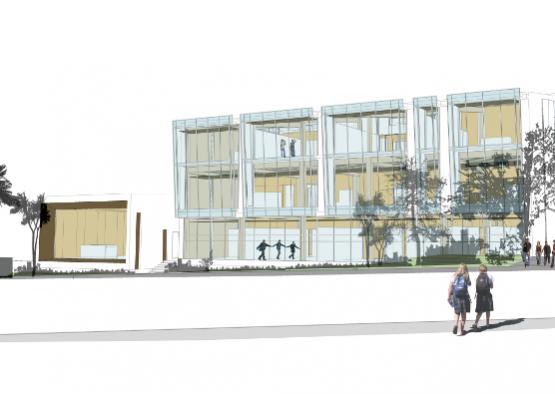 Overview
Irving Smith Jack Architects and Aurecon Engineers won a national competition for their innovative design solution for the Arts & Media building at the Nelson-Marlborough Institute of Technology (NMIT). The competition criteria were that the building had to be sustainable and substantially made of locally sourced timber. Not only did ISJ and Aurecon meet these criteria but they also raised the bar in terms of the use of timber in a multi-storey building designed to withstand high degrees of seismic activity.
As winner of the competition, $1 million was contributed to the building's construction costs. Irving Smith Jack designed the building to highlight its construction, with the timber components remaining visible, making the building an exemplar for the design and construction industries. "As architects, we see this as the first in a new generation of creative, sustainable, wooden structured multi-storied buildings," says project architect, Andrew Irving.
The NMIT Arts & Media building shows that timber can be successfully used in multi-storey buildings and promotes a sustainable approach to construction. All the timber used is grown and manufactured within 100km of Nelson and its extensive use in the structural elements, framing and internal linings represents a significant carbon sink, reducing the overall carbon footprint of the building.
Structure
All of the structural beams and columns in the NMIT Arts & Media building are of Laminated Veneer Lumber (LVL), manufactured specifically for the project by Nelson Pine Industries Ltd. Similarly, the shear walls and floor panels utilise LVL as the base material.
LVL is an ideal material for structural applications due to its high strength, predictability and proven performance in commercial building applications. As an engineered wood product, LVL surpasses steel or concrete in terms of strength and dimensional stability in many applications; it is naturally fire resistant and, unlike structural steel, can be designed so that it requires no additional fire protection.
The Arts & Media building utilises a combination of a straightforward gravity-resisting timber frame with sophisticated lateral load resistance. Seismic strength is provided by pairs of rocking shear walls that feature post-tensioning and energy-dissipating connections. Aurecon Design Engineer Carl Devereux says, "This building demonstrates a new approach to earthquake design that will ensure resilient buildings. The rocking timber wall design is a very efficient structure and a world first in its structural use of timber."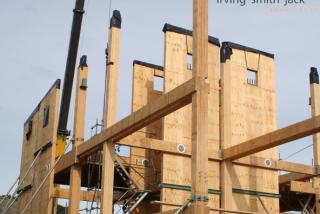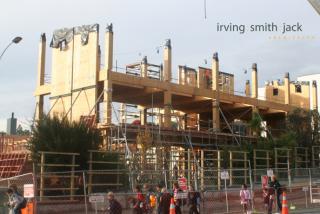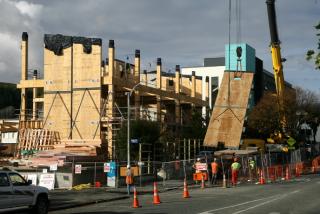 Interior
The interior of the NMIT Arts & Media building utilises MDF, plywood and LVL throughout the linings and detail. Architect Andrew Irving notes that, "As a design team we were interested by the idea of exposing and expressing the function of all the timber structural elements employed." The result is a building interior with a "warmth and aesthetic appeal quite different from equivalent steel or concrete construction methods".
In designing the interior Andrew had to take into account "the diverse and sometimes conflicting requirements of different arts and media activities". There had to be quiet spaces, as well as spaces where there could be lots of noise: there had to be dust-free environments and ones where dust could be created. Timber lends itself perfectly to these requirements, having excellent acoustic and thermal properties and the versatility demanded by a mixed-use building.