A state-of-the-art, smart student housing that has a social and educational hub at its core providing 372 beds for students and researchers.
Project Name
RMIT Student Accommodation - a study in wood
Photographer Details
www.diannasnape.com.au
Image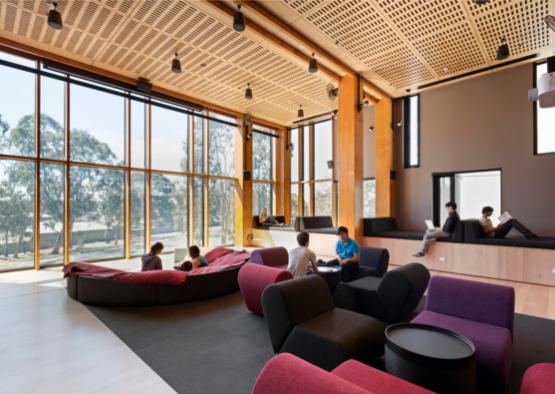 Overview
RMIT BWSA, operated by Unilodge, provides accommodation for 372 students and is the University's first on-campus accommodation building. The broad mix of unit types, single bedrooms, share rooms and apartments for undergraduate and postgraduate students offer a genuine choice to students and appeal to those remaining on campus over the course of their studies.
The residences were considered from a design perspective as a mini community, with a distinct set of functions and in context of how the community will interact with the broader campus community.
The building achieved a 5-star Green star design rating. The building uses thermal chimneys, window actuators, solar hot water systems and harvesting of rainwater. Rainwater harvesting is used for toilet flushing, laundry and landscape irrigation. Reduced temperature warm water distribution is used to reduce ongoing loop losses. Water efficient fixtures and fittings have been installed.
Architect/Designer/s: Richard Middleton Architects (RMA)
Engineer/s: Bonacci Group
Fire Engineer: NDY
Builder/s: Built
Client/s: Royal Melbourne Institute of Technology (RMIT)
Start Date: February 2014
Completion Date: February 2016
Landscape architects/designers: TCL
Arborist / Cultural Heritage: Andrew Long & Associates
Project Manager: DCWC
Structure
RMIT Bundoora West Student Accommodation (BWSA) is built around a social and educational central 'core hub' with two accommodation wings branching out from this. The hub is a timber structure, using laminated veneer lumber (LVL), while the accommodation wings are clad in zinc and powder coated aluminum. The central hub is a double-height space for presentations, functions and includes a cinema screen that is concealed in the ceiling. The building sits within an Aboriginal heritage trail, surrounded by 400-year-old red gums and scarred trees, and is located in the Northwest sector of the Bundoora campus, bordered by McKimmies Road. RMA worked closely with the Project Arborist to ensure appropriate tree projection zones for these trees, some of which hold particular cultural significance to the local indigenous community.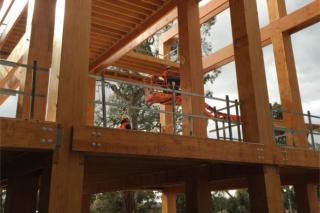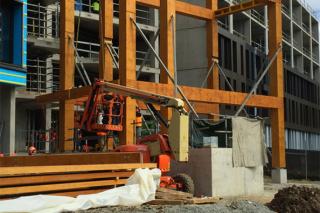 Exterior
RMIT BWSA's façade is clad with black zinc and powder-coated aluminum with bronze powder forms. The central hub's exposed wooden beams make a striking statement when viewed from different angles.
The building forecourt has a large outdoor wooden deck and around the future retail space, within the window pop outs, are timber seats for students to enjoy.
Interior
RMA has used a large quantity of wood throughout the interiors, including the main staircase and corridors that provide a welcoming and inviting space for those living within the building.
Tasmanian oak flooring is used within the central core hub and main stairwell that snakes its way up through the building's core. Plywood is used throughout the hub's ceiling and common areas.
Plywood also lines all corridor walls throughout the building and has been used on shared kitchen ceilings and within the interior walls of apartments.
The Hub's timber structure is exposed internally and can be viewed from the street as well from different levels.
A degree of privacy for the rooms was achieved whilst also providing amenities such as acoustic separation, abundant natural lighting, thermal comfort and safety.
All of this was delivered with a focus on using wood throughout the building, challenging conventional student housing accommodations and how a building interacts with nature and natural products such as wood.