A circular home amongst the dunes of St Andrews Beach, referencing modest beach shacks found in New Zealand.
Project Name
St Andrews Beach House, by Austin Maynard Architects
Location
Saint Andrews Beach VIC 3941
Australia
Photographer Details
Derek Swalwell
Image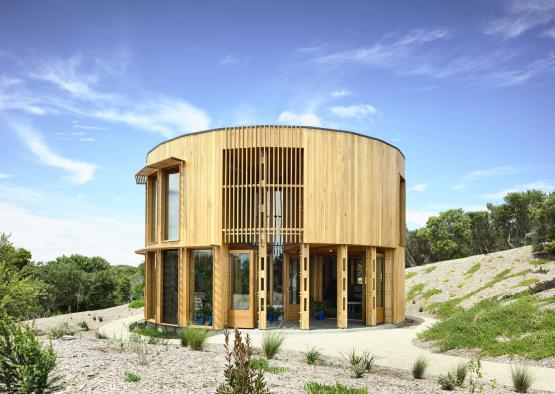 Image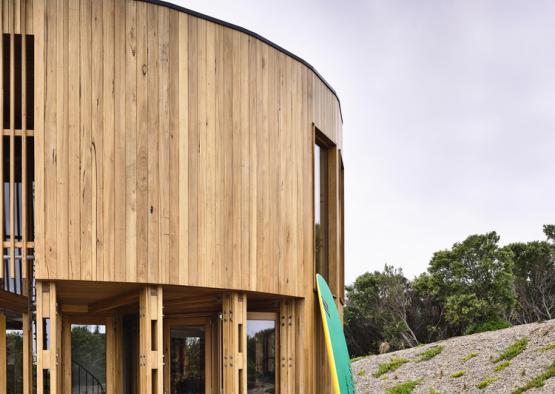 Image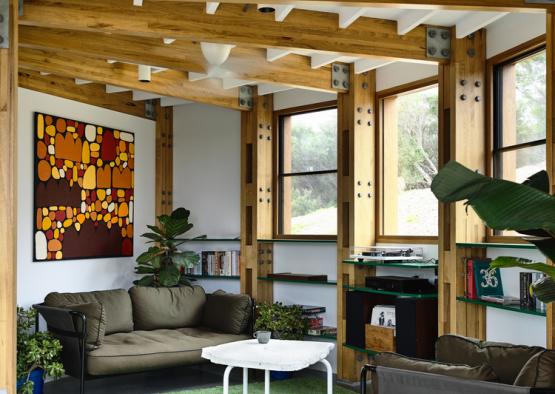 Image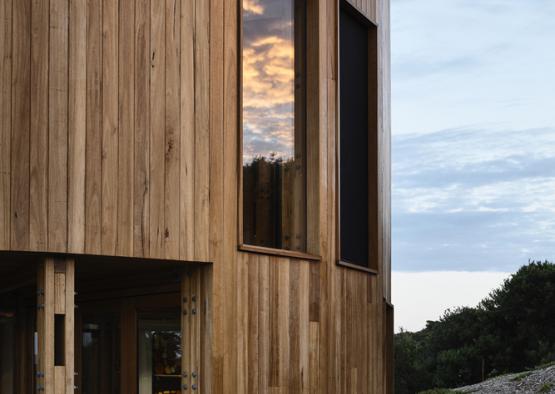 Image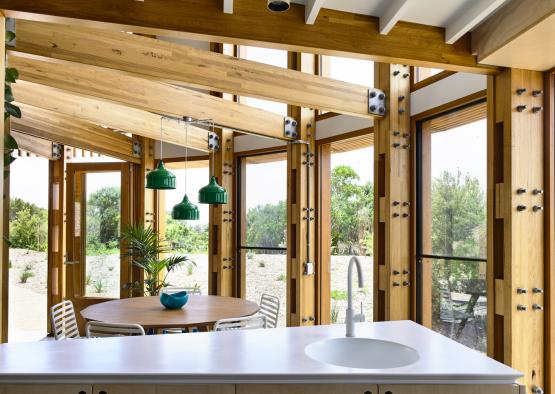 Image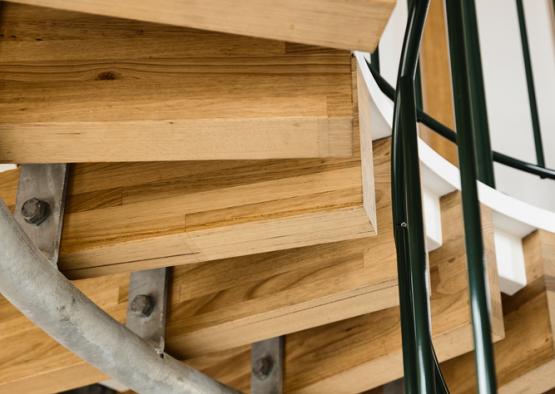 Image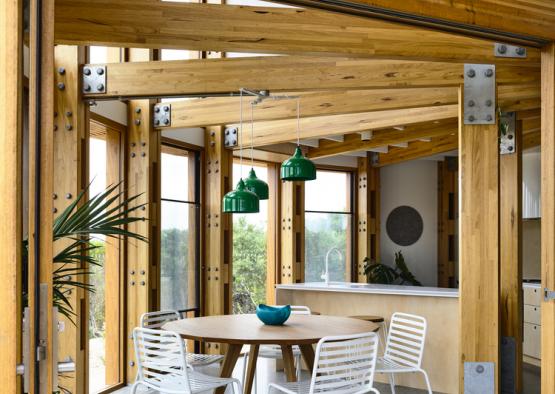 Image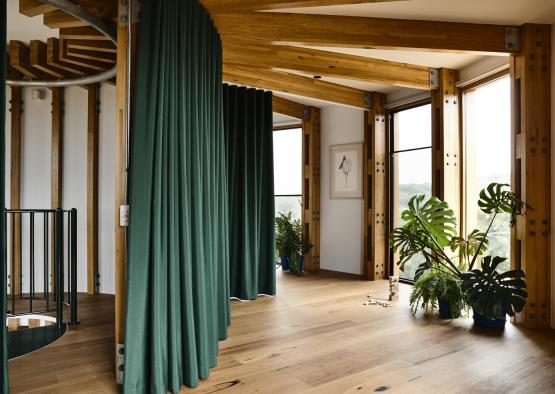 Image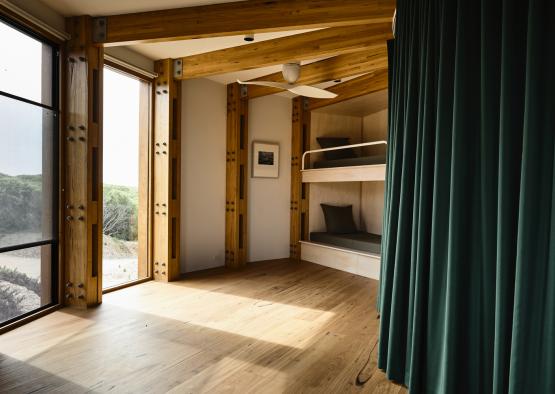 Image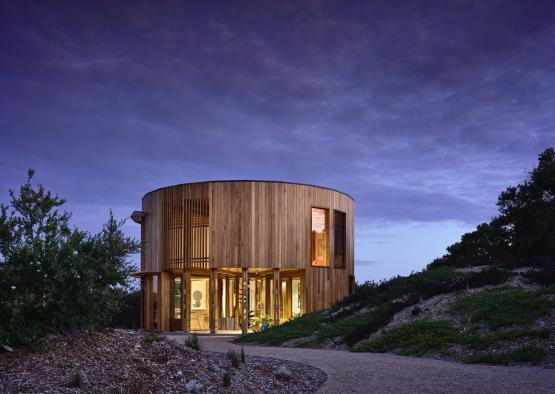 Image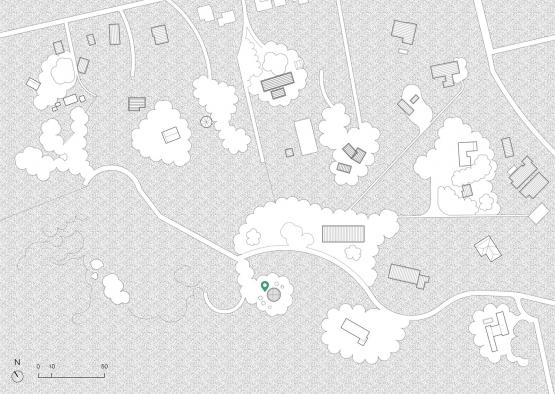 Image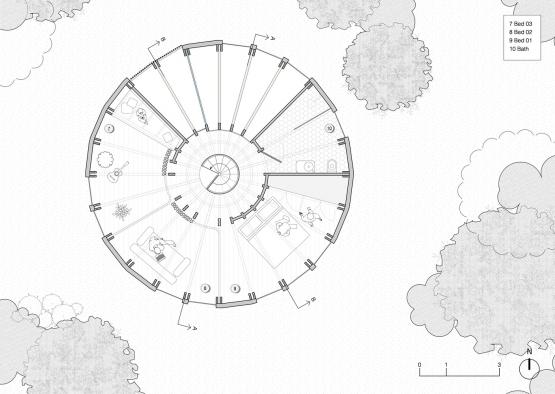 Image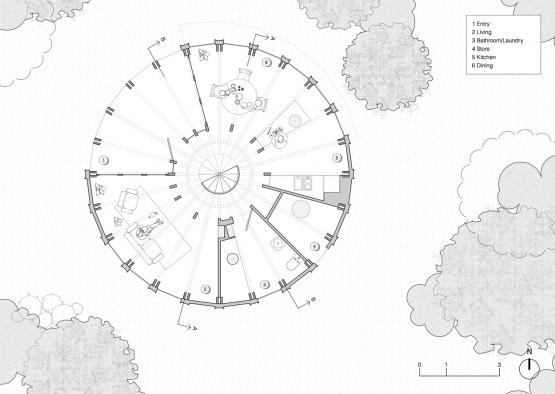 Image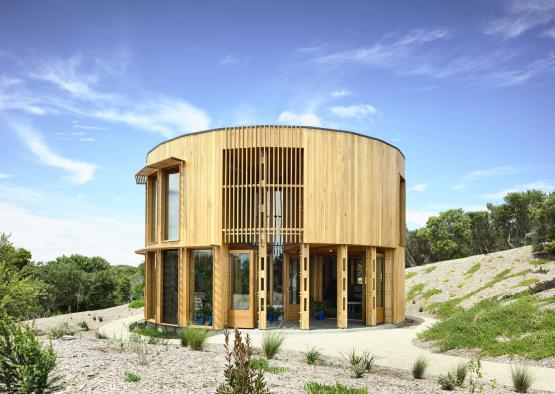 Image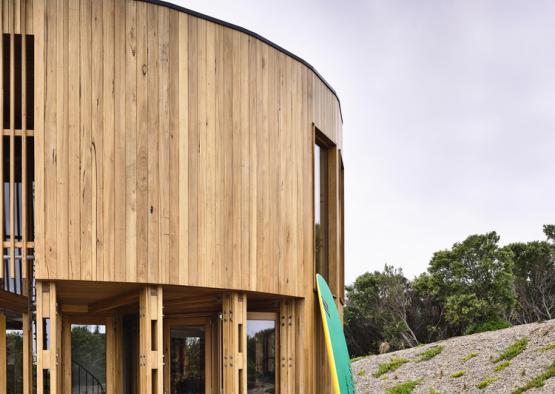 Image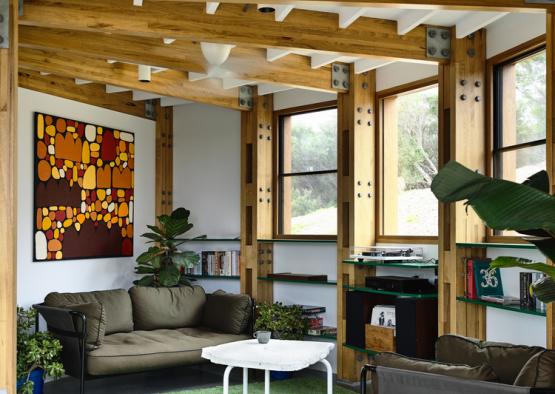 Image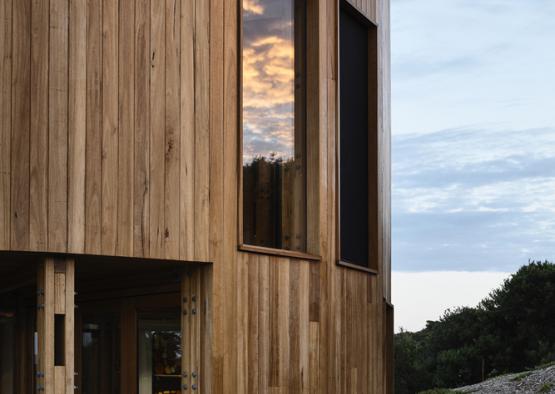 Image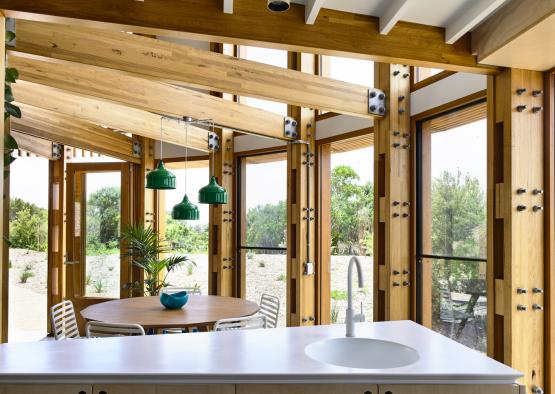 Image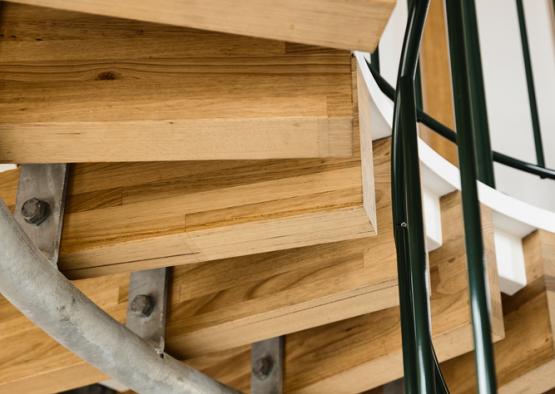 Image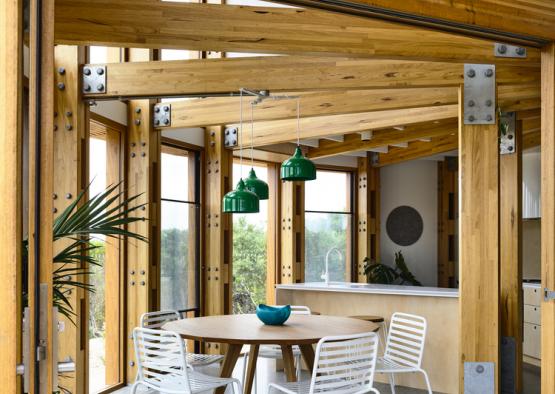 Image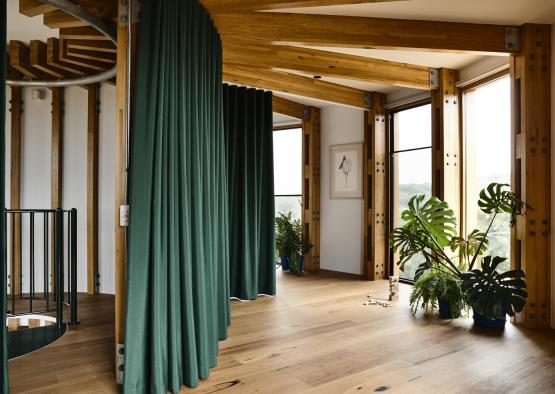 Image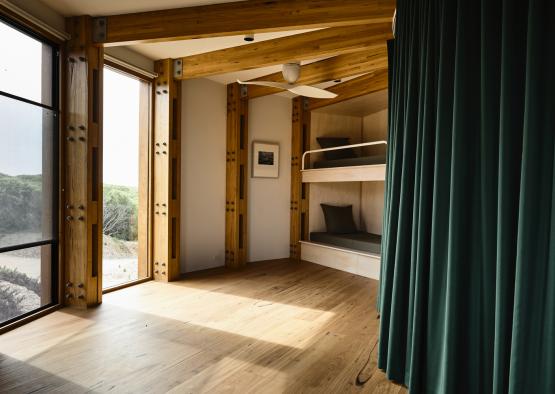 Image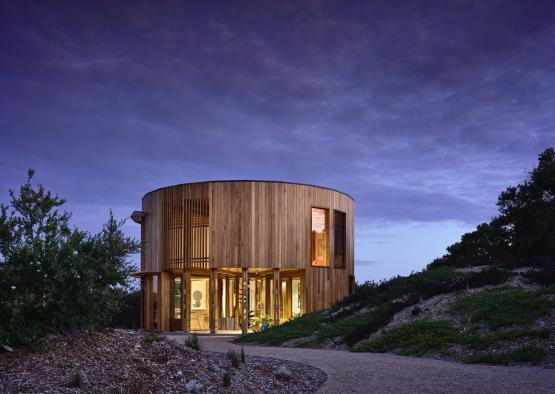 Image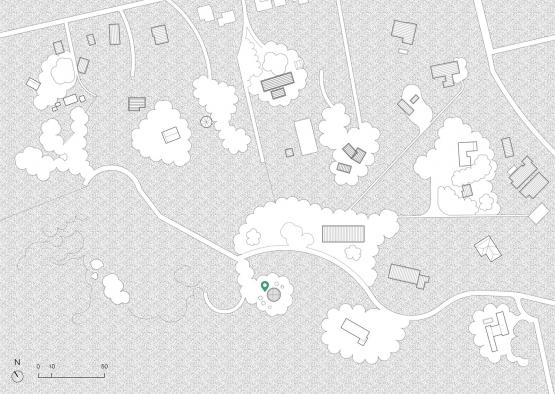 Image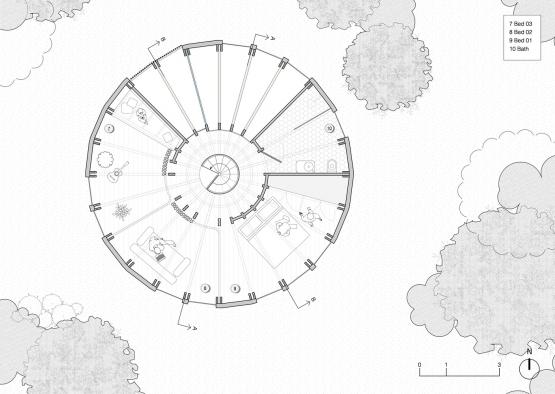 Image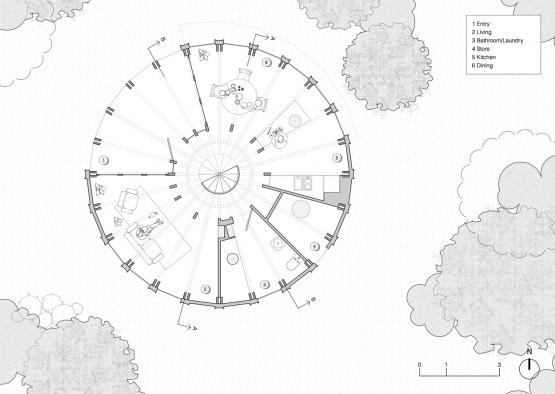 Overview
The client of St Andrews Beach House, along with its designers at AMA studio, were becoming increasingly aware of the lack of contrast between beachside houses and inner city dwellings. Holiday getaways have often become carbon copies of urban homes. The client wanted a simple, modest structure that related to the beautifully isolated environment. The model was the New Zealand 'bach'- or basic beach shack, found in NZ vernacular architecture. 
Structure
The post and beam structure is based on industrial portal frame construction. Engineered timber beams are joined with 8mm steel plates and coach bolts to create an extremely rigid joint, capable of high load resistance. 
Vicbeam GL18 Vic ash hardwood Glulam was used for external timber portal frames, while Vicbeam GL18 Mixed Species (silvertop ash, grey gum and messmate) hardwood Glulam was specified for internal timber portal frames.
The engineered timber is made up of thick plys of timber that contribute to its high strength in multiple directions. 
Exterior
The exterior timber cladding, along with most of the buildings materials, are designed to weather and patina with age. The structure and context will continue to blend over time, extending the notion of the home falling into harmony with the landscape. Rather than opt for a slick beach home that perches arbitrarily, the informal timber dwelling will settle like an old wharf. Timber provides a durability and natural aesthetic common to the beach shacks dotting the Mornington Peninsula coastline.
Interior
Simple circulation was one of the main design outcomes of the St Andrews Beach House. The byproduct of the round form is a default circulation. Occupants are implored to circle around the floor plan, with the circular motif continuing with the centrally located spiral staircase. The unusual plan provides a liberating spontaneity and adaptability. 
Once upstairs, the space becomes wholly open and adaptable. Curtains act as partitions between rooms, allowing the space to take on many forms. One large living space can be manoeuvred into three bedrooms. Timber flooring and plywood joinery create an earthy contrast to the plasterboard and glazing that alternate between the exposed timber posts. The portal frame posts meet in a central steel disk that binds the unique frame together.