This project transforms an outdated office space. Celebrating connection to place and global connections, the timber feature spine speaks of the importance of cross-disciplinary exchange.
Project Name
University of Tasmania Executive Workplace Renewal
Location
8 Invermay Road
Launceston TAS 7250
Australia
Photographer Details
Images by Peta Heffernan and Sandi Sissel. Construction image by Scott van Tuil.
Image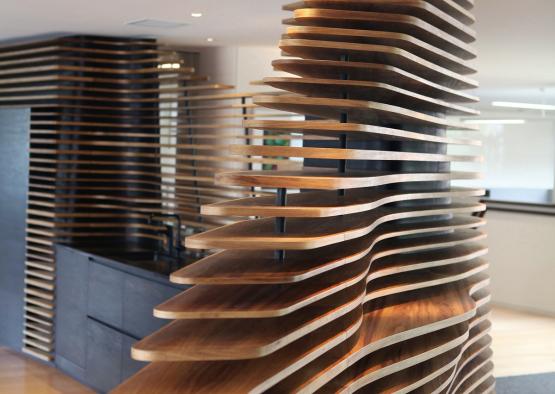 Image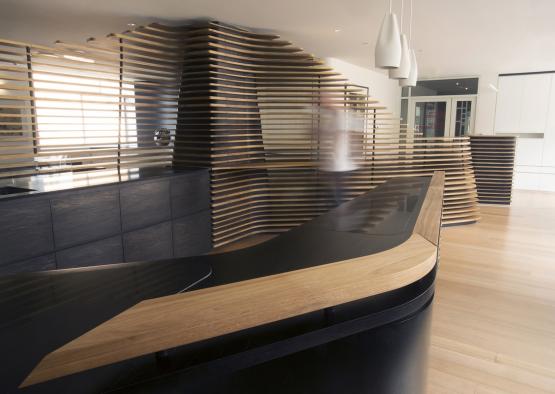 Image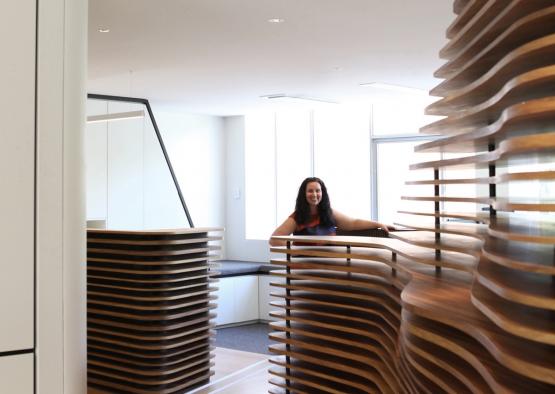 Image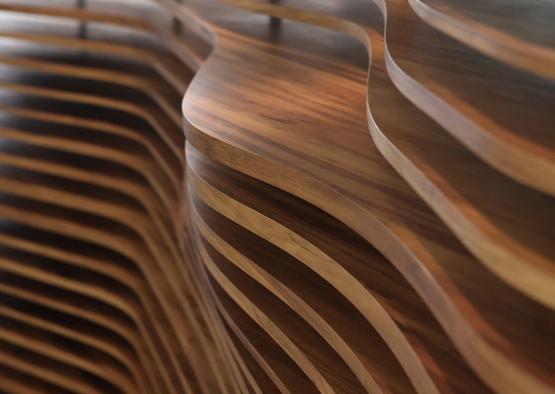 Image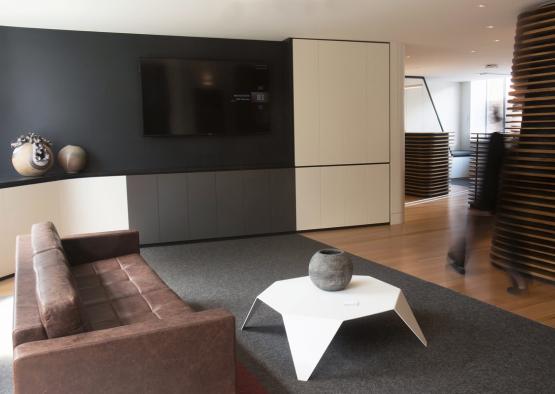 Image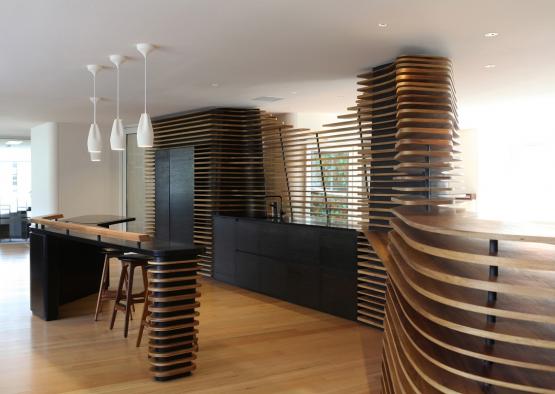 Image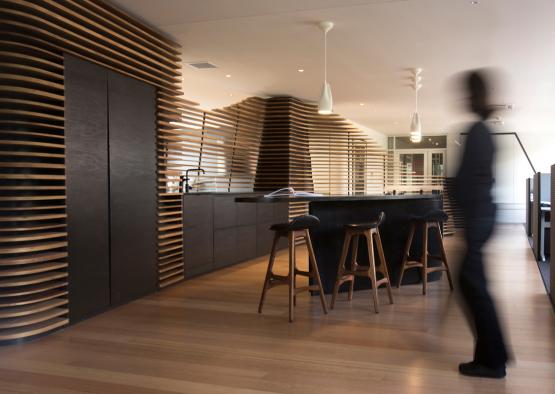 Image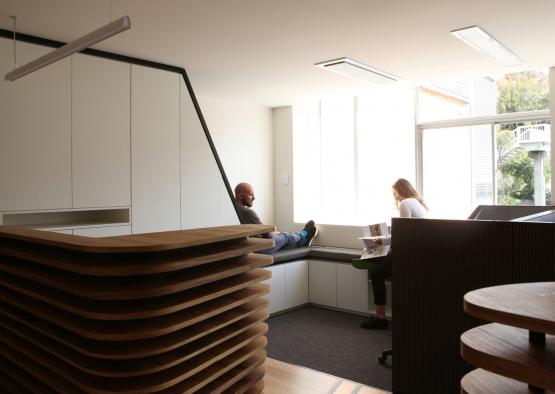 Image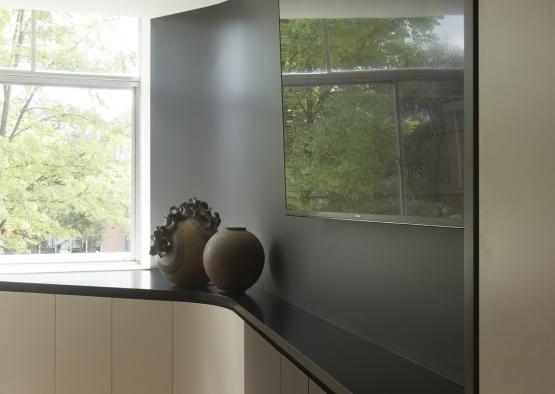 Image
Image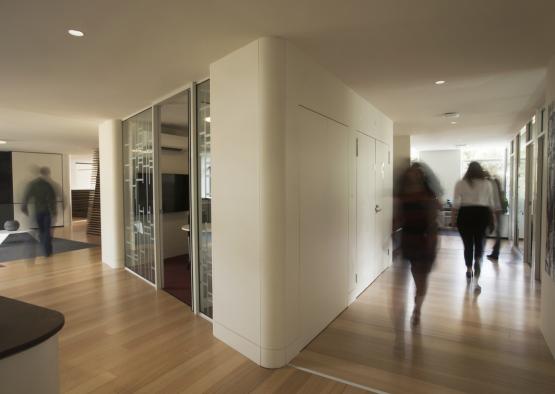 Image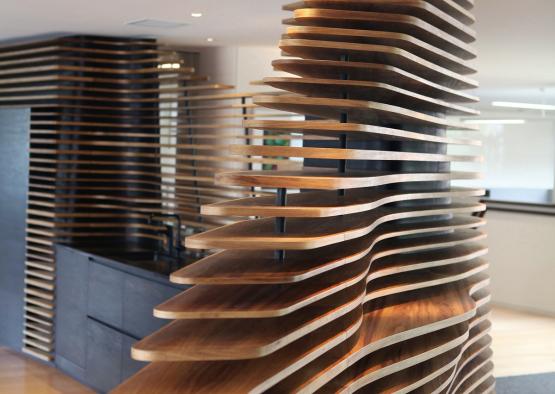 Image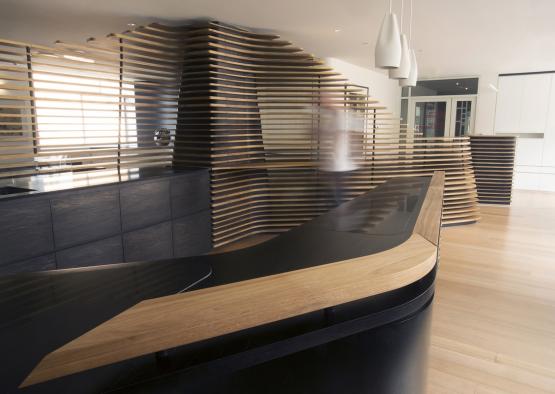 Image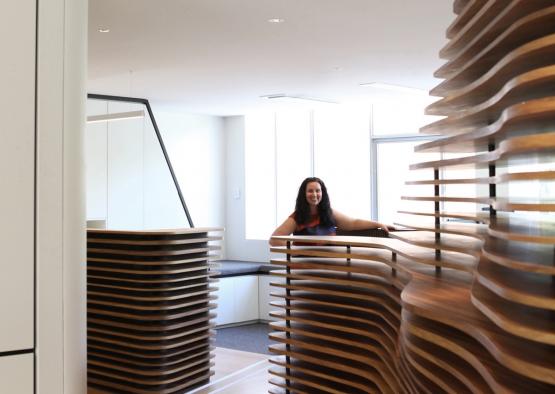 Image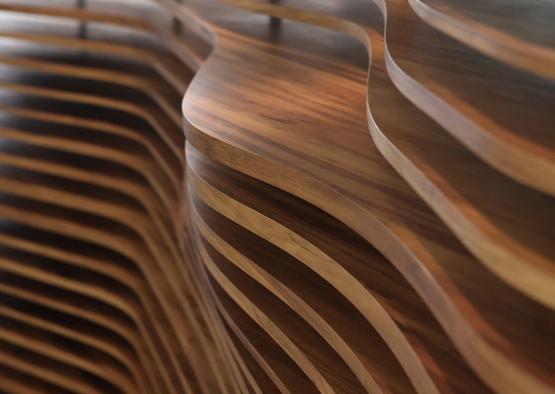 Image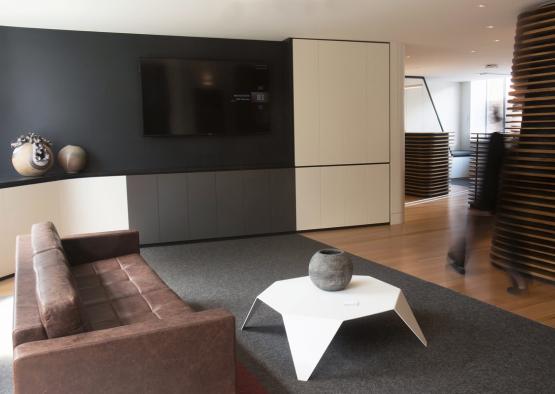 Image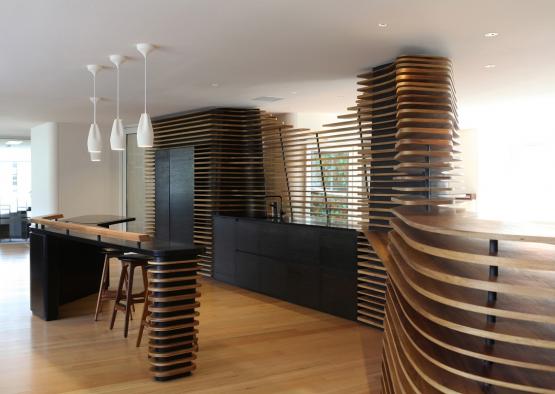 Image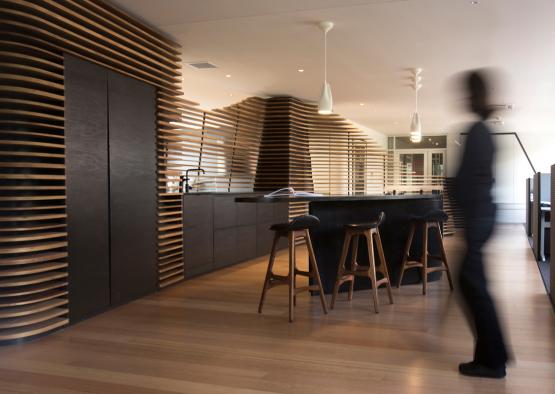 Image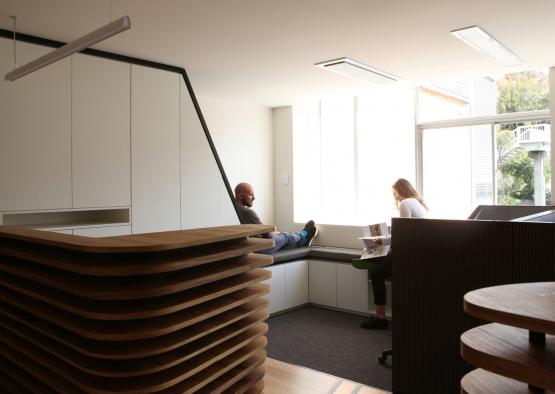 Image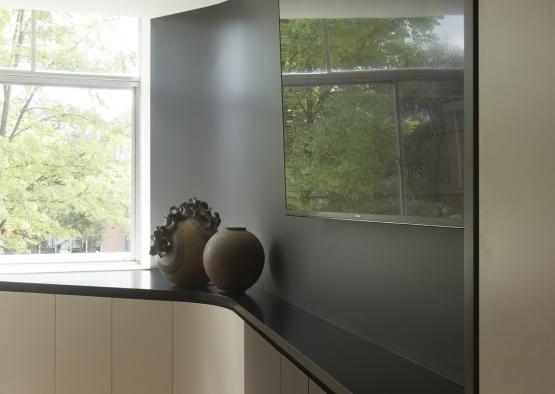 Image
Image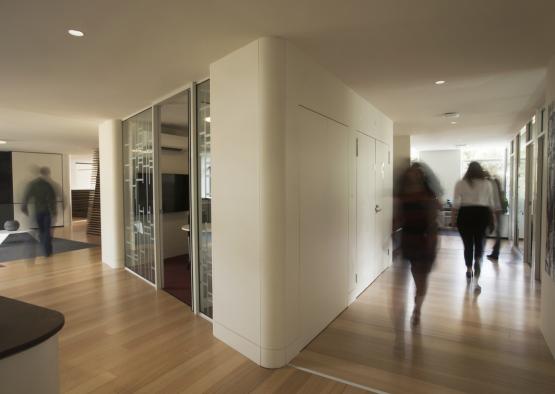 Overview
This project transforms an outdated, inefficient office space into a meaningful, contemporary workplace with University (UTAS) values embedded in the design process. The brief required the cellular rooms to be opened into a space that harnesses natural light, encourages transparency while allowing for privacy. The outcome was informed by acknowledging that universities foster intellectual life, exchange and the dissemination of knowledge.
The transformative fitout converted an outdated, 'celled' workplace of enclosed offices and dark corridors into an open, engaging, contemporary environment offering choice for different work modes, and encouraging collaboration and social encounters. The bespoke timber spine at its core, semi-transparent and sculptural in form, subtly guides and defines the varying zones for social, quiet, collaborative and public activities.
Recognising the opportunity to create more than just a comfortable and productive workplace, the space is now seen as a prominent public face for the University, a showcase fit for local and international guests visiting the executive team. Materiality, process and design help to tell the story of the University's ideals and values, promoting cross-disciplinary collaboration founded on a rich local heritage and geared towards a forward thinking, globally connected future.
The main spatial feature, the timber spine, materialised through our approach to collaborative opportunities with the University community and local industry, highlighting the benefits of cross-disciplinary exchange. Featuring and elevating Tasmanian Blackwood timber veneer talks of place, and combining traditional handcrafted jointing techniques with Parametric Design software and CNC routing celebrates technology standing on the shoulders of tradition.
Structure
The selection of the Tasmanian timbers, Blackwood veneer for joinery and Tasmanian oak flooring was borne out of the desire to reference place, metaphorically nod to the foundations of research the University is known for in this area and acknowledge the heritage of the University through the use of traditional craftsmanship, while embracing the future, through innovative technologies and interdisciplinary collaborations.
The timber spine, a collaboration with alumnus designer-maker Scott van Tuil, consisting of over 400 hand-finished pieces, elevates Tasmanian Blackwood timber veneer with minimal waste and sustainably managed resources, and promotes a synthesis of traditional handcrafted jointing and fabricating with modern Parametric Design and CNC routing technology.
Interior
Creating uplifting, meaningful environments with limited resources and a tight footprint constrained by an ageing building, brings more challenges than a clean slate. The existing workplace was an inflexible, isolating office environment. The challenges included opening up a workplace spread across two buildings of different eras with uneven floors and ceilings, improving the energy efficiency and creating more natural light.
Spatial layout and the design of the joinery disguise uneven floor and ceiling levels discrepancies and unify the 290m2 into a cohesive and workable entity. The multifaceted timber spine is key to the spatial resolution and became an opportunity to value-add beyond the brief. Layered with relevance and meaning specifically tied to UTAS, timber connects to place and UTAS' renowned timber research expertise, while each of the layers with varying thicknesses are arranged in sets of 8 representing the Faculties and Specialist Institutes within UTAS. Its fluid form guides circulation, filters light and views to activity, defines zones, separates private and public functions, enwraps the social hub and celebrates collaborations with alumni talent. The various zones provide choices for working individually or collaborating, offering hotdesks, stand up, quiet and informal work areas that encourage exchange and support a more congenial workplace.
The renewal revives a tired office building built across the 1970's, improving its energy efficiency through passive systems, low energy fittings and water efficient fixtures.
The arrangement of offices, central hub and open work areas with desks hugging the perimeter maximise natural light and passive ventilation. The mix mode air-conditioning provides heating and supplementary make-up air when required, reducing energy consumption.