VanDusen Botanical Garden Visitor Centre
Project Name
VanDusen Botanical Garden Visitor Centre - sustainability driven
Photographer Details
Images courtesy Perkins+Will
Image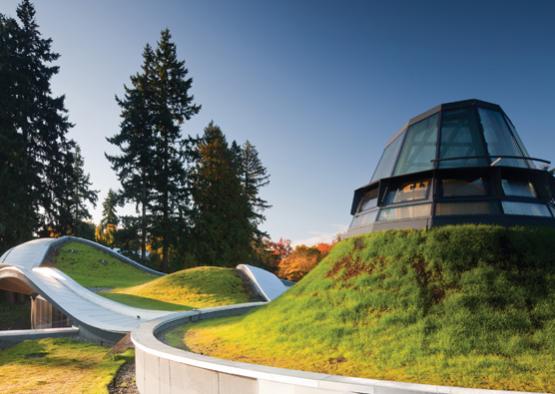 Overview
Reflective of the city of Vancouver's goal to be the 'greenest city in the world' by 2020, the C$21.9 million visitor centre at the entrance to the VanDusen Botanical Garden is a masterpiece in sustainability.
The original intent was a facility to house office space for administration and a restaurant, as well as other amenity/rental space for special events. It was also required to demonstrate the special features and ecosystems of the garden.
"We pursued this project with the intention of making it one of the most sustainable buildings we'd ever done," says Perkins+Will Canada associate principal Enrico Dagostini. "Early design charrettes with the clients, stakeholders and user groups proved our initial intentions were in line with the client. It was extremely valuable on a project as ambitious as this to ensure we were all on board with a unified design vision.
"Our architectural response is part integration into the surrounding landscape, part bold enough to draw attention and curiosity from passers-by, and, most importantly, one of the most sustainable buildings in Canada."
Story and pictures by arrangement with timber+DESIGN Magazine.
Structure
Comprised entirely of certified Douglas fir, the panelised roof structure includes more than 70 different pre-fabricated roof panels – each made of over 100 unique, curved glulam beams – pre-installed with thermal insulation, sprinkler pipes, lighting conduits, acoustic liner and wood ceiling slats.
The design team also collaborated to produce a novel universal 'one-size-fits-all' panel-to-column steel connection to accommodate unique geometric conditions at every support location.
Dagostini says the complex and time-sensitive project was made possible by advances in computer modelling, machine-factory production and wood fasteners.
Designed to exceed LEED Platinum, the centre was the first building in Canada to register for the Living Building Challenge (LBC) – the most stringent measurement of sustainability in the built environment. Constraints included minimal use of so-called 'red list' materials like PVC, and only three projects worldwide at the time (late 2011) had earned full certification.
Wood is the primary building material, sequestering enough carbon, say the architects, to achieve carbon neutrality. Rainwater is filtered and used for the building's greywater requirements and all blackwater is treated by an on-site bioreactor and released into a new feature percolation field and garden.
Natural ventilation is assisted by a solar chimney, which uses an operable glazed oculus and perforated aluminum heat sink to convert the sun's rays to convection energy.
Exterior
Several wood types were chosen for the roof structure, cladding, furnishings, millwork, wall finishes and special features, including: FSC-certified structural elements and internal walls, reclaimed site wood for a prominent bridge, etc., off-site salvaged wood for millwork items (e.g. interior doors, washroom partitions and a 30m long curved bench in the foyer), and fallen yew tree wood for feature door handles.
The architects imagined a building exemplifying a new, modern, 'raw' aesthetic. "We limited our material palette as much as possible to maintain a coherent architectural statement, while simplifying and minimising the building's ingredient list," says Dagostini. "This simplification allowed us to manage … any potentially hazardous materials, prevalent in many finishing systems."
Interior
The 1765m2 visitor centre houses a cafe, library, volunteer facilities, garden shop, offices and flexible classroom/rental spaces.
The dynamic single-storey structure heightens public awareness of the garden and the importance of nature. Solid walls of rammed earth and concrete protect visitors from the busy street, and transparent walls of floor-to-ceiling curtain wall glazing open the building towards the garden.
The LBC mandated only FSC-certified wood products for any non-reclaimed wood applications, a high minimum threshold for recycled content and a series of proximity thresholds that require materials to be supplied locally/regionally, limiting long-distance transport.