The WWF, one of the world's highest profile environmental organisations, showcases sustainable wood products in its new UK headquarters
Project Name
WWF UK Headquarters - An Ultra-Green Challenge
Photographer Details
Janie Airey and Morley von Sternberg, courtesy Wood Awards 2014
Image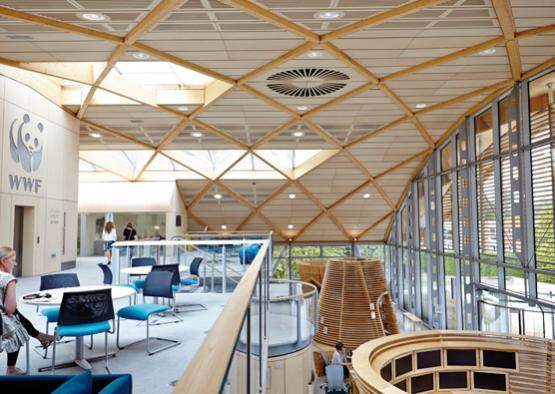 Overview
The WWF has relied heavily on sustainable wood products for its new state-of-the-art UK headquarters building. Highly commended in the commercial and public access section of the 2014 UK Wood Awards, the Living Planet Centre (LPC) in Surrey also includes radiata pine in an impressive range of wood-based structural and finishing products.
Less surprisingly given WWF's close association with the FSC certification brand, all structural, finishing and furniture timbers were sourced from responsibly managed forests.
Located on a prominent and challenging brownfield site above an existing public car park at the edge of the Woking Town Centre, the centre is WWF-UK's new ultra-green administrative building. It houses 300 staff over two storeys in a collaborative, open-plan environment including conference and educational facilities, and a new public WWF Experience exhibit.
Reproduced with the permission of timber+DESIGN online.
Structure
Timber was chosen for its structural and sustainable properties and its aesthetics, and features prominently throughout the interior and exterior.
The LPC sets an ambitious new precedent for similarly sized organisations and maximises on-site sustainable features to target a BREEAM Outstanding rating.
The striking curved roof is composed of a structurally efficient curving grid shell, chosen to allow the 37.5-m-wide building to be free from roof support columns throughout its interior.
LVL spans across the diagrid frame as structural decking, while infill panels sit within the grid shell diamonds to act as thermal and acoustic absorption panels, with soffits composed of birch plywood. The diagrid itself is made of glue-laminated spruce.
Exterior
The main entrance features four themed birch ply exploration zones that function as an educational tool for visitors to the building. To reflect and enhance the rich surrounding ecology and biodiversity, the building was designed to limit its impact on the site and this podium is flanked by a series of green, planted spaces filled with trees, shrubs and flowers.
Existing trees surrounding the site have been retained and new wetlands created to provide a wildlife corridor and to enhance the public realm along an historic canal.
A replacement bridge from the town centre has been built as an extension of the public piazza at podium level to provide an enhanced connection to the local community. Its timber structure embodies carbon and softens its impact on the local natural surroundings.
Three small outbuildings house bicycles and refuse storage and are constructed of larch.
Interior
Everything works in conjunction with ribbons of roof lights to create a warm and light-filled interior environment for staff and visitors.
Eastern and western ends are fully glazed to allow natural light into the building, with larch horizontal louvres providing protection against solar gain and helping enhance the building's aesthetic from the outside.
Office space is arranged around a double-height internal street, which adds focus and sociability. The open nature of the building allows for easy future adjustment of internal partitions and layout to thoroughly future-proof the building.
More private conference rooms and support areas are enclosed within timber-framed walls clad with naturally finished birch panelling, while balustrade railings are made from ash.
The main entrance features four themed birch ply exploration zones and functions as an educational tool for visitors to the building.