An island home designed for a semi-retired couple, ease of movement and single-level accessibility – all on a significant natural slope.
Project Name
Owhanake Bay
Photographer Details
Patrick Reynolds, courtesy NZ Wood Awards
Image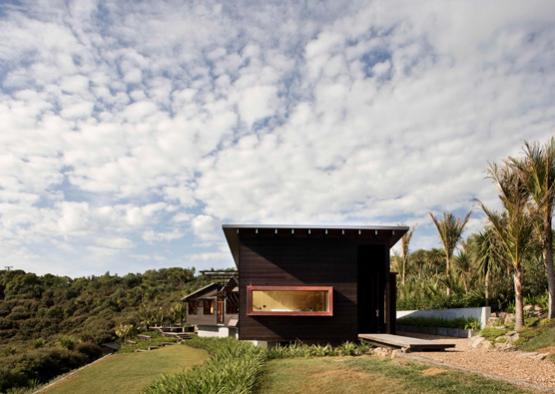 Overview
The three narrow pavilions of the house 'bend' to follow the natural contours of the site, allowing easy movement through the landscape with minimal excavation of the landform.
Banks of flap windows on gas struts open to the east, leaving only veranda posts intact as occupants engage with the landscape while under the shelter and shade of the veranda roof.
Two wedges of space between the pavilions contain bathhouses, one the main en suite and the other a plunge pool/spa. These spaces continue the exploration of interior and exterior 'veranda' space. The east/west walls are constructed of fully glazed louver banks and exterior materials are used on the floor, wall and ceiling. A translucent polycarbonate roof allows filtered natural light into the spaces.
Story and pictures by special arrangement with timber+DESIGN International magazine.
Structure
Natural materials have been carefully chosen to reflect the site context, and for their durability in the harsh seaside environment.
The house is framed with plantation pine and laminated pine portals. Dark-stained FSC-certified cedar weatherboards reflect the colouring of the branches of regenerating manuka (tea tree) bush, blending with the landscape when viewed from the sea. 
Exterior
A semi-screened outdoor room to the west of the main living space is bounded by water, with reflection pools at both ends. This space is set into the landform to provide shelter and access to seasonal afternoon sun, and has an outdoor fireplace for warmth and ambience in the cooler months.
Potable water is collected via rainwater from the roof in storage tanks and heated using a 5-panel solar collector on the garage roof.
Extensive native planting, and vegetable gardens condition the air and act as a bridge between the existing site vegetation and the house. Effluent is treated and disposed of on-site via these landscaped areas.