Monash University Student Housing, Clayton
Project Name
Monash University Student Housing, Clayton
Location
Clayton
Clayton VIC 3168
Australia
Photographer Details
John Gollings John Gollings Photography www.gollings.com.au john.gollings@gollings.com.au
Image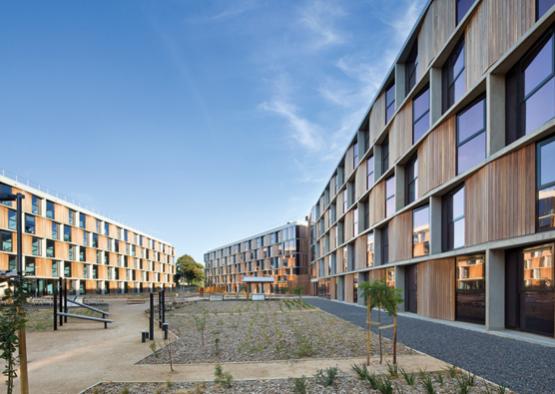 Overview
BVN Architects brief was to create a building that would be domestic, welcoming, and in harmony with its context. To achieve this they have used variety of timber elements such as cladding, sun screening and linings to corridors to great effect.
The project is comprised of two 5 storey buildings, each containing 300 student studios surrounding a central courtyard. 40% of the facade of each building is covered by a full height vertical Spotted Gum 120 x 20 mm ship lapped boards that are interspersed by horizontal concrete slabs and vertically precast blade walls.
The student accommodation common areas featured by full height curtain of spotted gum 68 x 42 mm battens spaced according to their solar orientation provide both sun shading and a welcoming meeting place for each building.
Spotted gum was the timber species of choice due to its exceptional durability. The spotted gum is not coated at all, allowing it to grey-off naturally with time.
All timber cladding and sunscreens have been off-site assembled into panels, reducing waste and speeding up construction. The panels are designed as rain screens capable of the ingress of water which can escape at their bases without compromising the structure. Fixing of the timber has been made to allow movement in the timber expected during the seasonal changes.
The common rooms and corridor walls are lined with American White Oak and the ceiling is lined with painted plywood.
Fire Engineering Solutions are described in Structure & Interior tabs
Structure
Building Classification:   Class 3 - residential part of a school
Rise in storey:   5
Fire
This building is classified by the NCC as a Class 3. As the building has a Rise in Storey of 5, the building's Type of construction is A.
Fire Resistance 
The main structure is concrete and masonry and meets the NCC fire resistance requirements.
External walls for Type A structures are required by the NCC dts to be non-combustible. This precludes the use of timber cladding.
Timber cladding has been included in this project through an alternative solution process. The Fire Engineering Brief detailed how that the timber cladding recessed in the concrete blades wall and slab projection will limit transfer of fire along the façade. 
Sunscreen
NCC's Specification C1.1 Clause 2.4 Attachment not to impair fire resistance, allows combustible materials if used as a sunscreen. The material used in the sunscreen must comply with Fire Hazard Properties in Specification C1.1 and not be located near or directly above a required exit.
Spec C1.10 requires material not to have great than 9 Spread of Flame Index and 8 for Smoke Development Index if the Spread of Flame Index is greater than 5
Spotted gum has a Spread of Flame Index of 3 and a Smoke Development Index of 3 meeting these requirements.
Exterior
Timber cladding is used in both the private residential areas as well as common areas.
Over forty percent of the facade of each student apartment is covered by a full height (2700 mm) vertical ship lap spotted gum panel comprised of individual 120 x 20 mm boards.
The timber of the facade is punctuated by the horizontal edges of exposed flat concrete slabs, horizontally and vertical precast structural panels. In addition to the use of prefabricated spotted gum, a sun shading system has also been constructed using 70 x 45 mm Spotted Gum battens. The vertical sun shading battens are a key design element and provide a strong identity at the central 'nexus' of each building where they provide a protective facade veil.
Spotted gum was selected as a naturally beautiful Australian product appropriate to the bushland and sports ground setting of the halls of residence that would be robust and age gracefully.  The architects also felt that timber would evoke a sense of domesticity and could be used as a panelised system that would enhance the large facades (buildings are over 140 m long) by breaking them down into smaller segments, removing any possibility of the buildings being large, bland and overwhelming.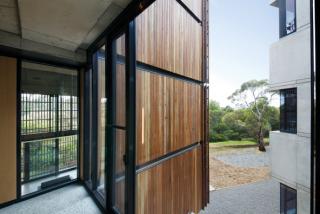 Interior
The building has long corridors, over 100 metres per floor, and these corridors are made more welcoming and pleasant by the inclusion of American white oak wall panels and painted plywood ceiling.
The paneling and plywood ceiling area are extended into the common areas where the veneers have been used to provide a sense of warmth for these active social areas use by the residents. The use of timber wall panels as well as solid and perforated ply ceilings also adds to the acoustic performance
Corridor ceiling panels are plywood painted with Dulux Charcoal Met Pearl (low sheen) to match internal steel and to retain plywood grain with a solid colour.
Fire Hazard Properties
Ceiling Linings
NCC's Spec C1.10 allows Class 3 building that are sprinkled to have ceiling covering for public corridors and specifics areas, made from Material Group Number of 1, 2 or 3. The hoop pine plywood meets Material Group 3.
Wall Linings
NCC's Spec C1.10 allows Class 3 building that are sprinkled to have wall covering for public corridors and specifics areas, made from Material Group Number of 1, 2 or 3. The American white oak panels meet Material Group 3.