The landscape masterplan embraces 100 forests of endangered international tree species in a 250 ha former fire-ravaged site. Associated architecture includes unique timber-based buildings and public facilities
Project Name
National Arboretum Canberra Masterplan
Photographer Details
John Gollings www.gollings.com.au Brett Boardman www.brettboardman.com
Image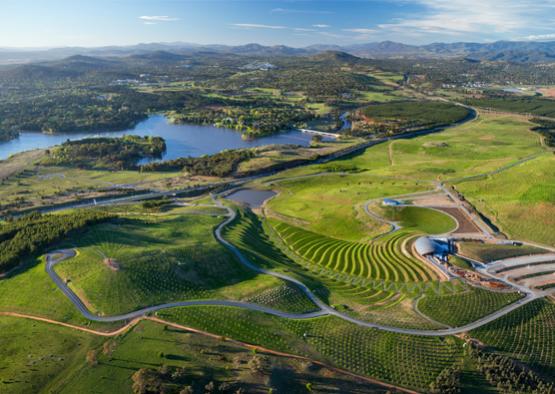 Overview
In 2004, following devastating fires in January 2003 and inspired by Walter Burley Griffin's vision for the National Capital, the ACT Government developed a proposal for an international arboretum on a 250ha site 6km from the centre of Canberra, on the western side of Lake Burley Griffin. 
An international design competition followed, and the result is the National Arboretum Canberra, which redefines the meaning of a public garden in the 21st century.
Growing out of the issues of sustainability, biodiversity and public environmental concern, the arboretum is a strategy, a program and an ongoing event – not just an aesthetics-based design.
As it develops into the future, the forested landscape and its timber-based buildings will facilitate an international exchange of knowledge and plant material that, it is hoped, will work towards reversing the planet's loss of biodiversity.
Structure
The village centre building, designed by Tonkin Zulaikha Greer (TZG), dramatically demonstrates sustainable timber construction, using fully certified materials to underpin the goals of the arboretum, and more broadly emphasise the capability of the Australian construction industry.
Although steel would have been a 'tried' material for the construction, TZG chose timber because it met design and environmental intentions. (The timber structure reduces embodied energy by nearly 90% compared to steelwork.)
The unique, low-energy timber structure was fully computer engineered, prefabricated in Tasmania and quickly erected on site, and utilises a high proportion of waste product, adding to the sustainability of the timber.
The structure is made of 10 large curved rafters with spans up to 56 m, supported on glue-laminated struts. There are over 3,000 parts, all of which are unique in shape and dimension.
The building's complex shape and large spans required a structural system that could be custom made and adjusted. Engineered timber was selected because it could be made to the shapes needed and be modified on site.
Timber was sourced from an aging stockpile of off-cuts from the milling of renewable Tasmanian oak structural timber. Available at reduced price, short lengths with small cross sections were jointed to the exact radii using heat activated glue and clamping. Each piece was dressed, and the steel connections factory drilled and test fit to ensure accuracy before transportation. 
The main space of the village centre building features massive curved glue-laminated roof beams, supported on substantial glulam struts and suggesting a tree-like canopy. The beams are tied with exposed LVL purlins, completing a complex and dramatic structural system.
The structural system is completed with two layers of structural plywood, providing bracing and support for construction workers.
The exposed timber structure (inside and out) creates a lasting impression on entry – delivering the required high-grade and elegant finished appearance. Steel connections were designed to be minimal and hidden where possible.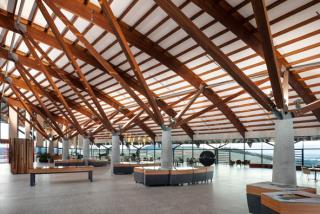 Exterior
The timber was coated with protective stain and wrapped in plastic before transport to control moisture levels and ensure dimensional stability until covered by the roof.  The entire structure is stained in three coats of a high-performance anti-fungal preparation in a walnut colour, emphasising the grain and softening variations.
The building incorporates a range of energy-saving measures, supporting the environmental value of the entire arboretum. It provides a very low-energy envelope, all water is captured and low energy lighting and mechanical systems are used throughout.
Walls and skylights are double-glazed and coated glass improves thermal performance. Louvres in wall glazing operate automatically to allow fresh air and cross ventilation when conditions are favourable
The materials – stone, concrete, zinc and timber – were sourced locally where possible to reduce transport costs and handling, minimising energy input.