One of the last, relatively intact heritage houses on Mount Macedon is about to be revitalised by a couple passionate about saving historic buildings.
Location
Mt Macedon Road
Mt Macedon VIC 3441
Australia
Photographer Details
Luis Ascui luisascui@mac.com
Image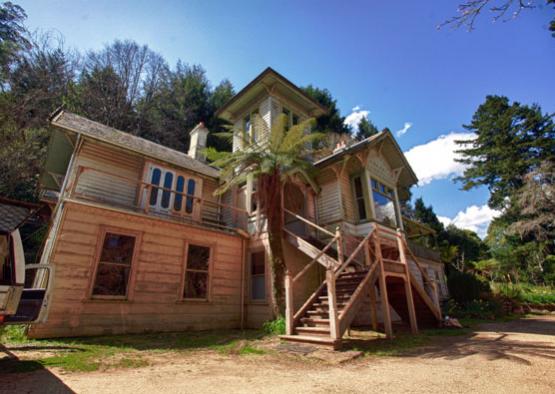 Overview
"Karori", a romantic Swiss style chalet home that has presided on the southern slopes of sub-alpine Mount Macedon for 123 years, was recently bought by a couple committed to retrieving endangered historic buildings.
Dominic Romeo and his wife Marie, an interior designer, did not see the hard work involved in the restoration project on the six bedroom, two storey house in its overgrown 2.4 hectare garden.
Rather, they saw only the potential of bringing the towered pile, with its carved façade detailing and warmly woody Baltic pine and Kauri interiors, back to their former glory.
To a couple who have, in the past decade, restored 10 important heritage properties across Victoria - projects of the scale of Sunbury's Rupertswood Mansion, one of the grandest historic houses in Australia -"Karori" had all the right portents of a great building.
It has, says 52 year old Mr Romeo, "the right position, a great exterior, an interior not too much tampered with, and, an historic garden.
"It is such a bonus to find something like this in its original state."
Structure
That this enchanting house has so robustly stood up to a sometimes punishing climate on 1000 metre high Mount Macedon - where snow flurries dust the slopes in mid winter - speaks volumes about the architect's wisdom in choosing to build a chalet in wood.
In their present state, which sees flaking paint in some sections, sanded-back raw weatherboard surfaces or patches of the original undercoat in others, the exterior of the house is certainly showing its age.
But apart from small sections where failing gutters have allowed damaging water to drip and seep, the wood is surprisingly sound. In fact, the whole building is "quite good, quite solid", marvels Mr Romeo.
He thinks, therefore, the restoration will be "mainly cosmetic". He plans to paint the exteriors a soft green rather than the dark mission brown that he found to be the original colour scheme.
Though it is so remarkably intact - if also so romantically shabby, "Karori" could have gone either way: towards an irretrievable dilapidation or towards an unsuitable, too-cutesy gentrification which has been the fate of most of Macedon's heritage housing.
As a member of the National Trust, Mr Romeo well knows he has been presented with an opportunity to save and serve an important historic home, one of the two significant buildings Louis Boldini (1828-1908) designed in the Macedon area.
The other, Braemar House, is also a timber mansion and like "Karori", is heritage listed as being of historic and architectural significance to the state of Victoria. 
Exterior
With its square tower, the rhythm of unusual roof gables and room projections, decorative fretwork, tall chimney stacks and fancy roof finials, "Karori" strongly references the hybridized design background of its late Victorian-era architect.
Louis Boldini trained in architecture in his native Italy and later practiced in Wellington, New Zealand. He was bought to Australia in 1888 by businessman C.W. Chapman to design a country chalet in an exclusive mountain enclave favored by the rich of Melbourne who could afford to escape the heat of a high Melbourne summer.
Nestled into a hill slope, and unusually shaped as an "H", the chalet's main formal rooms - including a music room - are on the upper level, while six bedrooms and a time-piece bathroom with pull-chain lavatory, range through the lower level.
The house faces south towards a once-panoramic view of the plains around Melbourne. Century old specimen trees have since reframed that once epic outlook.
Two front verandahs are deeply recessed and yet, all the rooms, upstairs and down, are unexpectedly bright because all the windows are proportionately generous. Even in the upper level central hallway, a long skylight draws natural light into the building's core where it softly reflects off the pine-paneled walls.
Interior
If the exterior of "Karori" is all about the storybook alpine chalet, the interiors are a statement about the enduring beauty of wood.
Over the century plus the house has been used as a family home - a house that Mr Romeo believes was full of happiness - the Kauri and pine-lined walls, ceilings and floors that have remained unadorned in all rooms (except the kitchen), have attained a deep, sepia patina that glows with warmth by day and at night.
Beneath low pelmets, and on some of the ceiling profiles and the doors, the wood had been laid diagonally to impart a feature detail interest that serves to make even unfurnished rooms into timelessly inviting, homey spaces.
The wood is what is truly gorgeous. The wood is the thing. And Mr Romeo can barely believe his luck that no-one has ever raised a paintbrush to it. "The wood is the first thing that most people paint over", he says.
The Romeos intend to put in a modern kitchen but otherwise, will use a restrained hand in their restoration work.
 "It won't be about pushing out walls and extending", says Dominic Romeo. He believes the interior paneling is indeed in such good condition that all he plans to do is to give it a soft wash with warm soapy water.