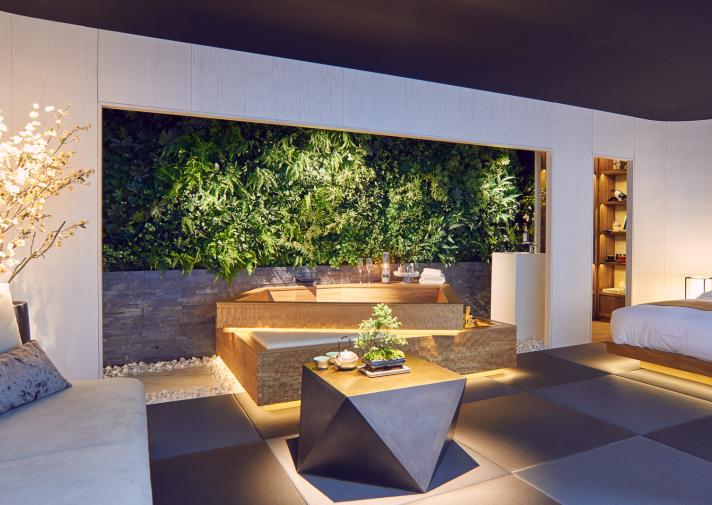 'Social tribes' inspired hotel room design a winner
| | |
| --- | --- |
| Blog by | |
| Organization | former timber+DESIGN magazine publisher |
| Posting Date | Wednesday, January 3, 2018 - 15:15 |
---
The Science of Tribes
Designing for the senses with timber
Five international design houses using the 'Science of Tribes' social concept have attempted to transform the way hotels and designers think about the space they create.
Their uniquely imagined guest rooms were the star attractions at a Sleep hospitality industry interior design show in London.
The science of tribes is a social model developed by Sinus-Milieus, an international psychological and social science research institute in Germany. The technique offers a different approach to grouping people and the societies to which they belong.
Mitsui Designtec's biophilic hotel room for the 'Established tribe' at Sleep London. Photo courtesy Mitsui Designtec
A simpler world
The process groups people similar in their approach to life, value orientation and social situation, as well as those who demonstrate similar lifestyles and preferences. The objective is to make a multidimensional world simpler.
For the Sleep Set competition in London, the international design practices were each assigned one of the following 'tribes' to create a fantasy hotel room for: Intellectuals, Digital Avant-garde, Sensation Oriented, Performers and Established.
Mitsui Designtec from Japan was one of the competing firms, and when we caught up with general manager Shinichi Mitsuki at the 2017 MIFF furniture fair in Malaysia, he was still smiling about their success.
Mitsui Designtec general manager Shinichi Mitsuki – aligning heritage and connoisseurship with all the senses. Photo ©MIFF
For the status-conscious and well-to-do 'Established' tribe, Designtec created a guestroom experience offering "everything money can't buy", fulfilling emotional satisfaction and addressing all five senses. 
Each team had six months from concept development to finished product. "Our [creative response] aligned heritage and connoisseurship with all the senses: flowing water, wavering lights, a breath of air and the rhythms of life," said Mitsuki. 
The objective was internal fulfilment and emotional connection, using beautiful features and materials, and engaging all the senses to deliver "something beyond that which money can buy". 
A 'green wall' and the hand carved oak bath provide an 'outside within' feeling. Photo courtesy Mitsui Designtec
Spatial boundaries were deliberately blurred between indoors and out. Within the room itself, a large oak soaking tub took centre stage, with an amenity closet called the 'five senses library' not far behind.
Walnut wardrobe and amenity closet called the 'five senses library'. Photo courtesy Mitsui Designtec
Japanese taste
Various wood species were used to add depth and interest to a concept reflecting Japanese taste and elements.  A dark oak sawn effect tatami-style zoned floor allowed bare footed visitors to experience the changing pattern of the weave against the contrasting rough sawn timber. 
The bathroom floor area was separated and finished with loose stones, offering the feel and sound of the pebbles beneath guests' feet. A 'green wall' and the hand carved scalloped oak bath add to the 'outside within' feeling. 
A handmade walnut wardrobe with an upholstered brushed cotton lining could be straight out of a spy film.
The quest for a total sensory experience included earthy aromas from a preserved moss wall mix with the scent of eucalyptus and lemon grass.
Mitsui Designtec's biophilic room design for the Established tribe received the first-ever highly commended accreditation from the Sleep judges.
The perfectly detailed hand carved scalloped oak bath surround by BarrJoinery. Photo courtesy Mitsui Designtec