The City of Greater Geelong has unveiled the design of its proposed $200 million civic precinct. The building will be made from glulam post and beam, and secondary CLT.
Project Name
Geelong Civic Precinct
Image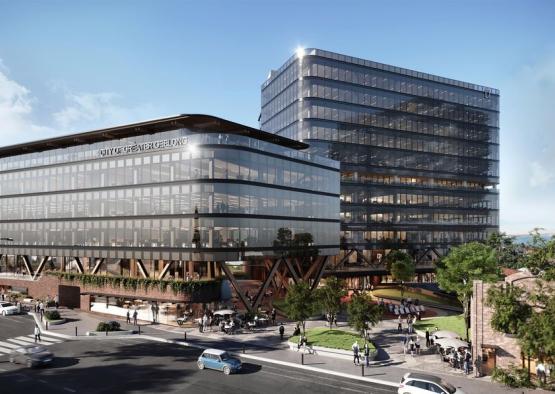 Overview
Quintessential Equity has appointed Watpac to construct its $200m Geelong Civic Centre development. The precinct, a cluster of buildings designed by Cox Architecture, was commissioned by the City of Greater Geelong, which appointed Quintessential after tender submissions in 2019.
Quintessential and Watpac have chosen the local company CLOS (Cross Laminated Offsite Solutions) for the buildings to be constructed using locally-manufactured timber, a strategic move to boost Geelong's manufacturing industry which was hit by the closures of Alcoa and Ford factories. This choice also leverages the "wellness effect" of exposed timber structures, that allow office buildings to provide highly comfortable workplaces.
The civic centre will comprise a 10,000 sqm building to be occupied by Geelong council, centralising staff from 7 separate Geelong offices, and a second, slightly taller building for commercial use.
Cox Architecture design director Patrick Ness said the project "has the potential to create local jobs, support sustainable development and bring significant potential to grow an advanced Cross Laminated Timber manufacturing industry in Geelong."