We are primarily architects who build; we apply the time and quality benefits of prefabrication to deliver a built outcome of the highest quality. Each of our projects begins through close engagement with our clients to develop a brief and explore the options. We let the architecture guide the building method rather than the other way around. Our building systems use timber because it is more sustainable. We enjoy being involved in a diverse range of projects and the opportunity to explore new applications for prefabrication. We welcome the collaboration between architect and client that results in the creation of new spaces. Our projects are individually designed and handcrafted. 
Projects on Woodsolutions
Image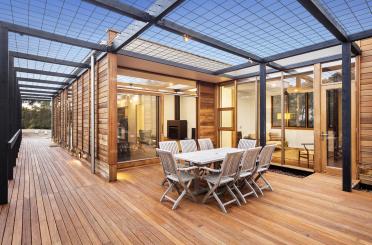 The Light House – prefab paradise
This factory constructed beach house utilises natural materials to provide a warm family getaway with sophisticated sustainability elements.