Sustainable and modern returns to the beach with this complete revamp of a tired Californian family home.
Project Name
The Beach Lab
Location
Encinitas, CA
United States
Photographer Details
darrenbradleyphotography.com
Image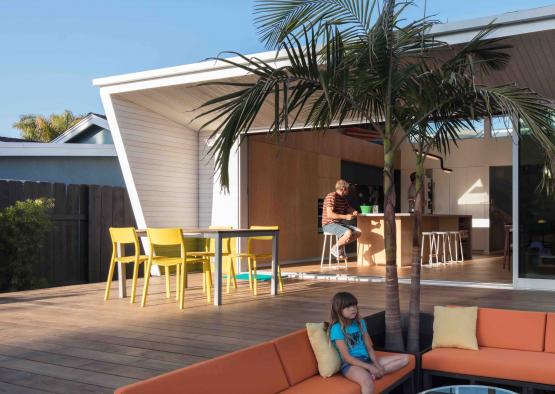 Image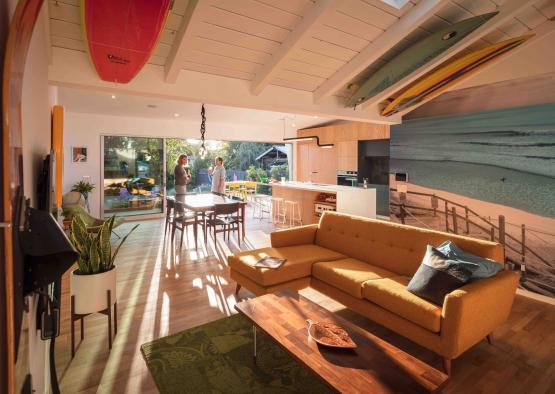 Image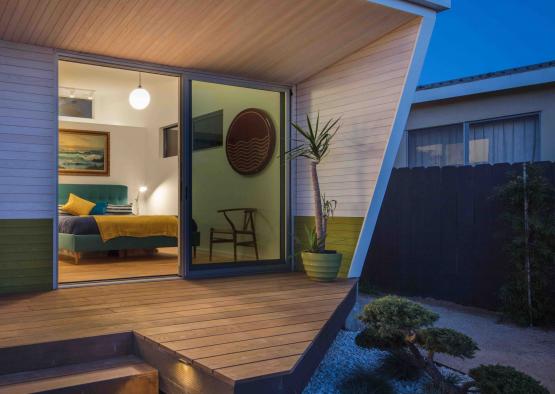 Image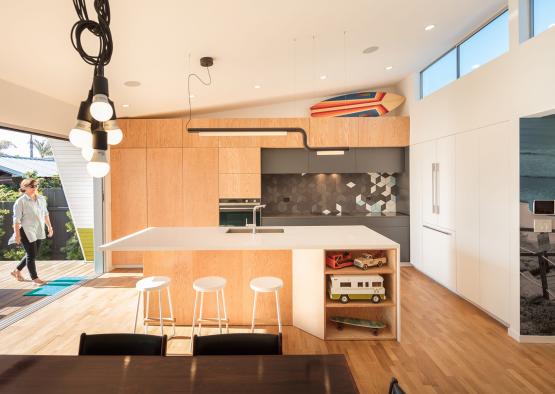 Image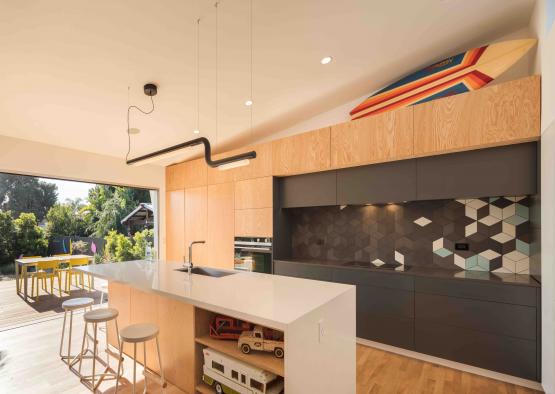 Image
Image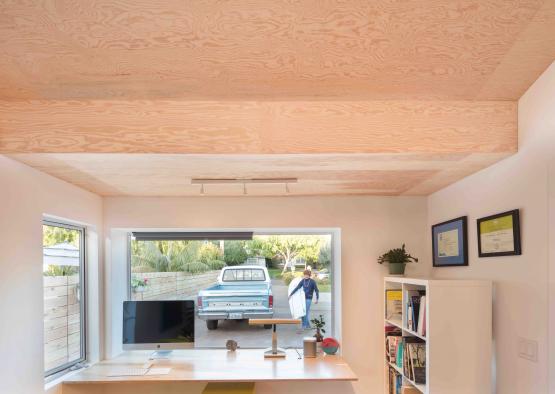 Image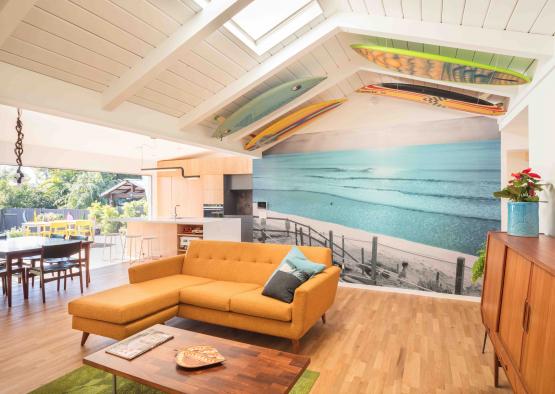 Image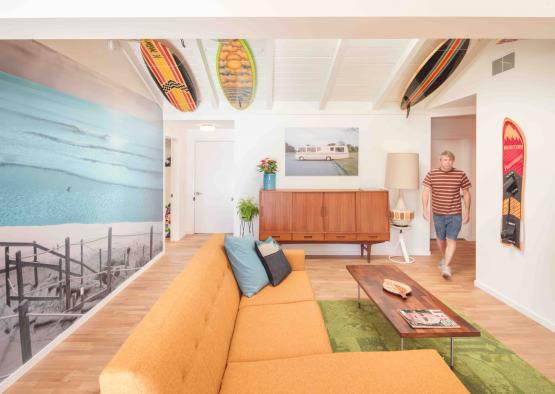 Image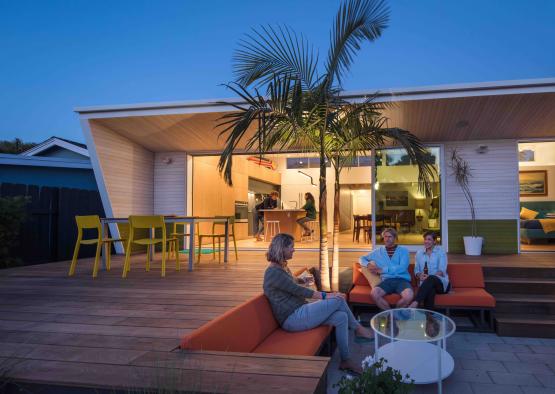 Image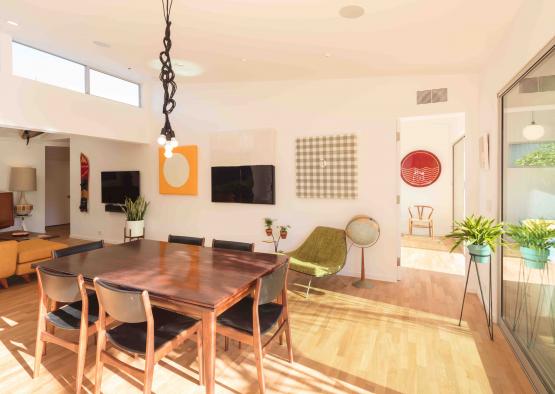 Image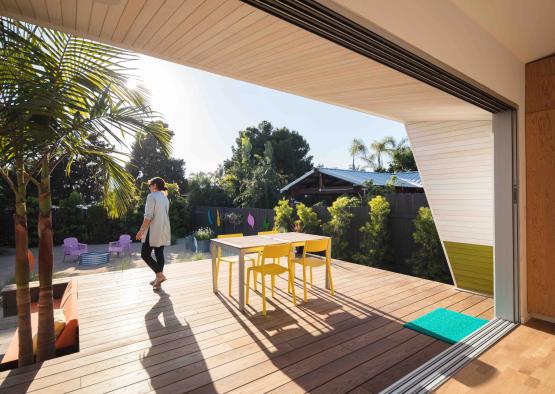 Image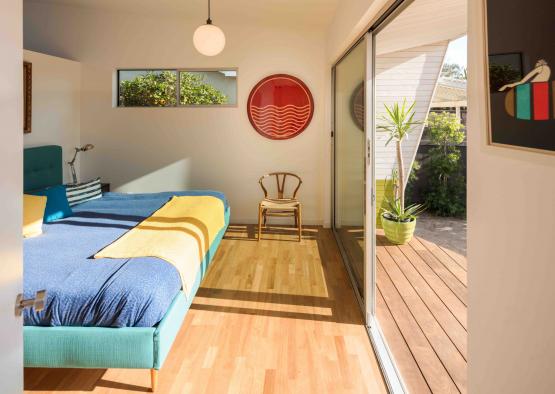 Image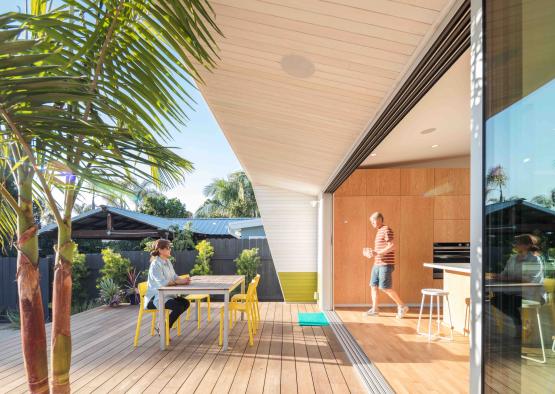 Image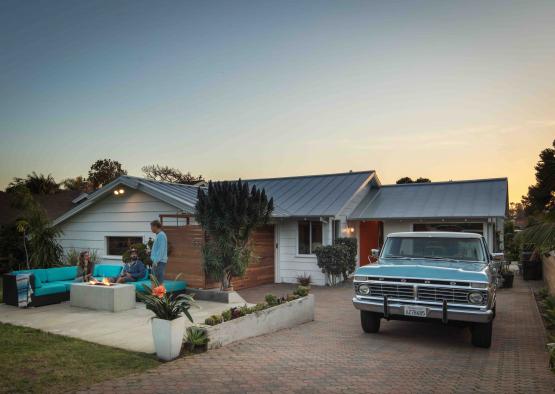 Image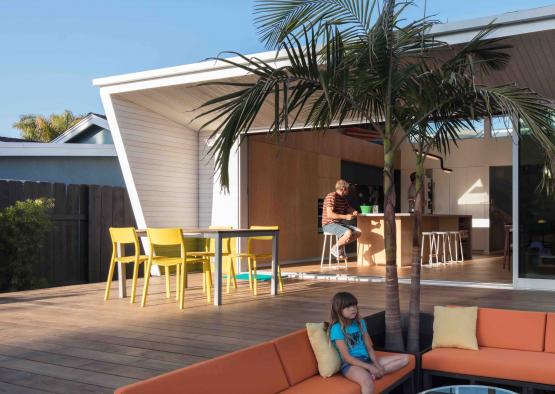 Image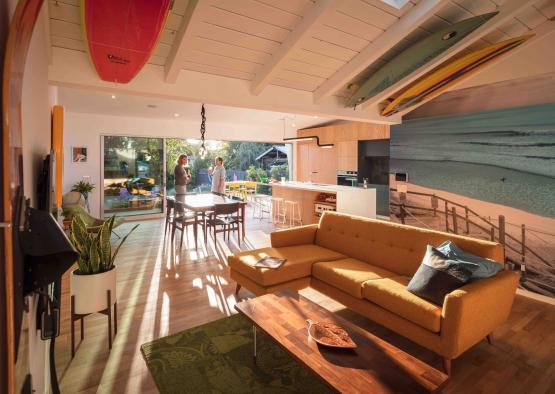 Image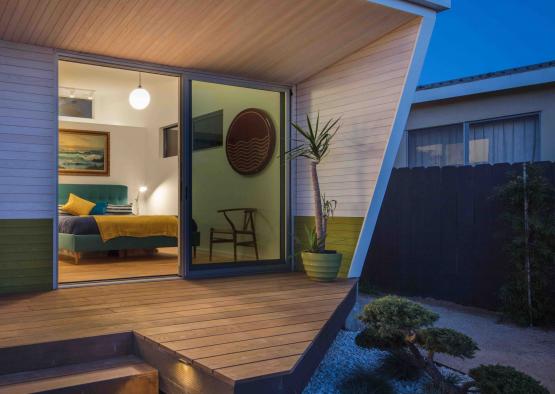 Image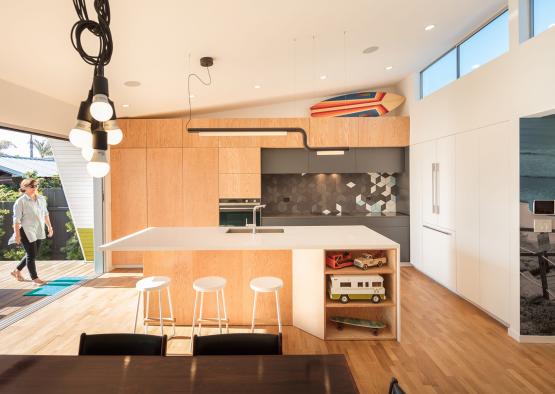 Image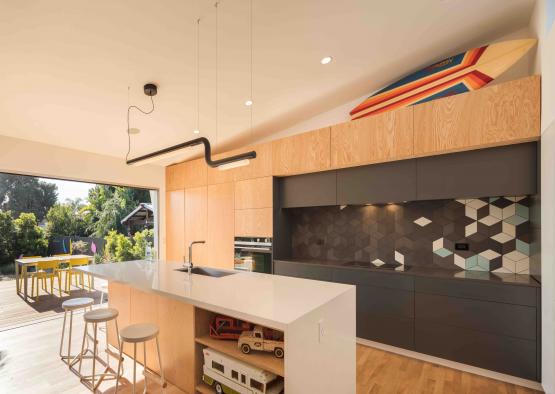 Image
Image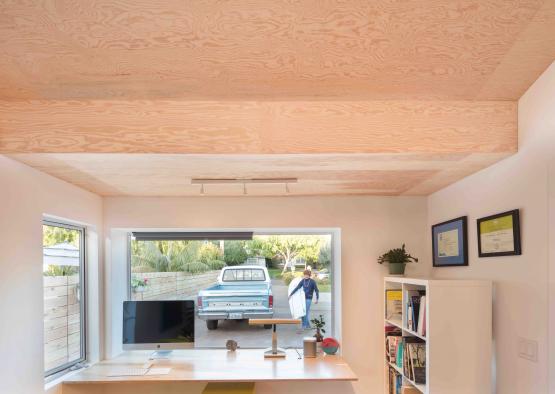 Image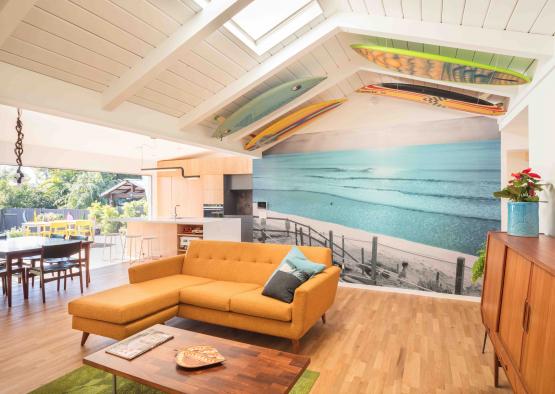 Image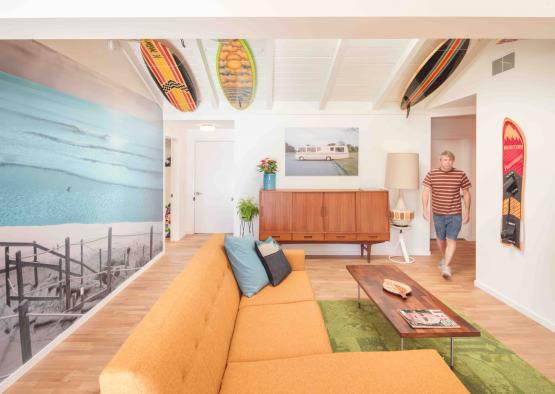 Image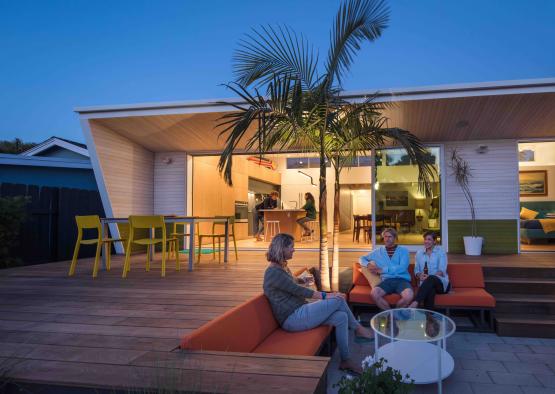 Image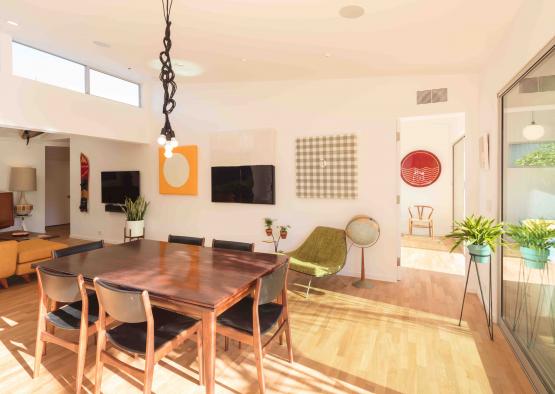 Image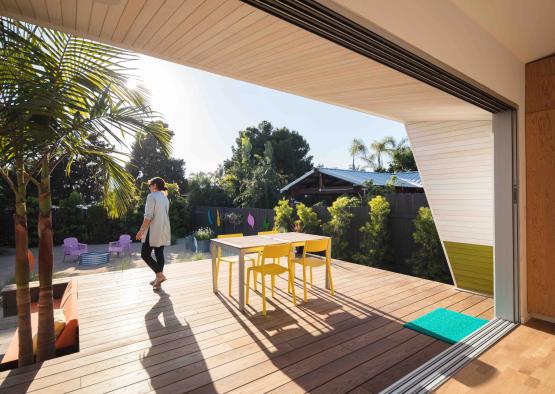 Image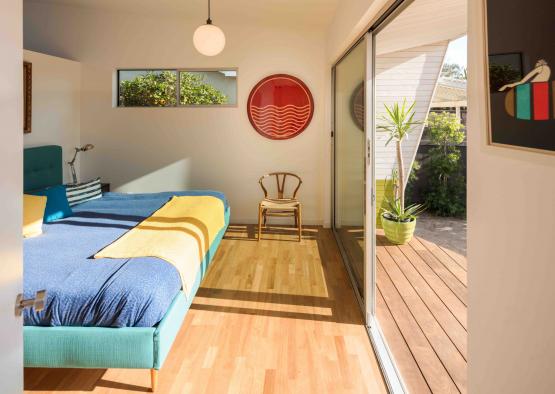 Image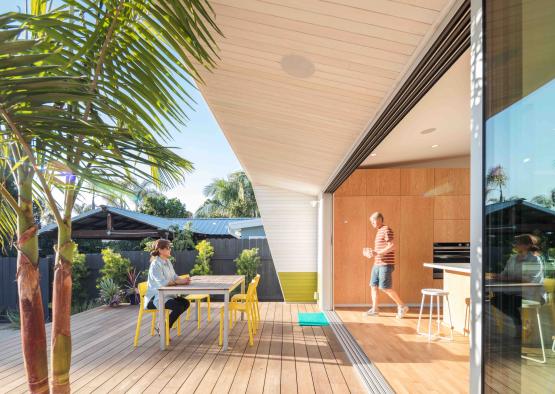 Image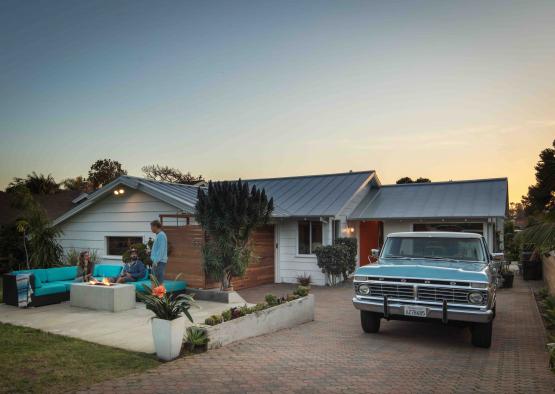 Overview
Few older coastal homes in Southern California are still standing that ooze the iconic beachy character. Just a short walk to the surf, the complete recycling of this 1957 rancher was an attempt to passionately morph the tired home into an environmentally conscious, fun living space.
The biggest logistical hurdle was to delicately birth a design plan along with a project management strategy while living in the house. From a design perspective, the toughest mandate was to simply maintain the beachy vibe of the original home.
The key issue – to preserve the character – was resolved with a basic plan that took a huge amount time to finalise. By concluding that adding any new square footage to the footprint would not truly improve the living spaces, the concept to renovate the rear addition was dismissed. An entirely new rear volume was designed to contrast nicely with the original heritage. 
Structure
The Beach Lab project was an R&D experiment to mix in new yet proven materials and techniques. Kitchen doors made of marine-grade plywood sheets were right off the lumberyard shelf. Exterior wood siding was sandblasted prior to staining in order to raise the grain and accent the texture of the flat grain douglas fir. Both are subtle nuances of non-standard details which contributed honorably to maintaining the cool factor of this coastal redux.
Sustainability was acheived in numerous ways. 
Not tearing down the old house, but instead and re-designing the existing house, reduced land fill. Old elements, including old wood studs, were recycled. Passive design features were considered, including large overhangs to prevent solar heat gain; cross ventilation for cooling; and abundance of natural light to reduce the use of lights. 
Energy efficient products and techiques were incorporated, including a tight building envelope that does not leak air. This super-insulated enveloped, with recycled cellulose in all walls, includes:
Thermally broken dual pain windows with soft low e-coating

Metal galvalume standing seam roof that reflects heat

Very high efficiency furnace

LED lighting

Energuide approved appliances

White torch on roof membrane
Indoor air quality was also a concern, and as such no VOC paints or non-UF cabinetry was used. 
Water savings were acheived by installing dual flush toilets; low flow kitchen and lav faucets; xeriscape landscape design; drought tolerant and native plants; storm water retention pits; and roughed-in plumbing lines for solar thermal hot water. 
Exterior
The landscaping goal was to mimic the look of local state beach campgrounds and consciously reduce the home's water usage for irrigation. Extensive use of decomposed granite called Palm Springs Gold replaced the previous lawn, mass plantings of succulents and drought tolerant grasses were installed. In a nod to the family's background, a bonsai juniper tree was planted near the rear deck, adding to the softening of the yard in comparison to the surrounding hardscape.
Dual outdoor living spaces front and rear were specifically integrated due to the unique community dynamics of the street.
Interior
Modestly scaled, the single level house is 1698 square feet with zero extra building footprint added to the 7500 square feet infill lot. Re-programmed into a two bedroom, a home office that can be a flexible space for a third bedroom and a new Master with bath and walk-in closet.
All of the original two bed, one bath bungalow's structure was kept intact, upgraded to current codes and now highlighted by the interior vaulted ceiling with exposed wood beams. An all new angled cube volume re-used the old concrete slab and replaced a termite and mold infested addition from the 60s. Passive-designed overhangs, thoughtful use of natural wood, abundance of natural light, multi slide glass doors and a simple open plan define the clean design narrative.