The Meridian Building is designed with sustainability foremost in mind.
Project Name
Waterfront business with sustainability the goal.
Photographer Details
Images courtesy of http://inhabitat.com/wellingtons-meridian-building-is-a-flagship-green-commercial-project/meridian-building-studio-pacific-architecture-3/?extend=1
Image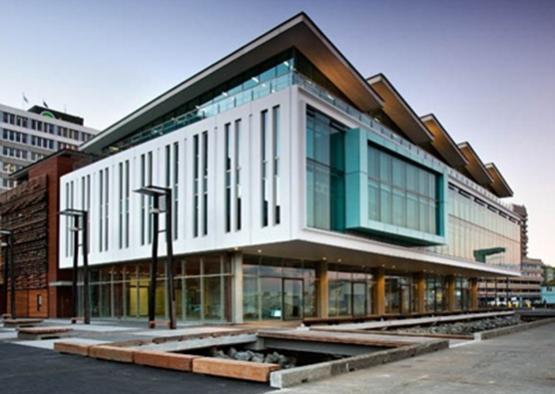 Overview
Site 7 is a striking new 'green' office building constructed on Wellington's waterfront, and tenanted by Meridian Energy as their flagship headquarters. A dramatic design, it nestles into its harbour location, cantilevering over the water's edge yet still respectful of its heritage neighbours. The building has been designed throughout to achieve the highest possible reduction of energy use and water consumption and is the first constructed building to receive a 5-star Green Star rating from the New Zealand Green Building Council. It contains many aspects of innovative timer use in its design and construction.
Exterior
External timber [Western Red Cedar] louvers that cover the exterior glazing of this portion of the building were selected to relate to the rich colours and textures of the surrounding sheds. The selection of timber is a modern interpretation of the rich materiality of the surrounding brick buildings, helping to tie the building to its surrounding heritage context.
Timber weatherboards, again in Western Red Cedar, wrap around the rear of the annex egress stair and under a portion of the louvers, again grounding the Annex visually and providing a rich backdrop to the surrounding public space.