When Outcrop House was judged overall winner of the 2008 Australian Timber Design Awards, architect Peter Stutchbury modestly described the work as "one of restraint" – an enclave offering comfort, ease, place and dreaming, and promoting contemplation.
Project Name
Outcrop House Whale Beach North Sydney
Photographer Details
Michael Nicholson Photography http://www.micnic.com.au/
Image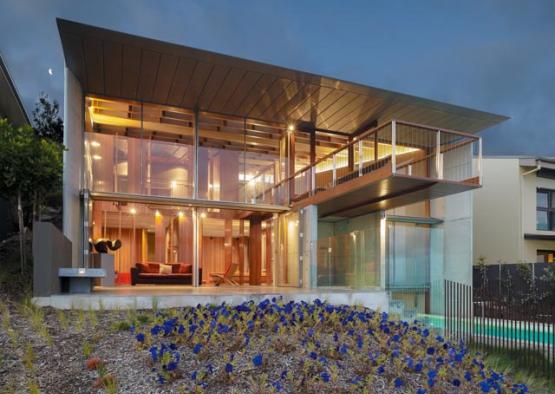 Overview
The environment of Outcrop House is Sydney's northern coastline, typified by beaches on an escarpment edge, that connects headlands and defines a form of natural amphitheatre from the beach upward.
This edge is usually exposed sandstone and is believed to have been the traditional walking trail for indigenous people - promoting prospect and structure to the landscape. Outcrop is sited on such a place.  It faces south and lies adjacent to a drainage vein that connects the land physically and emotively with the beach below.
Prevailing winds from the south accelerate across the beach and up over the escarpment edge - an imposing site feature that cannot be ignored.
A northern courtyard was designed for winter comfort - thermal mass is built into the hill for security and climate control, because of the building's southern orientation.  A single, powerful aperture to the view is made possible through a series of 'stage sets' with altering frames.  These 'sets' communicate household activity, allowing for changing surroundings to be captured and framed as one moves through the house.  The primary focal point looks beyond the living space and out over Whale Beach.
Case Study courtesy of timber+DESIGN international magazine.
Structure
The roof canopy and primary structure are conceived as one room, with the whole roof area designed as a plane of light - allowing controlled vertical light in and producing a constantly changing environment. 
Ceiling coffer boxes allow winter light to enter the home while excluding the harsher summer sun.  The factory-prefabricated boxes are identical, and lined with blackbutt veneer.
Timber features on all internal walls, stairs, ceilings and doors. The blackbutt was sourced from managed forests and air-dried for maximum quality and strength.  Timber 'stage set' walls are a single thickness, solid plank, fixed or hinged - exploiting the acoustic and thermal characteristics of hardwood.  Externally, durable tallowwood was selected to handle the rigors of this exposed site.
This residence explores a shifted view of a home; where the primary room is the house space and all other spaces are secondary.