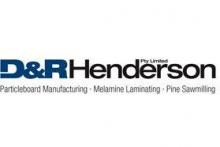 One of Australia's largest privately owned manufacturing companies operating in the Laminated Particleboard and Pine Timber Industry.
Address
Cnr Hume Hwy & Yarrawonga Road
Benalla
VIC 3672
Business Type
Manufacturer
Wholesale/Trade sales
Accreditation / Certification
Service Categories
Architecture & design
Building construction
Carpentry
Joinery & cabinet making
Since opening our first warehouse in Sydney in 1964 specialising in plywood products, the company has progressed to a particleboard manufacturing and sawmilling organisation with offices and factories in five states across the continent. D&R Henderson Pty Limited now employs over 300 people and is well established in the very competitive timber and wood panel industries in Australia.
Our basic philosophy has been to develop a good working relationship with our customers while being committed to continual improvements in products and services. The company has installed in-house raw material manufacturing processes to ensure reliability of supply and is therefore largely independent and self-sufficient as a group. With ongoing research and development, we are committed to continually improving both our range of products and service which will enable us to remain a leading edge of the industry. We are also committed to the environment with a large investment made recently in recycling wood products in our Particleboard Manufacturing process.
Products include
specialised laminated particleboard in a large range of colours
Particleboard flooring
Cut to size Particleboard
Rawboard
Structural timber
Precision cut rough sawn green timber
Kiln Dried rough sawn dried timber