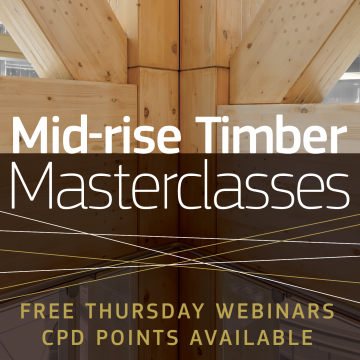 Free weekly webinars, Thursdays at 11am AEDT
Mid-rise Timber Masterclass Webinars are a series of presentations and Q&A sessions created to facilitate the design and construction of mid-rise projects using timber building systems.
Webinar topics range from case studies to proprietary technical products and solutions. They are hosted by the WoodSolutions Mid-rise Advisory Team and presented by Mid-rise Partner companies.
The Mid-rise Partners include: AKD Softwoods, OneFortyOne, Meyer Timber, Multiplex, Timberlink Australia, Australian Sustainable Hardwoods, Bowens, Hess Timber GmbH, Hyne Timber, MiTek, Multinail, Pryda, Rothoblaas, Vida Wood, Wesbeam, XLam and XLam Dolomiti.
More information about the Mid-rise partners is available here.
Run on the Zoom platform, many of the one hour webinars have a panel or a Q&A opportunity after the main presentation.
Please note: Formal CPD Points are ony available for attendees at the LIVE webinar.
By registering for a free webinar you agree to having your details added to the WoodSolutions database. They will not be sold or shared with any other organisation. You can read the WoodSolutions privacy policy here: https://www.woodsolutions.com.au/page/privacy-policy.
After you have been added to the WoodSolutions database, you will receive an email asking you to confirm your registration and set a password. Should you wish, you can opt out at this stage.
As a registered user you will be able to download WoodSolutions technical design guides, fire test reports, other publications, view recordings of past webinars, listen to Timber Talks podcasts and submit Expert Advice questions.