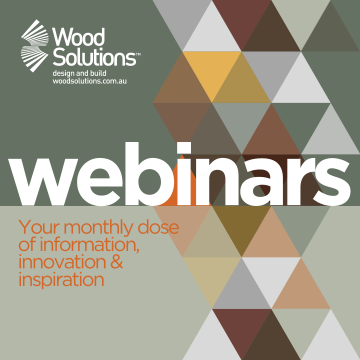 Free webinars, the first Tuesday of each month at 11AM AEST
To see and register for upcoming webinars, check our Events Calendar
Please scroll down to view recordings of past WoodSolutions webinars
Built on the popularity of WoodSolutions seminars and Timber Talks podcasts, WoodSolutions Webinars also offer the ability to engage with international speakers and panellists.
Log on to Zoom , most WoodSolutions Webinars offer a panel or a Q&A with the spearkers and presenters after the main presentation.
Please note: You must contact your industry association to discuss CPD points
By registering for a free WoodSolutions webinar you agree to having your details added to the WoodSolutions database. They will not be sold or shared with any other organisation. You can read the WoodSolutions privacy policy here: https://www.woodsolutions.com.au/page/privacy-policy.
After you have been added to the WoodSolutions database, you will receive an email asking you to confirm your registration and set a password. Should you wish, you can opt out at this stage.
As a registered user you will be able to download WoodSolutions technical design guides, fire test reports, other publications, view recordings of past webinars, listen to Timber Talks podcasts and submit Expert Advice questions.