The Retreat forms part of a boutique accomodation addition to the Pumphouse Point wilderness retreat in central Tasmania.

Project Name
The Retreat at Pumphouse Point, Lake St Clair Tasmania, by JAWS Architects
Location
Lake Saint Clair TAS 7140
Australia
Photographer Details
Adam Gibson
Image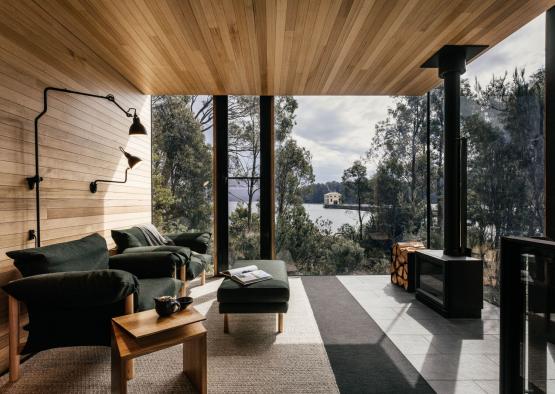 Image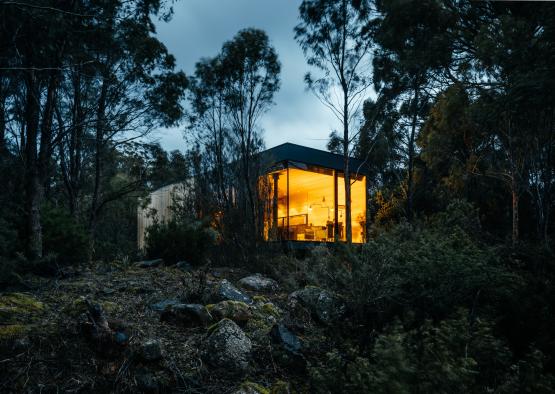 Image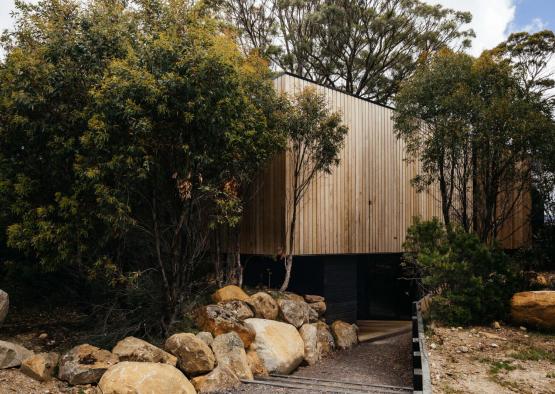 Image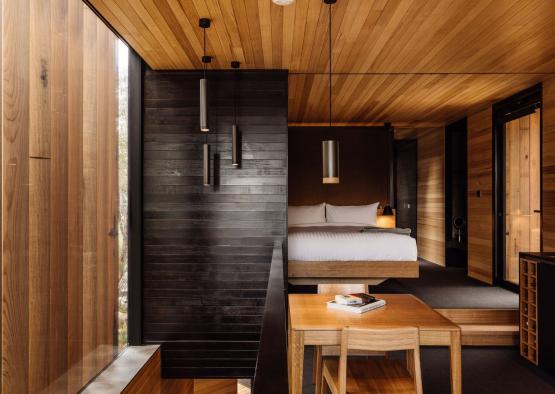 Image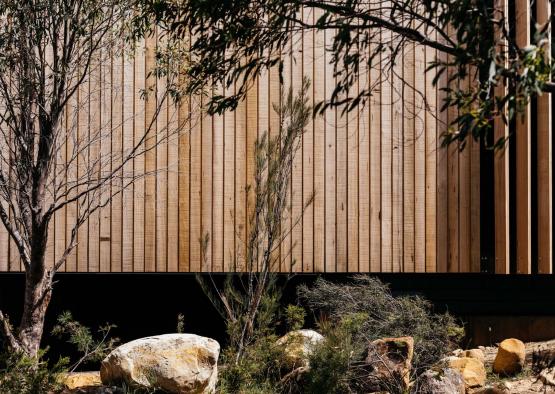 Image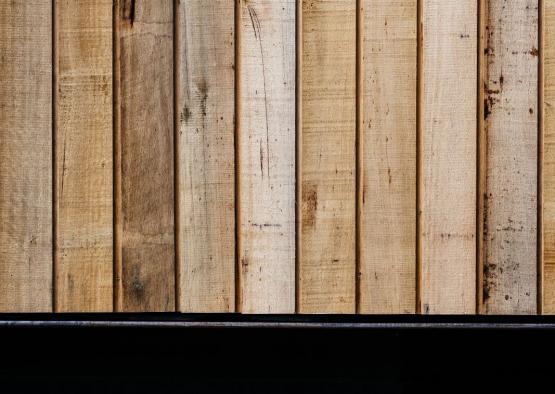 Image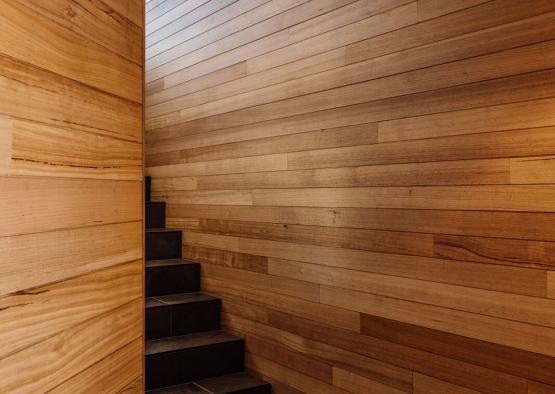 Image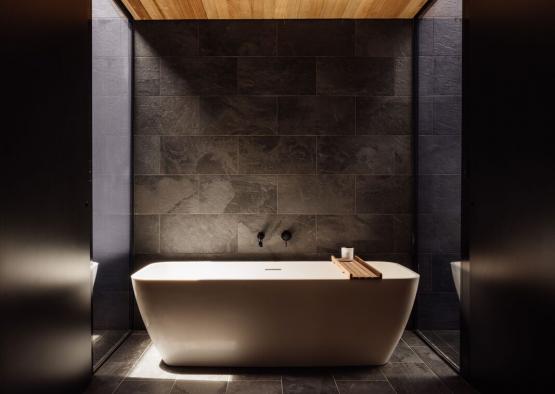 Image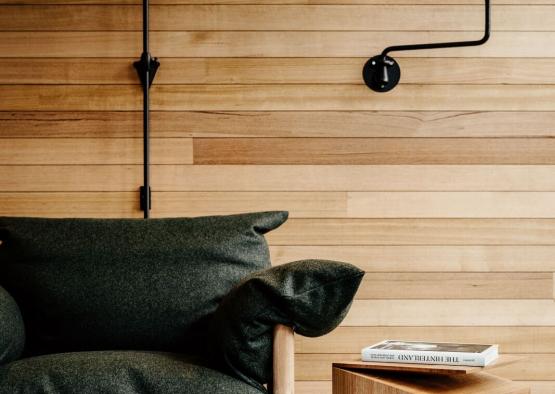 Image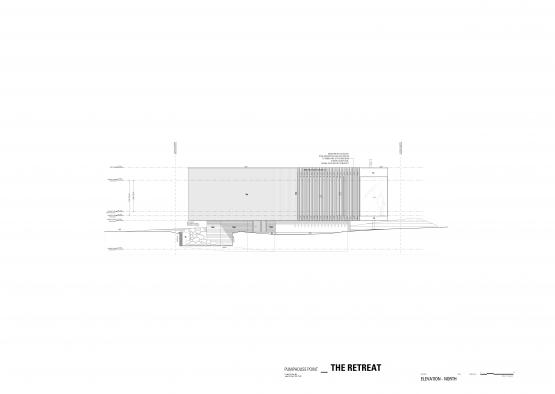 Image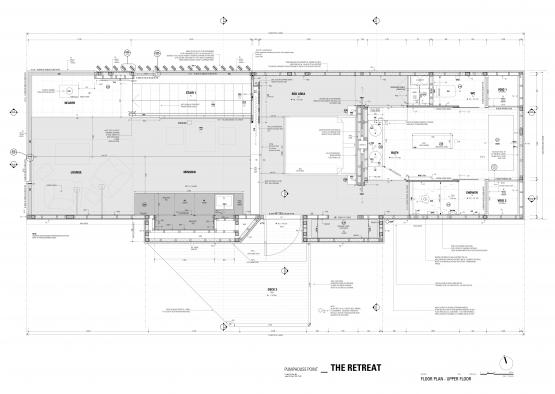 Image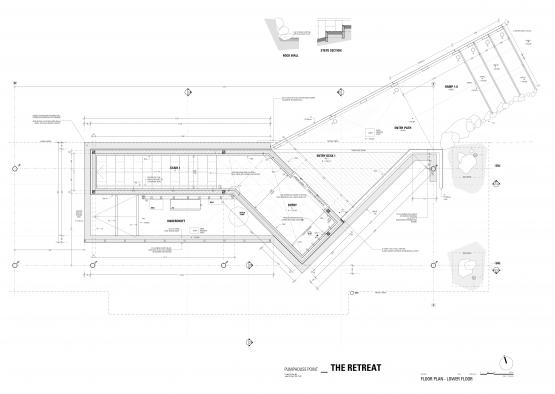 Image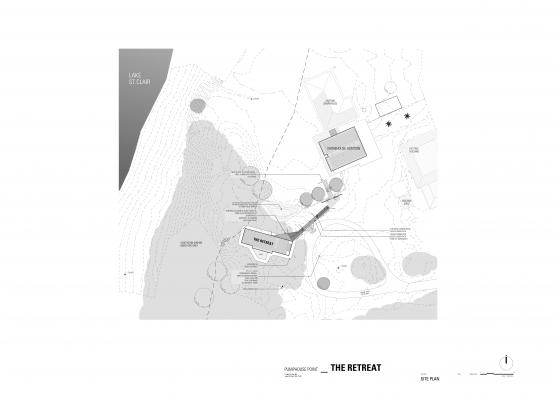 Image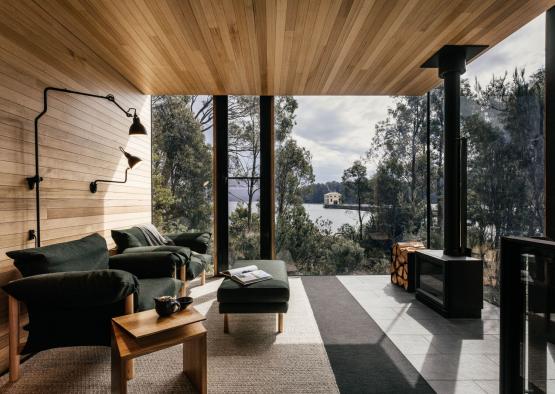 Image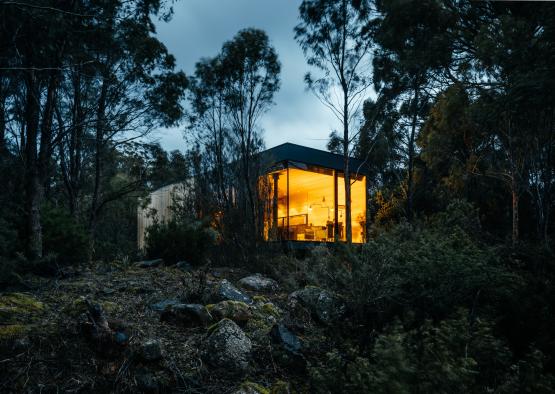 Image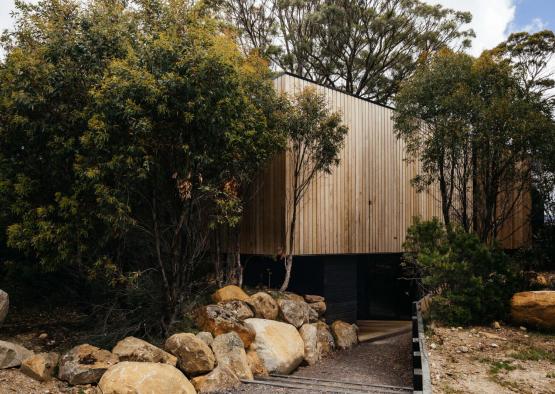 Image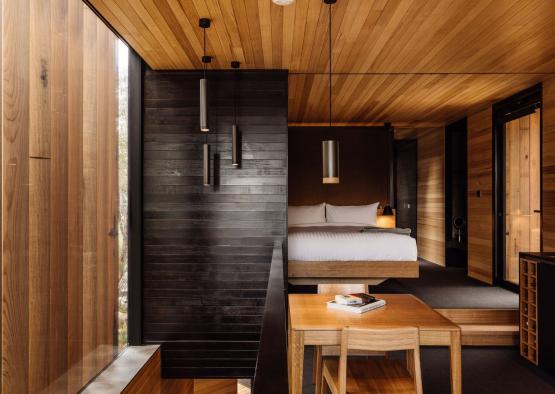 Image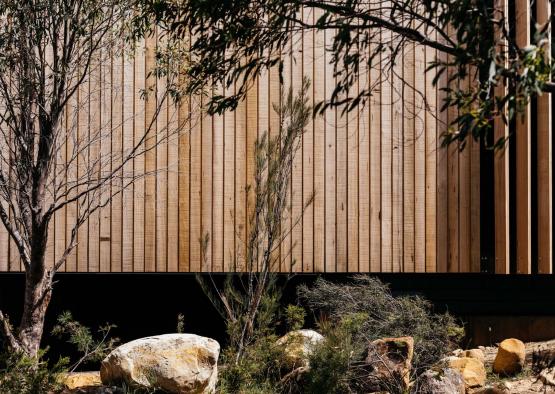 Image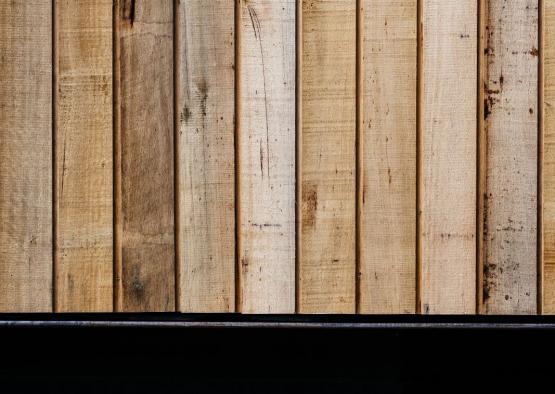 Image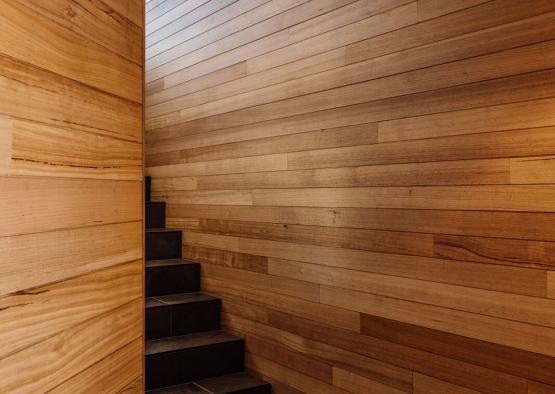 Image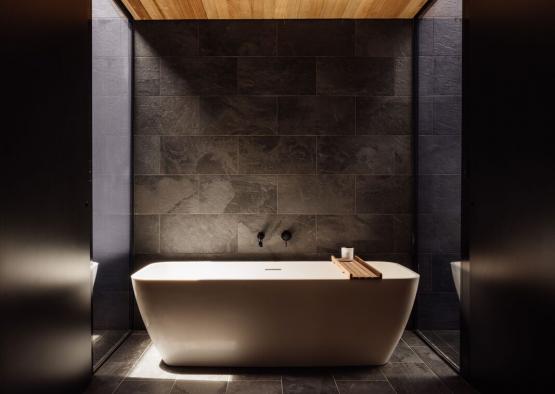 Image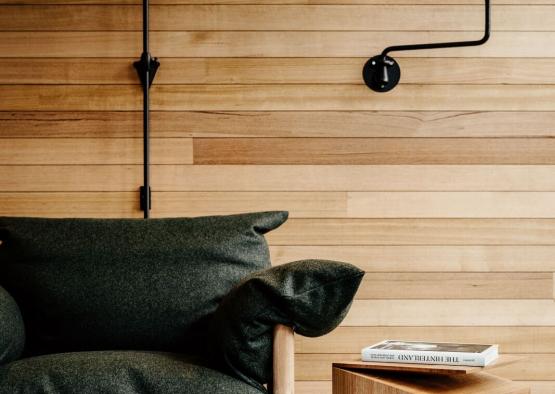 Image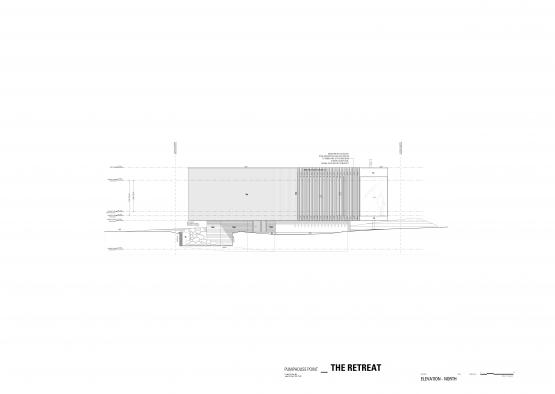 Image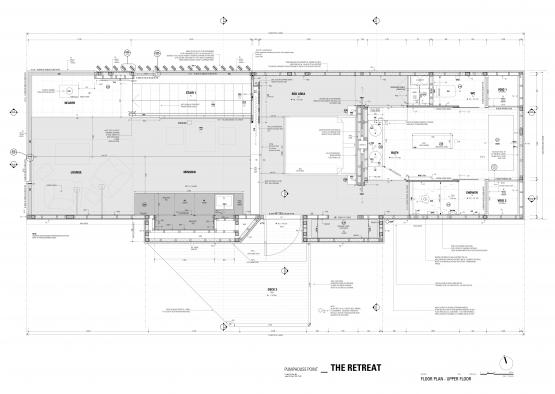 Image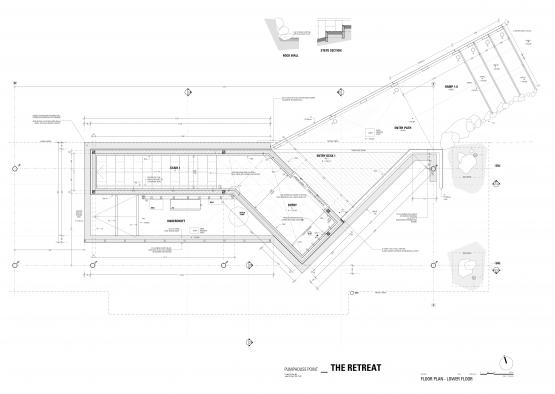 Image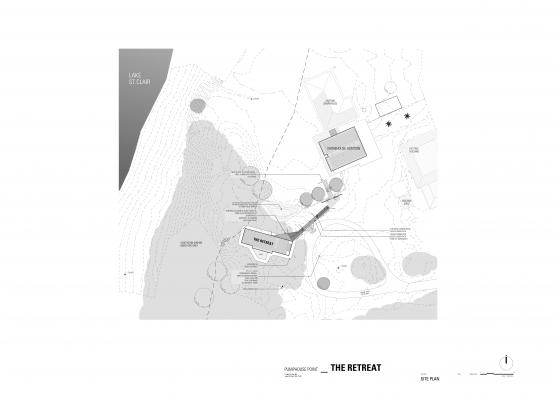 Overview
Timber features heavily in this Tasmanian-vernacular inspired architectural retreat. The project is an addition to the Pumphouse Point accomodation at Lake St. Clair, Tasmania. The accomodation pavilion nestles into the rugged forest climate, overlooking the Lake in this World Heritage listed pocket of wilderness.
Structure
A timber plinth-like level is cut into the earth at the lower section, forming the weight bearing structure and entry level of the building. As the entire project was fabricated off site, an LVL bearer and joist system was used for the flooring. This ensures the most minimal ecological footprint, and allows for transportation and disassembly for future uses. 
Exterior
Upon reaching the remote site, The Retreat presents as a monolithic facade of rough sawn timber on a dark stained plinth. The rough sawn Silvertop Ash was specified to come to a natural equilibrium with the local landscape. The untreated Ash will quickly grey off and settle into the site. 
A dark and low hanging covered entrance space slices into the earth, and provides a dramatic beginning to the journey. 
Locally sourced macrocarpa timber was used for the decking. The naturally durable hardwood is excellent for external applications.
Interior
Stairs to the first floor and a dark entry well are the first experience when entering the building. Deprivation of views and dappled light above from the north facing windows provides a unique drama to the experience. Views of the lake and Pumphouse Point are quickly revealed from the main floor as the stairs are traversed. 
The timber lined interior engages with expansive views of the wilderness and lake. Fully glazed north and eastern walls capture the views, while a deck to the south allows an experiential relationship with the site.
Tasmanian oak T&G boards line the entire ceiling and some feature walls. Timber joinery adds warmth to lower spaces which are deliberately darker. Particle board laid over with carpet was used for flooring. In total, timber makes up 54% of the interior space.
Soft, custom timber furnishing and interior detailing creates a considered and luxury feel in the airy retreat. All furniture was made locally in Tasmania.