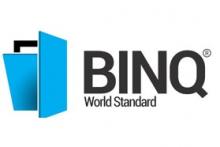 Australias leading performance window and door manufacturer.
Address
2 - 4 Ashley Park Drive,
Chelsea Heights
VIC 3196
Accreditation / Certification
Service Categories
Coatings & treatments
Woodcraft
Energy efficient, noise reducing, sustainable, high security, German designed & engineered timber window and door systems manufactured in Australia. It all began back in 2009, in a carport in Chadstone, a suburb in Melbourne's south east. After failing to find a set of quality bi-fold doors at an affordable price for a small home renovation, we decided to build our own and then sell them on eBay. The amount of enquiries received was astonishing, and so Brothers Incorporated was born (later shortened to Binq). From humble beginnings, we have outgrown three factories and are now situated in a 2000m2 site in Bayside Victoria, with an ever growing team of passionate people, servicing every state in Australia. Our expansion has seen our product range and manufacturing techniques refined and developed to become the market leaders in performance windows & doors. From window designs, to hardware, manufacturing techniques and service offering, we work tirelessly to be better than we were yesterday. Why? Because Australia deserves better! We conduct research around the globe to give you a truly world standard window. One thing has always stood true; to give customers unequivocal excellence in product and service at honest prices.
Measure, Quote, Manufacturer, Staining, Delivery and Installation.
.