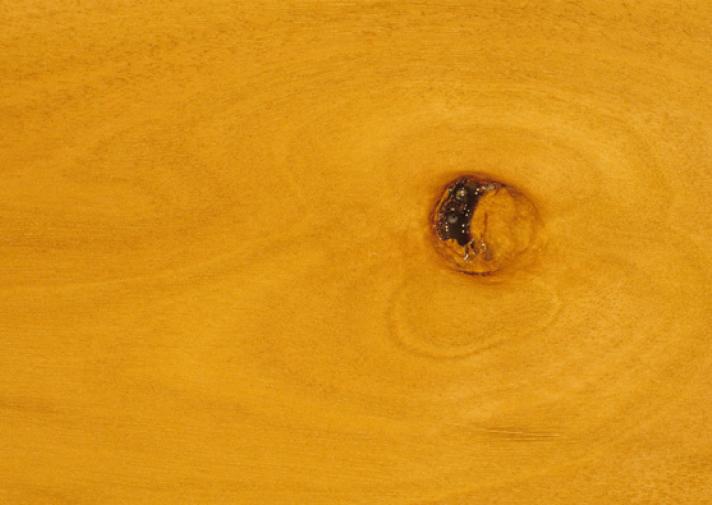 Gum, Sugar
Sugar gum timber has few defects and is prized for its durability and attractive light orange decorative finish, making it an excellent choice for both interior features and exterior construction.
Sugar gum, a chiefly plantation-grown native hardwood, produces a dense, blonde to tan timber that is both decorative and durable. This vigorous plantation species has a history of farm use for firewood and fencing. However, sugar gum has the capacity to produce higher value sawn timbers. Where good genetic material has been used in plantation, the form of the timber lends itself to sawlog production with minimal management requirements. CSIRO research rates sugar gum as the most outstanding species of the four native hardwood species grown in Victoria.
This eucalypt originates in South Australia in three distinct populations: the Flinders Ranges, Eyre Peninsula and on Kangaroo Island. Sugar gums from the Flinders Ranges reach up to 35m in height and have the classic 'gum' habit: a straight trunk with steep branches occurring about half way up. Eyre Peninsula and Kangaroo Island trees are much shorter and often have crooked trunks. Sugar gums are notable for their mottled yellow to orange bark and clusters of flowers grouped on leafless branchlets inside the tree crown. The old bark is smooth and grey, shedding in irregular patches to expose the fresh yellowy-brown bark.
Timber harvested from sugar gum has little defect and is prized for its durability. It is particularly suited to situations requiring high strength where appearance is also important, such as flooring and joinery. Sugar gum polishes to a superb finish making it highly sought after for decorative applications. The timber can exhibit desirable grain features such as a bee's wing and fiddle-back figure, suitable for the production of high quality furniture and flooring. Its durability also makes it a valuable timber for exterior applications such as cladding, decking, outdoor furniture and pickets.
Appearance
Sugar gum has a fine, even texture and is often free of defect, due to the self-pruning nature of the species that leaves the main trunk free of knots and burls. It produces a blonde to tan timber that polishes to a light ginger-orange colour, with subtle greens and pinks brought out by finishing. The incidence of interlocking grain in certain trees creates the potential for timbers of this species to produce both bees wing and fiddle back figure to stunning affect. For colour, figure and durability, sugar gum timber is ideal.
Common Applications
Sugar gum has a class 1 durability rating. Its strength and resistance to wear make it suitable for use in quality indoor and outdoor furniture, flooring and decking, poles and posts, stair treads and benchtops.
Despite its exceptional hardness, sugar gum's warm appearance and grain characteristics make it ideal for decorative purposes. The strength of the timber allows for joinery and fine furniture designs without compromising robustness. The timber polishes to a fine finish.
Veneers created from sugar gum are an easy way to enjoy the beauty and warmth of timber while minimising its consumption. A range of architectural sugar gum veneer products are available.
Strong and durable, sugar gum produces timber suitable for heavy construction purposes. It also produces structural timber of very high strength and low defect for use in the building trade as posts and beams.
Common Form
Sawn
Workability
Sugar gum timber air dries slowly and can also be kiln dried. Both forms of drying yield negligible surface checking or degradation. Some shrinkage and expansion occurs in service. Standard laying techniques for hardwood flooring should be used to manage movement. Although unfinished timber weathers to a silver grey and develops superficial checking, finished timber has excellent outdoor performance.
Sugar gum is dense and difficult to work. It requires pre-drilling with a titanium coated bit to about 80% of the nail or screw diameter. Gluing should be done only on freshly machined surfaces using 'Titebond' aliphatic resin glue. Research has yet to prove if other glues can be used. Construction using biscuit-jointed corners, floating panels, and clip attached table and bench tops is preferred.
Organic timber oils give the surface of sugar gum timber a dark honey colour. French polishing and synthetic two pot finishes are also used effectively.
Origin of Timber
Availability - Further Information
Sugar gum timbers are relatively scarce, due mainly to the fact that the versatility of this timber has only recently been established. The relative scarcity of the timber and its high quality, coupled with the species' 'green' plantation-grown credentials creates a strong market for this timber.
Availability - Further Information
Shrinkage
| | | | | | |
| --- | --- | --- | --- | --- | --- |
| | Very Low | Low | Medium | High | Very High |
| | | | | | |
| Tangential : | | | | | |
| Radial: | | | | | |
| Unit Movement Tangential: | | | | | |
| Unit Movement Radial: | | | | | |
Strength Group
Very High

High

Reasonably High

Medium High

Medium

Reasonably Low

Low

Very Low

Unseasoned:

S1

S2

S3

S4

S5

S6

S7

Seasoned:

SD1

SD2

SD3

SD4

SD5

SD6

SD7

SD8
Stress Grade
Structural
No. 1
Structural
No. 2
Structural
No. 3
Structural
No. 4
Structural
No. 5

Unseasoned:

F17

F14

F11

F8

F7

Seasoned:

F27

F22

F17

F14

F11
Density per Standard
Seasoned:

Unseasoned:
Joint Group
Very High

High

Reasonably High

Medium

Low

Very Low

Unseasoned:

J1

J2

J3

J4

J5

J6

Seasoned:

JD1

JD2

JD3

JD4

JD5

JD6
Colour
White, yellow, pale straw to light brown
Pink to pink brown
Light to dark red
Brown, chocolate, mottled or streaky
Mechanical Properties
| | |
| --- | --- |
| Modulus of Rupture - Unseasoned: | |
| Modulus of Rupture - Seasoned: | |
| Modulus of Elasticity - Unseasoned: | |
| Modulus of Elasticity - Seasoned: | |
| Maximum Crushing Strength - Unseasoned: | |
| Maximum Crushing Strength - Seasoned: | |
| Impact - Unseasoned: | |
| Impact - Seasoned: | |
| Toughness - Unseasoned: | |
| Toughness - Seasoned: | |
| Hardness - Unseasoned: | |
| Hardness - Seasoned: | |
Durability
| | | | | |
| --- | --- | --- | --- | --- |
| | Low | Moderate | Reasonably High | High |
| | (0 - 5 yrs) | (5 - 15 yrs) | (15 - 25 yrs) | (more than 25 yrs) |
| In-Ground: | | | | |
| | (0 - 7 yrs) | (7 - 15 yrs) | (15 - 40 yrs) | (More than 40 yrs) |
| Above ground: | | | | |
| | (0 - 20 yrs, usually < 5) | (21 - 40 yrs) | (41 - 64 yrs) | (More than 60 yrs) |
| Marine Borer Resistance: | | | | |
| | |
| --- | --- |
| Lyctid Borer Susceptibility: | Susceptible |
| Lyctid Borer Susceptibility - Other: | |
| Termite Resistance: | Resistant |
Fire Properties
| | |
| --- | --- |
| Critical Radiance Flux - Lower: | |
| Critical Radiance Flux - Higher: | |
| Smoke Development Rate: | |
1 - non-combustible
2 - reasonably non-combustible
3 - slightly combustible
4 - combustible

Fire Properties Group
Number:
| | |
| --- | --- |
| Average Specific Extinction Area: | |
| Bushfire Resistance: | BAL 12.5 and 19 – All AS3959 required applications |
No other cladding material can offer the design freedom, ease of handling, range and natural beauty of timber. Timber cladding can create a building to suit almost any environment, taste or style.
Timber cladding has an inbuilt flexibility that provides natural advantages on sites subject to high winds, extreme climate, highly reactive soils, subsidence or earth tremors. And unlike masonry and other rigid materials, the natural resilience and high strength to weight ratio of timber enables it to withstand far greater stresses and movement.
Modern finishes give a long lasting and attractive appearance to timber cladding and can be used to change the colour and style of the building, making it a versatile material that will keep pace with changing tastes and fashions.
Timber pole construction is typically utilised to provide support for gravity loads and resistance against lateral forces. The natural appeal of timber ensures that its role is not purely structural however, with timber poles complimenting architectural designs aimed at harmonisation with the natural environment. The small number of footings required in pole frame construction also ensures minimal disturbances to the site.
With a double bearer system, poles can be spaced further apart than is usual, creating a more spacious building interior, that allows greater interior design flexibility. While poles are usually placed in a grid like system this is not compulsory and the flexibility of the application means the system can cope with a wide variety of designs, enabling designers to take full advantage of beautiful outlooks.
This article provides a comprehensive overview of the process involved in specifying, designing and constructing a solid timber pole construction.