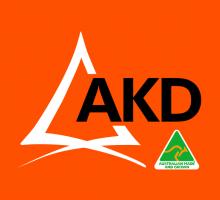 AKD Softwoods supplies quality Radiata Pine products throughout Australia. Our product range encompasses MGP graded framing, LOSP and CCA treated products as well a range of treated and primed finger jointed and laminated pine.
Address
7 - 15 Forest St Colac Victoria
Business Type
Manufacturer
Wholesale/Trade sales
Accreditation / Certification
Service Categories
Other
Timber building products
Associated Kiln Driers Pty Ltd (trading as AKD Softwoods) is a 100% Australian owned and operated integrated forestry and timber processing company with operations in Victoria, New South Wales and Queensland. AKD is distinctive amongst its key competitors for its reputation as a high quality producer, its exceptional customer service and its vertically integrated operations which comprise: - Six sawmills processing in excess of 2,000,000m3 of sawlog per annum, providing over 1 million cubic metres of timber products annually - Over 10,000 hectares of sustainably grown radiata pine plantations located in Victoria and South Australia - Three post and pole preservation sites - A softwood chip export operation based in Geelong - Multiple treatment sites - NSW Distribution Centre Building an excellent reputation on its quality, service and flexibility, AKD has a wide range of products, and an end to end planning process that enables products to be made to order and dispatched on its own truck fleet, to customers across Australia. As a regional employer, AKD plays an active part in supporting a variety of local community activities and sees its employees as the vital ingredient in its past and future success. Since its founding, AKD has continually made significant investments to ensure long term growth and prosperity. AKD has grown its business over the long term, by building a stable foundation. This solid foundation includes stable ownership, long term customer relationships, long term log contracts, its own plantations and multiple state of the art processing facilities. These foundations are constantly being enhanced by continual reinvestment in the business, plant expansions, plantation growth, employee development and the latest processing, automation, scanning and optimisation technology. AKD is proud of its 60-year history, still operating on the site on which it was founded in Colac, Victoria in 1955 by an association of local family companies. The four equal shareholder companies that own AKD have been involved since day one.