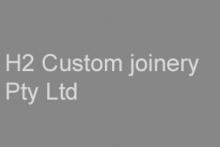 Manufacturer of high quality Timber Windows and Doors
Address
P.O Box 1562 Warriewood, Warriewood, NSW 2102
Service Categories
Advice & consultancy
Joinery & cabinet making
H2 Custom Joinery is based in Hornsby with majority of our work is high end residentail but not limited to. With over 30 years experience in the timber window and door industry, we manufacture custom windows and doors using traditional methods and section sizes.
H2 Custom Joinery pride ourselves in High Quality and Customer Service, we have over 30 years of experience in the Timber Window and Door Industry.
Nick Harley (Director) has been in the industry for over 20 years as a tradesman in Carpentry and Joinery, and has extensive experience in both Manufacturing and Sales of Timber Windows and Doors.
Sean Hudson (Operations Manager) is a qualified Joiner and has been in the industry for over 10 years. Sean has extensive knowledge of both Design and Manufacture of custom Windows and Doors.