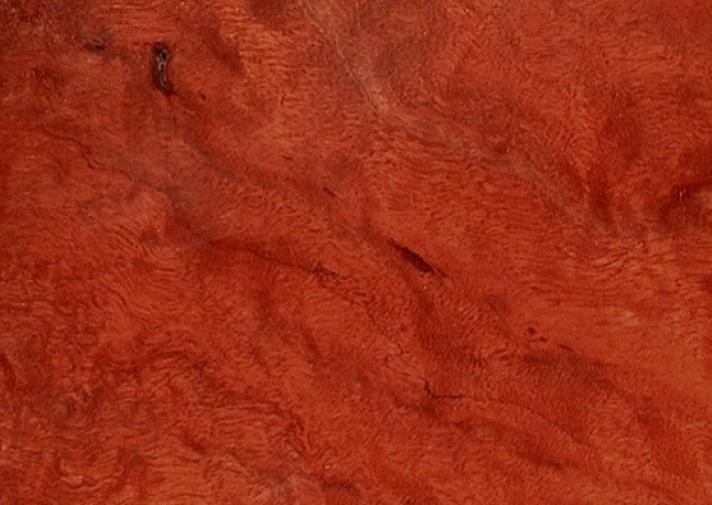 Gum, River Red
Blue Gum, Red Gum, Murray River Gum, yarrow, Eucalyptus Rostrata
The timber of the iconic river red gum has a reputation for durability, strength and for its distinctive brilliant red colouring ranging from pink to almost black.
River red gum (Eucalyptus camaldulensis) is an iconic Australian tree, yielding an equally iconic Australian timber. The timber has a reputation for durability, strength and its distinctive red colouring. Its wide availability has seen it used for a range of applications including heavy construction, railway sleepers, flooring, framing, fencing, plywood and veneer manufacture, wood turning, firewood and charcoal production. It was also commonly used as street paving throughout Sydney in the late 1800s.
The river red gum has a widespread distribution around the Australian mainland, except southern Western Australia, south-western South Australia and the eastern coastal areas of Queensland, New South Wales and Victoria. In keeping with its name, this species is commonly found along the rivers. It can withstand submersion during floods for long periods.
The hallmark of river red gum timber is its distinctive red appearance. The heartwood is red to reddish brown in colour with the timber's texture having some coarseness. The grain is commonly interlocked with frequent gum veins. The timber's charm is often best showcased in furniture; the spectacular deep red colour and the typical fiddle-back figure of river red gum timber make each piece of furniture unique.
The heartwood of the river red gum displays considerable durability (class 2), allowing for a range of exterior applications, including heavy commercial construction, general framing, sleepers, flooring, panelling and joinery.
Appearance
River red gum is so named for its brilliant red wood, which can range from a light pink through to almost black, depending on the age and weathering of the timber. The timber can be somewhat brittle to handle, and its texture is moderately coarse and even. Its interlocked grain and ever-present gum veins add to its appearance, but may make it difficult to work. The high incidence of cross-grain can also make hand working complex. River red gum has recently been recognised in craft furniture. Its deep red colour and distinctive fiddle-back figure make it a popular timber for wood turners and cabinetmakers alike.
Common Applications
Traditionally, river red gum is used in rot resistant applications, as stumps, fence posts and sleepers. Its colour and distinctive figure have more recently become popular for decorative furnishing. This widely available timber has been used in domestic decks, exposed hardwood structures as well as internal fit-outs, joinery and in furniture. River red gum is well suited to garden landscape structures such as retaining walls and garden beds. It is excellent for non-domestic decks and timber flooring as well as structural applications.
Common Form
Sawn
Workability
River red gum requires care when working. The heartwood of this distinctive species is quite durable (class 2), allowing for a range of exterior applications, but the sapwood is susceptible to lyctid borer attack.
While the durability, distinctive colour and figure offer great versatility, this timber needs careful selection as it tends to be quite reactive to changes in humidity (that is, it moves about a lot in service). It is quite hard and dense (about 900 kg/m3) making it difficult to machine and tough to sand. It is a popular timber for wood turners, particularly if old and well seasoned, and carves well. It can, however, be difficult to nail and screw, and can be glued using polyurethane. It takes a fine polish and accepts most coatings, but is particularly suited to oil, which creates a brilliant finish.
Origin of Timber
Readily Available
Availability - Further Information
River red gum trees are a common sight along the rivers and waterways of the Australian mainland. It speed of growth makes it a useful plantation timber, and as a result, it has become one of the most widely planted eucalypts in the world. Plantations occur in Argentina, Arizona, Brazil, California, Egypt, Kenya, Morocco, Nigeria, Pakistan, Senegal, Sierra Leone, Spain, Sri Lanka, Sudan, Tanzania, Upper Volta, Uruguay, and Zimbabwe. The timber is therefore readily available.
Availability - Further Information
Shrinkage
| | | | | | |
| --- | --- | --- | --- | --- | --- |
| | Very Low | Low | Medium | High | Very High |
| | | | | | |
| Tangential : | | | | | |
| Radial: | | | | | |
| Unit Movement Tangential: | | | | | |
| Unit Movement Radial: | | | | | |
Strength Group
Very High

High

Reasonably High

Medium High

Medium

Reasonably Low

Low

Very Low

Unseasoned:

S1

S2

S3

S4

S5

S6

S7

Seasoned:

SD1

SD2

SD3

SD4

SD5

SD6

SD7

SD8
Stress Grade
Structural
No. 1
Structural
No. 2
Structural
No. 3
Structural
No. 4
Structural
No. 5

Unseasoned:

F11

F8

F7

F5

F4

Seasoned:

F17

F14

F11

F8

F7
Density per Standard
Seasoned:

Unseasoned:
Joint Group
Very High

High

Reasonably High

Medium

Low

Very Low

Unseasoned:

J1

J2

J3

J4

J5

J6

Seasoned:

JD1

JD2

JD3

JD4

JD5

JD6
Colour
White, yellow, pale straw to light brown
Pink to pink brown
Light to dark red
Brown, chocolate, mottled or streaky
Mechanical Properties
| | |
| --- | --- |
| Modulus of Rupture - Unseasoned: | |
| Modulus of Rupture - Seasoned: | |
| Modulus of Elasticity - Unseasoned: | |
| Modulus of Elasticity - Seasoned: | |
| Maximum Crushing Strength - Unseasoned: | |
| Maximum Crushing Strength - Seasoned: | |
| Impact - Unseasoned: | |
| Impact - Seasoned: | |
| Toughness - Unseasoned: | |
| Toughness - Seasoned: | |
| Hardness - Unseasoned: | |
| Hardness - Seasoned: | |
Durability
| | | | | |
| --- | --- | --- | --- | --- |
| | Low | Moderate | Reasonably High | High |
| | (0 - 5 yrs) | (5 - 15 yrs) | (15 - 25 yrs) | (more than 25 yrs) |
| In-Ground: | | | | |
| | (0 - 7 yrs) | (7 - 15 yrs) | (15 - 40 yrs) | (More than 40 yrs) |
| Above ground: | | | | |
| | (0 - 20 yrs, usually < 5) | (21 - 40 yrs) | (41 - 64 yrs) | (More than 60 yrs) |
| Marine Borer Resistance: | | | | |
| | |
| --- | --- |
| Lyctid Borer Susceptibility: | Susceptible |
| Lyctid Borer Susceptibility - Other: | |
| Termite Resistance: | Resistant |
Fire Properties
| | | | | | | | | | | | |
| --- | --- | --- | --- | --- | --- | --- | --- | --- | --- | --- | --- |
| | 0 | 1 | 2 | 3 | 4 | 5 | 6 | 7 | 8 | 9 | 10 |
| EFH Spread-of-Flame Index: | | | | | | | | | | | |
| EFH Smoke-Developed Index: | | | | | | | | | | | |
| | |
| --- | --- |
| Critical Radiance Flux - Lower: | |
| Critical Radiance Flux - Higher: | |
| Smoke Development Rate: | |
1 - non-combustible
2 - reasonably non-combustible
3 - slightly combustible
4 - combustible

Fire Properties Group
Number:
| | |
| --- | --- |
| Average Specific Extinction Area: | |
| Bushfire Resistance: | BAL 12.5, 19 and 29 – All AS3959 required applications |