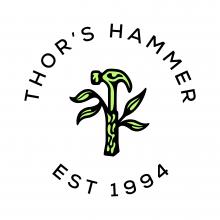 Thor's Hammer
Thor's Hammer supplies recycled timbers, milled products and joinery.
Thor's Hammer uses timber recycled from demolition sites around Australia to make a range of beautiful architectural products. These include re-milled and salvaged floor boards, lining boards, durable hardwood decking, and recycled posts and beams.

In our joinery we make furniture, tables, kitchen bench tops, entry doors and shelving from recycled timbers. We build to last, using traditional joinery techniques combined with the best of modern environmentally friendly glues and finishes. Before finishing, nail holes and surface cracks in our bench tops and table tops are filled with a bio-epoxy resin to achieve a durable and low maintenance surface.

Our bench tops and tables are available finished in Osmo Hardwax Oil, an environmentally friendly and durable finish made from natural oils and waxes. We sell the Osmo finishes with products suitable for applying to timber floors, decking and furniture.
10 Mildura Street Griffith ACT 2603